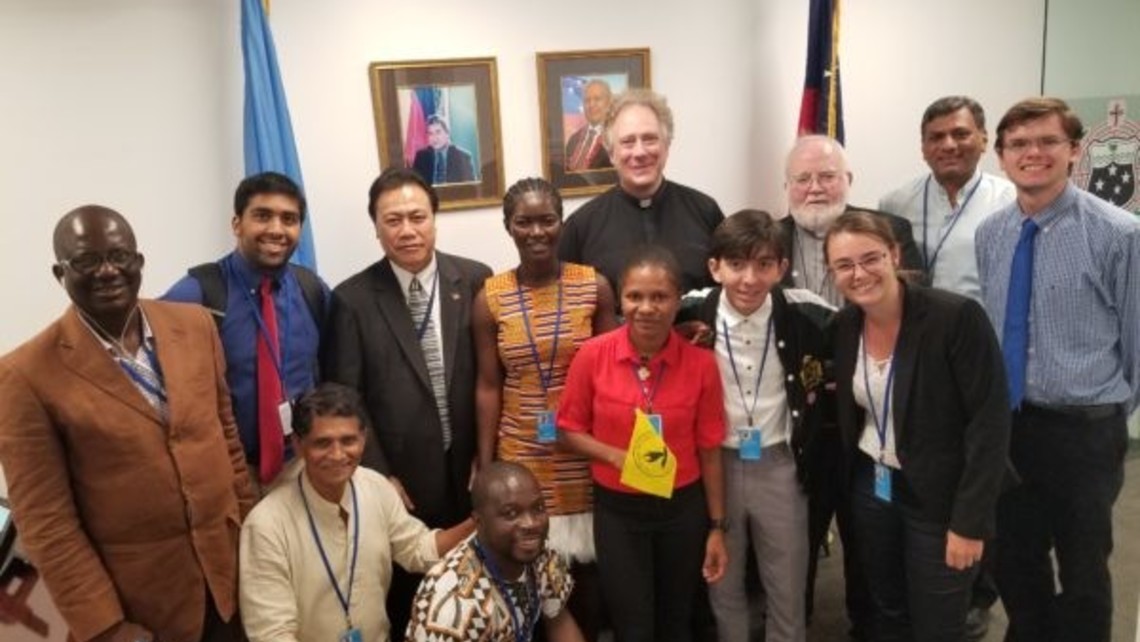 (ANS – United Nations – July 16) – A panel discussion on "Youth Aspirations & Climate Urgency" was organized by the Don Bosco Green Alliance along with Salesian Missions USA and Don Bosco Network on July 11 as a "side event" at the ongoing United Nations High-Level Political Forum (HLPF) in New York. The HLPF annually evaluates the global progress of the Sustainable Development Goals (SDG); hence, this panel discussion focused on SDG 13: Climate Action and the impact of climate change on young people and their future.
The four panelists were September Kelokelo from Don Bosco Institute, Papua New Guinea; Santiago Corrales from Don Bosco Technical Institute, Panama; Abigail Gyabaa from Don Bosco Youth Network West Africa, Ghana; and Rebecca Petz from Don Bosco Youth-Net, Germany. The discussion was moderated by Salesian Fr. Savio Silveira, convener of Don Bosco Green Alliance.
The event began with the Ambassador Ali'ioaiga Feturi Elisaia of Samoa welcoming the gathering. The keynote address was then delivered by Archbishop Bernardito Auza, a permanent observer of the Holy See to the United Nations. Quoting extensively from Laudato Sì in his speech, Abp. Auza said: "Young people demand change. They wonder how anyone can be talking about their future without addressing environmental issues." He went on to say further, "Young people play a critical prophetic role; we must listen to their voice."
During the panel discussion, talking about rising sea levels caused by climate change, Ms. Kelokelo described the drastic impacts on small island states like Papua New Guinea. "Climate change is real, and it is happening. With sea waters rising, our dreams are going down the drains. Our islands are in danger; our future is being threatened," she said.
Describing activities taken by his school, Mr. Corrales said: "We don't need laws to get us to act. We feel the urgency, and we are responding." He urged the young people to lead the way to action.
"Climate change is impacting crop production, causing flooding, and increasing diseases in my country," said Ms. Gyabaa. "Because of the floods, children often have to abandon their schooling," she added.
"The youth of Europe are angry because of the slow response of our governments to the climate crisis," said Ms. Petz. Emphasizing the connection between human rights and environmental protection, she pointed out that the climate crisis was adding to the refugee crisis and other social issues.
The presentations by the panelists were followed by a very lively open discussion. Several young people in the audience made a passionate appeal for strong and immediate action. Climate change education in schools, promotion of low carbon technologies, stringent taxes on carbon emissions, elimination of single-use plastics, and political engagement by young people to further climate action were some of the suggestions that emerged from the discussion.
Summing up the discussion, the former president of Kiribati, Teburoro Tito, urged the young people not to lose their passion and commitment. "You feel very strongly today about the climate crisis," said Mr. Tito. "Don't lose that fire; don't give up that fight." He further encouraged the young people to come together and demand change from their governments.
Speaking about the side event, Fr. Thomas Pallithanam, the Salesian representative at the UN, said that he was happy that young people had the opportunity to voice their opinions on the important subject of climate change. He said: "It was wonderful that we had four young people from four different continents on the panel. They represented Salesian youth worldwide. Young people today feel the urgency of climate action and other environmental issues, and we Salesians must support them in responding to these challenges. I am glad that Salesian Missions was able to facilitate this event and bring these voices to the UN."
The four young panelists return to their home countries as "green ambassadors." "I now no longer represent just myself, or even my institution, I represent my country," Ms. Kelokelo said. "I now have the responsibility to work for my country and its young people, so that the climate crisis does not destroy their future and their aspirations."
Fr. Pallithanam concluded: "The hall filled beyond capacity was an indication that there is growing concern among many regarding climate change issues. The presence of many Salesians led by the leadership of the province underscored the desire among the Salesians to accompany the young in addressing climate urgency."