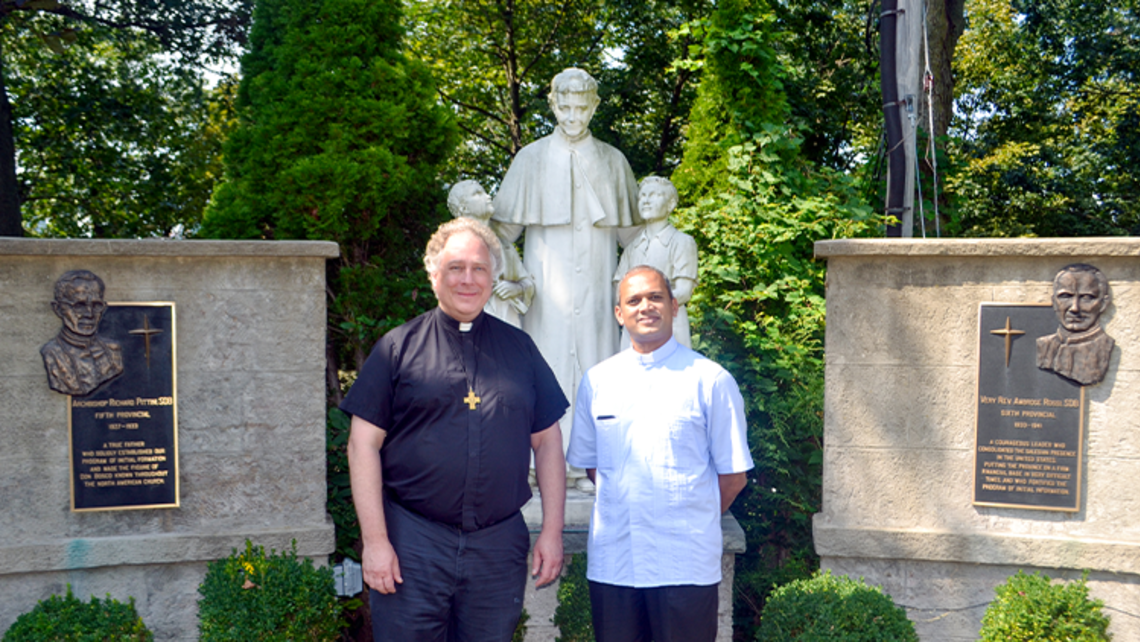 Dear Confreres,
Last week, Br. Jerry Meegan sent out a packet with materials about World Day of Migrants and Refugees to every director. The packet included a letter from Fr. Franco Pinto, small posters, a prayer service, the Message of Pope Francis for this day, and an article entitled, "We as Wide as Humanity." I thank the province interculturality committee for providing these resources to the communities so each Salesian presence can take some initiatives related to migrants and refugees. Although this year's World Day of Migrants and Refugees is Sunday, September 26, the significance of this day for us in SUE goes beyond a single day.
The theme of the Pope's message is, "Towards an ever wider we." Interestingly, he signed the message on Monday, May 3, the Feast of Sts. Philip and James, Apostles. This message has significance when we consider our province history. Salesians first came to the USA as missionaries to serve European immigrants. With dynamic fidelity to Don Bosco and our history, our mission has remained vibrant. If the SDBs had kept the mission restricted to European immigrants, our purpose would have been fulfilled and we would cease to exist. However, even SDBs from Europe soon recognized the need to work "towards an ever wider we."
This theme speaks to us about the blessings and challenges of our present reality. Our religious communities reflect rich cultural and linguistic diversity. Likewise, our ministries are culturally and linguistically diverse. More than 36 percent of the confreres serving in our province were not born in the province. Almost every SDB community in the province has a confrere born outside of Canada and the USA. In SUE, pastoral ministry is conducted in at least 11 languages. To varying degrees, every Salesian presence includes immigrants. From these few statistics, we can see how insightful the Rector Major was when, in 2017, he identified among the priorities and challenges for our province, "Strengthen, as much as possible, attention to immigrants. This is not only a prophetic and evangelical sign, but also A REAL AND VERY SALESIAN NEW FRONTIER!" He wrote this in the "Letter of Navigation for the Province" that he sends to a new provincial and provincial council at the beginning of his term.
The theme "Towards an ever wider we" honors our history and focuses our ministry today. The Rector Major's priority for our province is repeated in our history and focuses on our ministry today. The Rector Major's priority for our province is repeated in our province strategic plan. Therefore, we could ask ourselves—each confrere, religious community, and Salesian work—"What am I doing to promote World Day of Migrants and Refugees?" The answer might include specific prayers incorporated into the community intercessions. We might simply put the poster on the bulletin board. We could link the Pope's message to our social media. We might also examine our own attitudes towards immigrants. And we could engage our colleagues in a discussion on the presence of immigrants in our Salesian works. Additionally, we can ask the confreres in our own community who are from another country to share their own experiences.
Tuesday, September 28 is the optional memorial of St. Lorenzo Ruiz and Companions, martyrs. Lorenzo Ruiz is the first Filipino saint, and this year is the 500th anniversary of Christianity in the Philippines. We are blessed with several confreres from the Philippines and the presence of Filipinos in many of our works, especially Surrey, BC. The memorial of St. Lorenzo Ruiz can be an occasion to create "an ever wider we" in our Salesian environments.
On Saturday, September 11, Fr. Shijumon "Shiju" Thottupurathu, SDB arrived in our province from the Central America Province (CAM). He is a missionary from India who spent several years in Guatemala and Mexico. Now he has a temporary transfer to SUE and will be part of the Salesian community in Chicago, IL. Please join me in welcoming Fr. Shiju. His presence once again highlights the richness of the diversity in our religious communities and ministries.
With fraternal support, we keep the FMAs in our prayers as they officially begin their General Chapter.
Fr. Tim Z.
September 16, 2021 - 8:00am