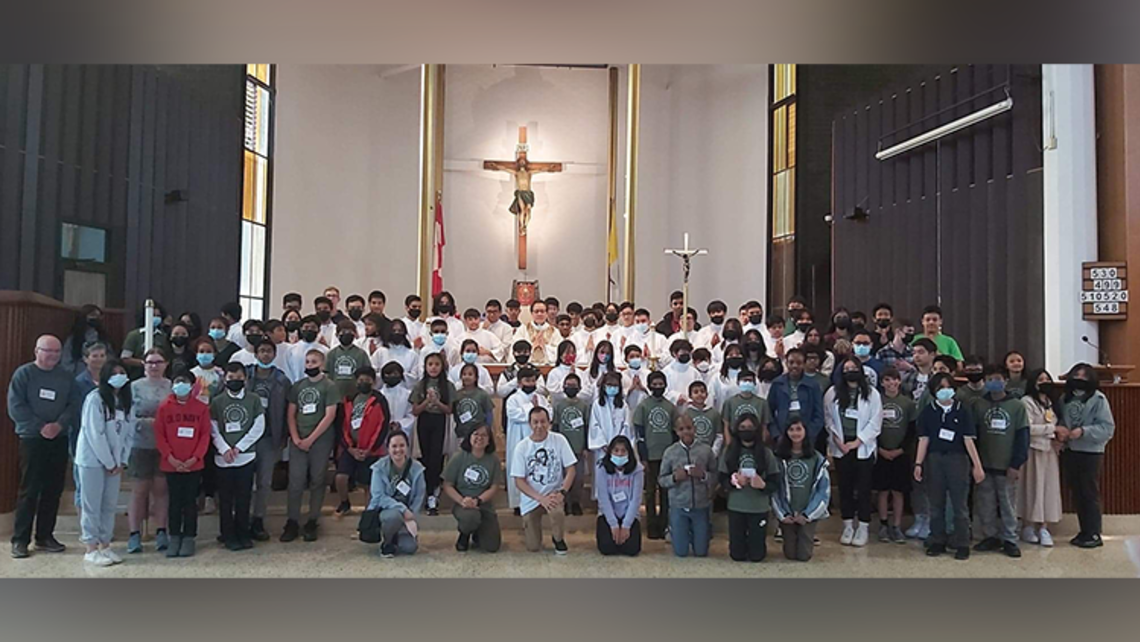 By Fr. Samson D. Antony, SDB
(Surrey, BC – July 13) – A lot has happened in the Surrey community this past month. The pre-school children celebrated the completion of the first stage of their schooling with a graduation-like ceremony to the delight of their parents. The high school had their sports event and graduation day after completing the academic year.
On Saturday, June 18, we had altar servers meet from five different parishes. They had morning sessions in the DBYC Gym. At 2:00 pm PT, they had the Eucharistic procession on the Our Lady of Good Counsel (OLGC) school grounds and concluded the day with the Eucharistic celebration in the church at 5:00 pm PT.
The following day, we had the Eucharistic procession from our church parking lot and concluded with the blessings. People appreciated our efforts to bear witness to the neighborhood through the Eucharistic procession.
On Monday, June 20, Bp. Michael Miller came to OLGC to confirm 65 children. The event was a historic moment in the children's spiritual lives. They were well prepared by the PREP teachers. The children and their parents had opportunity to take photos with the bishop to remember the special day in their lives. A few days later, OLGC parish hosted Fr. Bob Galea, who gave the testimonial talk and singing with the OLGC music group performers.
Praise Team celebrated its 25th year of coming into the mainstream of performance in different parts of the world and moreover have come in to contact with the OLGC for the past 10 years have become part of the youth group indirectly. During the final weekend in June, they publicly performed at Coquitlam BC, praising God for the musical talents that God has bestowed upon them.
Last, Frs. George, John, Junji, and I had our trimonthly retreat at the OCD parish church. Fr. George animated the talk with the video presentation on the theme of Eucharist and humility. The OCD fathers were available for the Sacrament of Reconciliation. We concluded the Recollection with evening prayers and adoration.