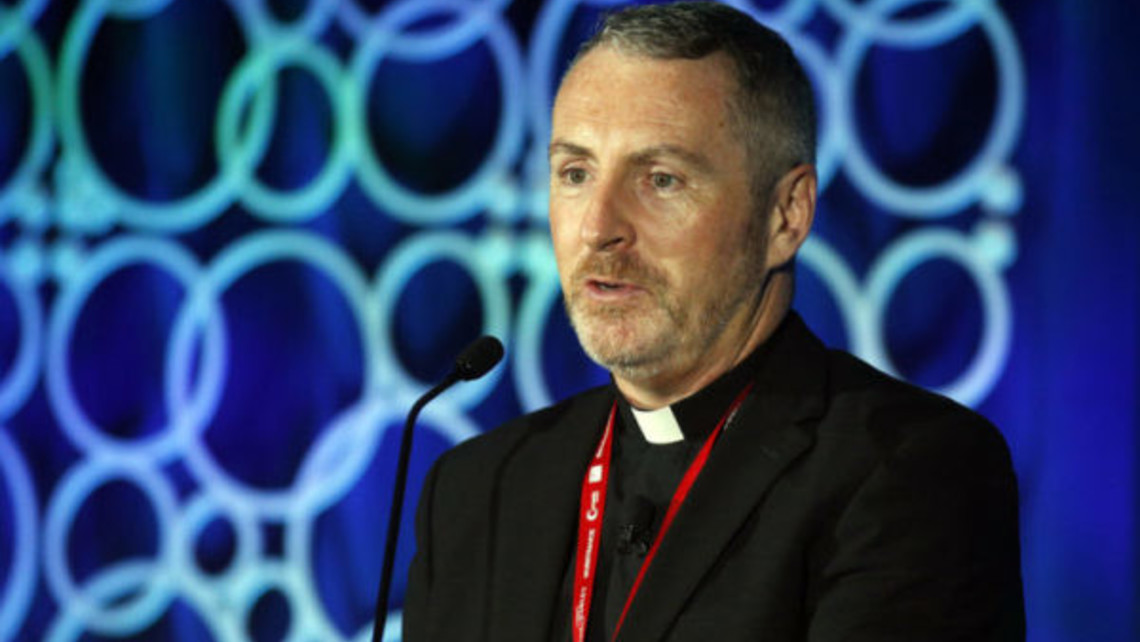 By Fr. Mike Mendl, SDB
(St. Petersburg, FL – June 21) – The annual Catholic Media Conference brought 355 Catholic communications specialists to St. Petersburg for the annual meeting of the Catholic Press Association of the United States and Canada from June 18 to 21.
Attendees included journalists (editors and writers), diocesan and institutional communications directors, publishers, admen, business managers, radio and TV people, bloggers, vendors, and others. They came not only from all across the U.S. and Canada but also from a few foreign countries where the excellence of the Catholic press and other media in our countries is recognized and emulated. More than 100 men and women, both clerical and lay, represented diocesan or national newspapers and magazines, and more than 20 were on hand from radio outlets. There were reps from SIGNIS (the international Catholic media organization), media groups such as Brooklyn's DeSales Media, and even National Public Radio.
The annual conference moves from city to city each year, more or less rotating among regions (including Canada), but always offers the participants opportunities "to learn new skills, share insights and re-energize with colleagues who share in the mission of proclaiming the Good News in an ever-increasing diversity of ways," in the words of CPA president Joseph Towalski of the diocese of St. Cloud, MN.
The only keynote speech addressed to a plenary session of the attendees this year was given by Msgr. John Kennedy, head of the disciplinary section of the Congregation for the Doctrine of Faith, with 17 staff the largest office of the CDF. It deals with various offenses against the sacraments and, notoriously, clergy and religious accused of sexual abuse—not a pleasant topic, but one of obvious importance. Msgr. Kennedy held our somber attention with a frank presentation of what his office does and how it has affected him personally in his 16 years at CDF (as well as his staff), and of some of the implications of the abuse crisis for the entire Church. He credited Catholic media for giving the story due to coverage. At the end of his address, lasting more than an hour, he got a standing ovation. You may have read about his talk in Catholic media here.
The conference offered attendees the chance to spend three days following tracks specific to their fields: editorial, design, business, communications leadership, digital media, and radio. Everyone had the option of attending any of the 33 sessions, however. Several new movies were screened. Vendors were on hand to present their organizations (e.g., the Knights of Columbus, Catholic News Service, Paulist media, EWTN), tour opportunities, graphic arts, diocesan magazine possibilities, etc.
The editor of Salesian News took in sessions on design (notes on which he passed along to Jakeline Magalhaes, Susan Grasso of Salesian Missions, and some people in our local communities), writing, and editing, and also served as moderator of one session on behalf of the CPA.
Each day included the celebration of the Eucharist, twice at the lovely local parish church, St. Mary, and once at St. Jude Cathedral. There was also a prayer room tucked in a quiet, out-of-the-way corner of the meeting floor.
The CPA presents two major annual awards. The Bishop John England Award was presented to Msgr. John Kozar, general secretary of the Catholic Near East Welfare Association (CNEWA). Mark Lombard of New Orleans's Clarion Herald won the St. Francis de Sales Award, the highest honor given by the Catholic Press Association. (St. Francis is the patron saint of journalists).
Outstanding journalism is honored each year with slews of awards, e.g., best national newspaper, best diocesan newspaper, best stories in different categories, best newsletter, best photography, etc.
CPA's leadership changed, Joe Towalski having completed his two-year term as president. The new president is J.D. Long of America Media. The other officers and board members also began new terms.