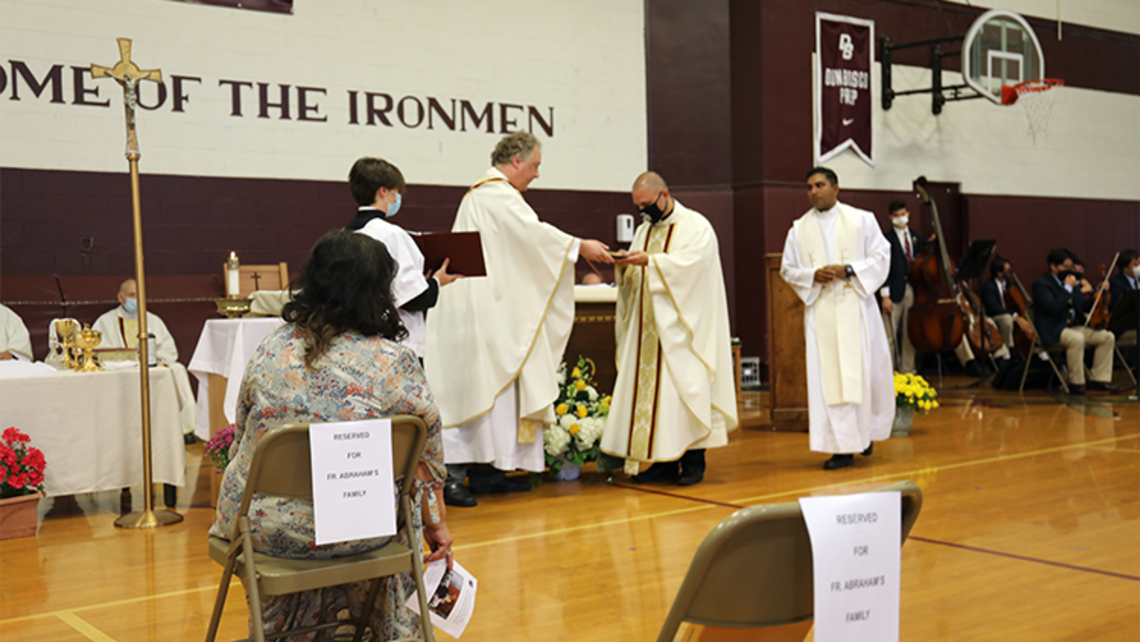 By Jennifer Passerino, P'15, '20, Director of Events & Public Relations, Don Bosco Prep, Ramsey, NJ
(Ramsey, NJ — September 20) — On Friday, September 17, the Don Bosco Prep community in Ramsey, NJ celebrated the Mass of the Holy Spirit and the Installation of the school's 22nd Director, Fr. Abraham (Abe) Feliciano, SDB. 
 
The V. Rev. Timothy Zak, SDB, Provincial, officiated the Mass, which was concelebrated by the Don Bosco Prep Salesian community. We welcomed members of Fr. Abraham's family, including his mother, Mrs. Miriam Feliciano, who gathered in the gymnasium along with the senior class. Underclassmen viewed the Mass from their classrooms via a live stream set up by the communication arts/media students. 
 
Symbols of Salesian charism were presented to Fr. Abraham by members of the Don Bosco Prep community. Br. Tom Dion, SDB offered the Salesian Constitution; Craig Jandoli, Vice Principal of Academics, offered the Salesian Educative and Pastoral Plan; and Aedan Podest '22 offered a statue of St. John Bosco as gifts to Fr. Abe at the altar. Fr. Abe then took his directorial oath of office and was witnessed by Fr. Tim.
 
The Don Bosco Prep community is happy to welcome Fr. Abraham as director!
September 24, 2021 - 9:00am