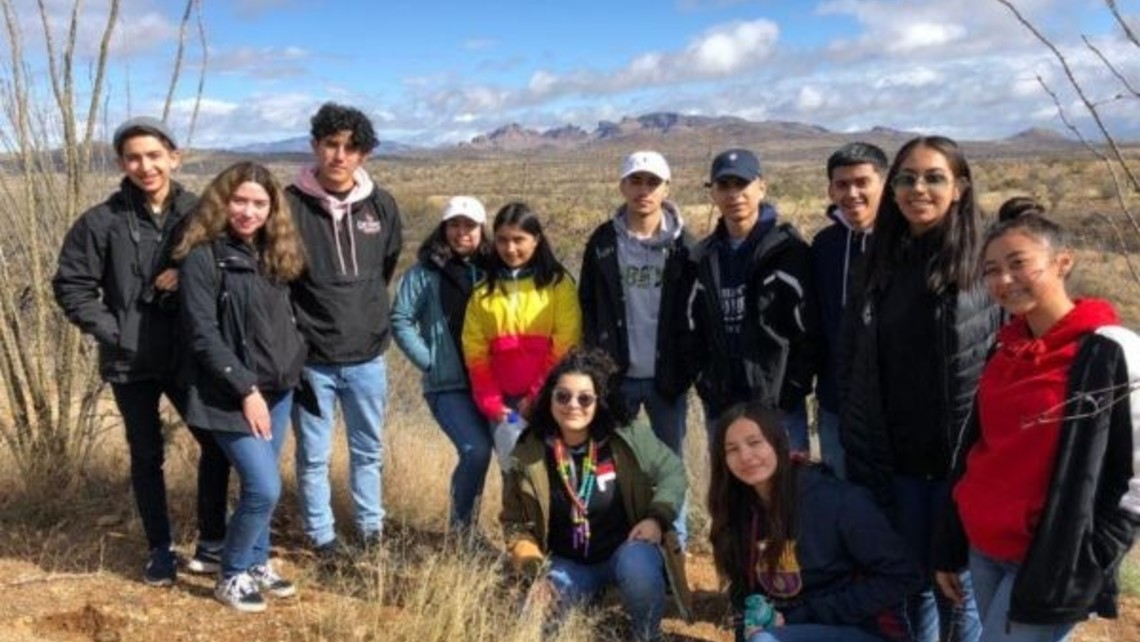 (Takoma Park, Md. – March 21) – In the first weeks of February, students from Don Bosco Cristo Rey High School in Takoma Park took part in a US/Mexico border immersion program hosted by San Miguel High School in Tucson, Ariz., called El Otro Lado. One of those students, Fatima Izaguirre, filled in the DBCR newsletter on her experience. Her answers are touched up slightly for grammar.
WW: What was your favorite part of your experience?
Fatima: My favorite part of going on the El Otro Lado trip was being able to hear about the different perspectives in Arizona: from migrants who have crossed the border, the members of the Kino Border Initiative, organizations that help, the members of the Tohono O'odham Nation, Border Patrol agents, a public defender and more. Every day the activities were different, and I definitely learned something new every day. Being able to do something new was definitely a push to step out my comfort zone.
WW: Could you tell me about the team you worked with?
Fatima: The team I worked with were all really amazing. We all came from different backgrounds, but we all had something in common. We all went on this trip not knowing what to expect, and we were openminded about the experience. It was great hearing what everyone had to say about the day's activities.
WW: Could you tell me about the people you met?
Fatima: I met all types of people – students and staff who welcomed us to San Miguel High School, migrants who were seeking asylum, members of a Native American nation that welcomed us onto their land, and people who ran organizations to help all migrants that cross the border by providing shelter, clothes, food, water and information. All these people were great to meet. They were all aware of the problems occurring by the border and were all taking action in different ways. All these people were truly amazing for what they do.
WW: What surprised you about the culture?
Fatima: The thing that surprised me about being in Nogales, Arizona, and Tucson, Arizona, was how many residents commented on the fact that there is no crisis going on. They live in the area and are witnesses to what really goes on and say there is no crisis.
WW: What was difficult?
Fatima: The most difficult part for me was seeing how migrants are treated in the courtroom of Operation Streamline. Operation Streamline was something that I've never heard of until our EOL meetings. I thought I was prepared for what I was about to see but I wasn't. Sitting in the courtroom watching how 16-18 migrants walk in all together, in a single file line, chained up from hands to waist to feet, hearing the judge call them by their names, and hearing the chains clank as they go up. Everything about the process of deporting immigrants back to their home is so heartbreaking. Each sentencing lasts about 30 seconds per person. The migrants get only about an hour each to speak with the public defender assigned to them to hear their rights in the U.S. and decide if they want to plead guilty or not guilty for crossing. The public defenders let the migrants know if they chose to plead not guilty they will most likely not win and will be held in jail for six months or longer until their trial. As 16-18 migrants enter, another 45 or more are waiting to be sentenced. This process happens every day, and hundreds of migrants plead guilty, meaning they are convicted with a felony on record. It was just so hard to see these people who have just crossed the border, who have been in detention centers waiting to be processed, in a room where they receive ear plugs to hear the judge's words in Spanish, and sometimes some speak a different dialect and don't understand anything.
WW: How can you continue to support the ongoing work in the area where you served?
Fatima: What I can do to continue supporting the ongoing work in Arizona is spreading the word on what this trip was about. It was an educational trip, and I became aware of all types of organizations that help migrants and the conflicts [a border] wall would bring. Additionally, I wasn't aware of the Tohono O'odham Nation. Speaking on what I learned can go a long way!
WW: What is God teaching you as you get back into your routine here?
Fatima: God is teaching me to be openminded about everything I do, to be aware of what I do, and to be welcoming to everyone because you don't know their story.
WW: How do you want to remember this experience going forward?
Fatima: I want to remember this experience as a positive and unforgettable one because it's something going on every day. It's not something easy to hear about, but all we can do is hope for the best and do something about it.
WW: How did God change your view of the world?
Fatima: God just proved my view on the world to be correct because life isn't easy and is sometimes unfair, but we have to have faith that God knows everything, that things will get better, and that these fights are not over