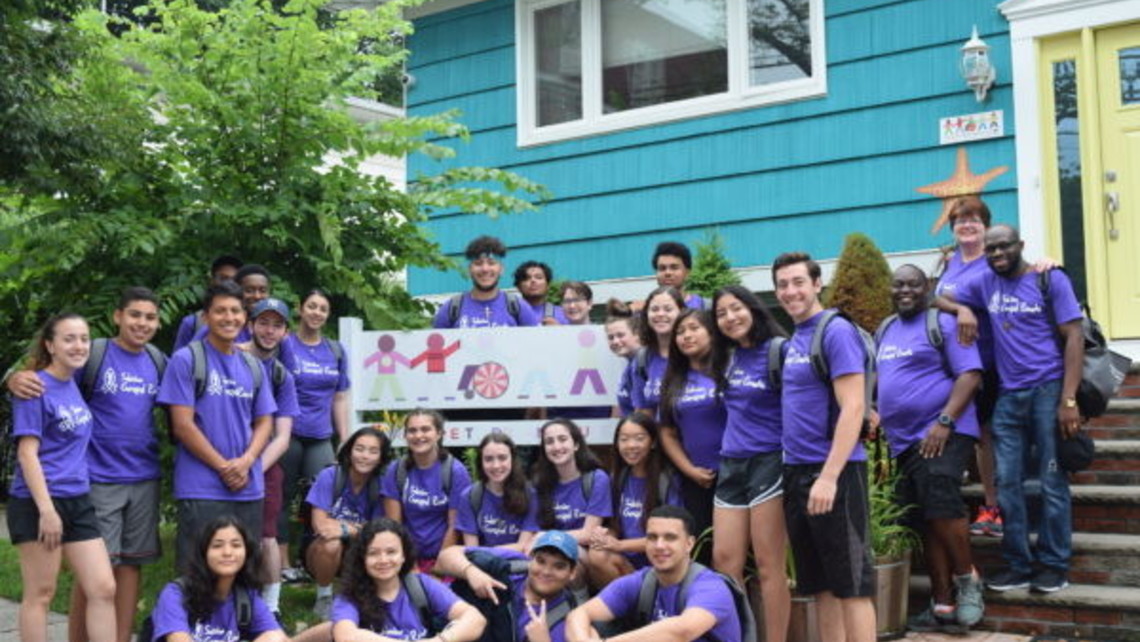 By Kostas Argyros '18, Salesian High School
(New Rochelle, NY – July 26) – A Gospel Roads I program took place at Salesian High School in New Rochelle from July 13 to 20. Twenty-eight youths, young adults, and adults participated in the service-retreat program directed by George Janvier (Salesian's CYM) and co-directed by Natalia Ruggiero.
"Coincidences do not just happen; everyone you meet and everything that happens in your life is for a reason. We may not understand it, but God does," Elissa Montanti, the founder of the Global Medical Relief Fund, told us by when we went to help her. Her words perfectly sum up Gospel Roads NY.
Everyone I met on Gospel Roads—participants, the young team (older youths with GR experience who run the program under adult guidance), and those who ran the worksites—was phenomenal. We learned something distinct from each of them. Our experiences included learning how to properly deal with children with mental illnesses, interacting with the homeless of New York, playing with the kids at the Don Bosco Camp in New Jersey, picking up wood in the smoldering heat for hours. Regardless, we had fun. We had fun getting to know each other and also serving others.
Each day someone would go above and beyond to serve others, and you could see the impact it had on them as the days went on. One participant told me how she had had so many preconceived notions about children with mental illnesses and how to deal with them. She then went on to say how if it weren't for Gospel Roads, she never would have realized how pure and full of joy these children are. She was right; many times we forget about these children or we are almost fearful of them when we should be accepting of them and offer them all of the love we can possibly give them. The smiles on their faces when we would play or dance with them were awe-inspiring. There is something so filling about seeing these kids laugh and smile.
I went into Gospel Roads not knowing much more than that we were going to do service. No one said how much fun it would be. From the first day, I bonded with everyone. Everyone was welcoming and forthcoming. In fact, after the second day, everyone knew each other's names, and everyone hung out together. There were no cliques; instead, we were one big Salesian family. Everyone on this trip really showed what it means to be a Salesian. This week we lived the life of a Salesian. We showed what it means to be a Salesian. Instead of stopping at learning the themes of Catholic social teaching, we decided to live them. We left behind our convoluted "me-first" lives and lived lives of simplicity and Salesianity.
Regardless of our differences, we all had one thing in common: our Salesian spirituality and lifestyle, which brought us together and united us as one family, a family that offers an environment full of unconditional love and joy that can be created only with the Father, Jesus Christ, and the Holy Spirit.