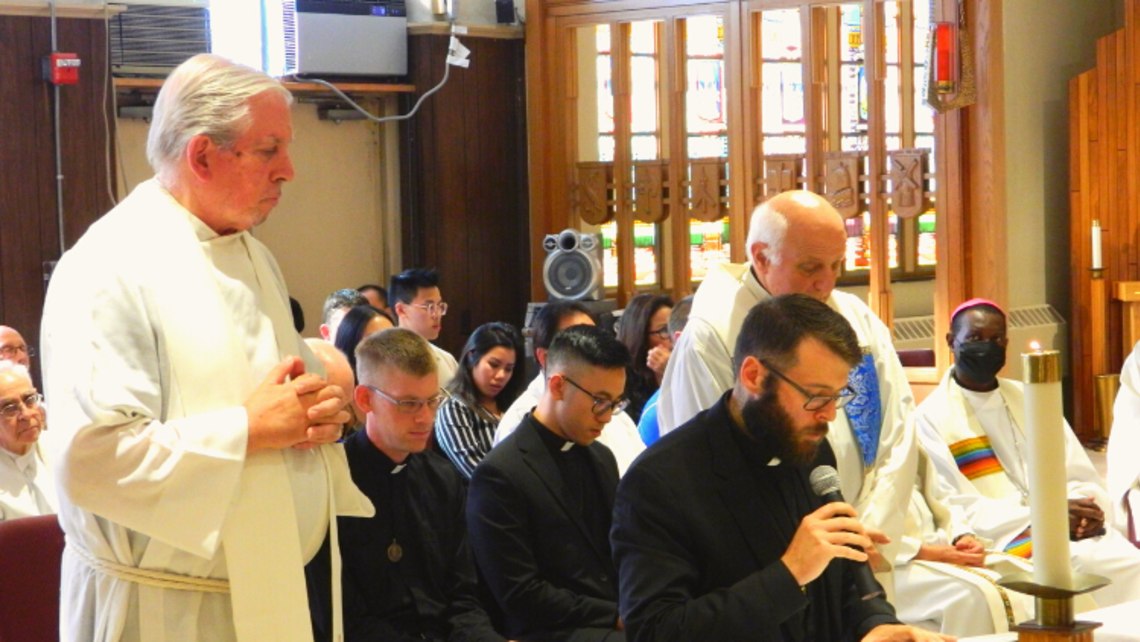 By Fr. Mike Mendl, SDB
(Haverstraw, NY – August 17) – On Monday, August 15, feast of Our Lady's Assumption, four young Salesians renewed their temporary profession for one year (in accordance with the Constitutions).
Brs. John Castonguay, Paul Hotovy, and Francis Nguyen are on their annual retreat at Don Bosco Retreat Center in Haverstraw, NY, and renewed their vows there in the presence of Fr. Provincial Tim Zak. Br. Kevin White's school year at Archbishop Shaw High School (ASHS) in Marrero, LA, has already begun, and he renewed his vows there before Fr. Steve Ryan, director, and the ASHS students.
Salesians on retreat, Salesians who came for the occasion, family members, Salesian Sisters, Salesian Lay Missioners (also on retreat), and others—including a bishop from Malawi who is a guest of the Salesians in New Rochelle at this time—filled the retreat house chapel during the Mass at Haverstraw.
This year is the 400th anniversary of St. Francis's death, and this year's retreats are based on St. Francis's spirituality. Hence Fr. Zak's choice to link the feast of the Assumption and the professions to a homily that St. Francis de Sales preached to the Visitation nuns on the feast of the Visitation in 1618; the Gospel reading was the same as for today's Mass.
In that long-ago homily, our patron saint singled out the charity, humility, meekness, and kindness shown by the Virgin Mary when she visited her cousin Elizabeth. He urged the Visitandines to imitate Mary's holiness exemplified in those virtues, and he told them that religious must keep Jesus at the center of their lives, as Mary did.
Fr. Tim had solicited some thoughts beforehand from the SDBs who professed today. They suggested: (1) All of us must renew our profession daily. (2) We need to keep in our prayer the young whom we serve. (3) The communion we share in religious life enables us to overcome differences of every kind. (4) Like unborn Jesus and John the Baptist, in the presence of mystery we keep silent. Fr. Tim expanded these thoughts: Our vocation is missionary—we're sent to the young. Our apostolic roots are in God.
The Assumption of Mary is the fulfillment of her hope in God, voiced in her Magnificat, Fr. Tim said. We trust that God will fulfill our hopes, too. Religious life can be a little bit of Heaven on earth.
August 17, 2022 - 12:00pm