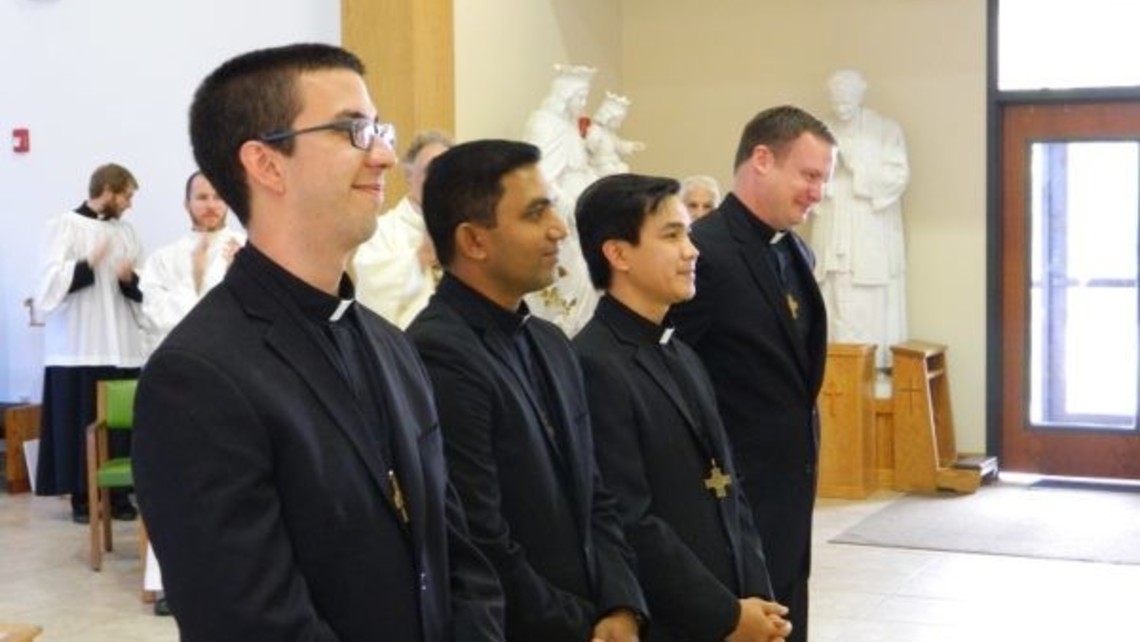 (Stony Point, NY – August 17) – Brs. Leonard Carlino, Sasika Lokutettige, Ky Nguyen, and Craig Spence made their perpetual profession of vows as Salesians of Don Bosco at a celebration of the Eucharist at the Marian Shrine in Haverstraw on August 17.
The Mass concluded the annual spiritual retreat of about 40 Salesians at the Don Bosco Retreat Center, located at the Marian Shrine. Fr. Timothy Zak, provincial, presided at the Mass and received the vows of the four men in the name of the Rector Major of the Salesians.
50 priests concelebrated, 17 other Salesians took part, along with members of the professed's families, seven Salesian sisters, Salesian Cooperators, and other friends of the professed.
From Long Island to Don Bosco
Br. Lenny Carlino, 28, is a native of Hauppauge, NY, his home parish St. Thomas More. His parents are Leonard Sr. and Linda Carlino, and he has one brother. He entered candidacy with the Salesians at Orange, NJ, in 2009 and made his novitiate in Rosemead, CA, in 2012-2013, professing first vows on August 16, 2013.
Br. Lenny continued his college studies at Seton Hall University, and in 2015-2017 did practical training at Archbishop Shaw High School in Marrero, LA, where he taught Scripture to freshmen. He describes his experience of Salesian community life at Shaw as "wonderful," and he enjoyed his introduction to Southern culture and the "wonderful" people of the West Bank (of the New Orleans metro area).
Br. Lenny is about to start his third year of theological studies at the Ratisbonne Monastery in Jerusalem. He has already been instituted as a lector and acolyte and hopes to be ordained deacon at the end of the academic year. His favorite courses have been those in the Old Testament, and being in the Holy Land has been a great experience for him, opening up the stories of both Old and New Testaments. His apostolic ministry has been primarily teaching catechism to the children of Filipino migrants.
For the future, Bro. Lenny aspires "to do whatever he can to meet the needs of the Congregation."
From Sri Lanka to Don Bosco
Br. Sasika Lokutettige, 37, comes from Sri Lanka, where his parents, Donald Lokuhettige and Kanthi Silva, and his two sisters still reside. Br. Sasika was raised in a Salesian parish and completed initial formation in Sri Lanka. He studied theology in Jerusalem before taking a period of vocational discernment.
In August 2015, Br. Sasika came to the New Rochelle Province, where he has been a member of the community at Don Bosco Prep in Ramsey, NJ, for the last four years, teaching theology to freshmen and being involved in extracurriculars such as volleyball, Savio Club, and an annual mission trip to Belle Glade, FL. In the coming school year, he will serve as Don Bosco Prep's coordinator of youth ministry (CYM).
For Br. Sasika, the best part of his years in Ramsey have been community life and being involved with the students. For the future, he hopes to "meet young people where they are" and to do "whatever God has in store" for him, "surrendering to God. I'm at peace with that."
From Vietnam to Don Bosco
Br. Ky Nguyen, 32, comes from Buon Me Thuot, Vietnam. His father, the late Minh Xuan Nguyen, had gone to a Salesian school, and thus Ky grew up in a Salesian family. He started his Salesian formation in Vietnam in 2004 and made his first profession of vows there on August 14, 2011.
Br. Ky's mother, Hoang Thi My Dang, older sister, and younger brother have all lived in the US for 10-18 years. On account of that, Br. Ky's spiritual director and superiors in Vietnam encouraged him to emigrate to the US in 2016.
Br. Ky spent six months with the Salesian community in Orange, NJ, and the 2017-2018 school year at Salesian High School in New Rochelle, NY, becoming familiar with American culture, improving his English, and engaging in a lot of youth ministry activity. He is about to start his second year of theological studies at Immaculate Conception Seminary at Seton Hall University in South Orange, NJ, where his favorite courses are in Scripture.
Br. Ky's best experiences in our province are those that have helped him grow in understanding the faith and his vocation. He continues seeking to discern God's will for him at each stage of his life, at each moment of life.
From the Deep South to Don Bosco
Br. Craig Spence, 42, is the son of Marcia Bickford and Chuck Spence and comes originally from Mobile, AL, but later made his home in Pass Christian, MI. He came to the Salesians as a lay missioner in 2001, serving first at Don Bosco Tech in Paterson, NJ, then at Mary Help of Christians in New York City. After a period of discernment, he became a candidate for Salesian life at Orange in 2011, made his novitiate in Rosemead, CA, in 2012-2013, and professed first vows on August 16, 2013.
Br. Craig completed his practical training at Salesian High School in New Rochelle, NY, in 2015-2017, teaching freshman religion and being heavily involved in youth ministry, including midnight run, weekly trips to the soup kitchen at Holy Rosary Parish in Port Chester, NY, and a variety of monthly oratory-types of experiences for the students.
Br. Craig is about to begin his third year of theological studies at the Ratisbonne Monastery in Jerusalem, where Scripture is his favorite study. He enjoys living in the Holy Land, where our Christian faith had its beginnings. His apostolic work has been with Filipino migrants.
Br. Craig aspires to live out the Gospel in the years ahead, particularly within the Salesian mission and Salesian community.
Ambassadors of Christ in Today's World
Fr. Zak's homily contrasted the spiritual values embodied in religious profession with the narcissism and shallowness of the contemporary world. He said that the four men making their final vows are committing themselves to following Christ, emptying themselves, and serving others.
"The Good News that we announce is neither ourselves nor our own message; we have become ambassadors, the messengers of someone greater.  Our testimony about Christ's love is believable because we speak from our own experience."
Fr. Zak focused particularly on the passage that the four had chosen for the second reading (2 Cor. 5:14-21), in which Paul states his lack of concern for what others think of his faith; he is driven, instead, by the urgency of following Christ. Since Christ has loved us first and made us a new creation, we are moved to go beyond ourselves and become ambassadors for Christ. Our message as religious is credible inasmuch as we, like St. Paul, have had a personal experience of Christ.
Fr. Zak mentioned that Brs. Lenny, Sasika, Ky, and Craig have each had personal experiences—in family, Salesian life, the apostolate, and cultural challenges—that have helped form their lives and their relationship with Christ. The love they've encountered makes them ready to respond by loving others and giving themselves to others.
Fr. Zak contrasted the chaos so prevalent in the world around us with the cosmos, the well-ordered world intended by God. Christ has reconciled the chaotic world with the cosmos and given it back to his Father. The four brothers, said Fr. Zak, are witnesses to this reconciliation and are its ministers to the young, continuing the ministry of reconciliation initiated by Christ and carried on by Paul. Finally, said Fr. Zak, in the face of today's world, the perpetual profession is a radical witness that life has meaning, and God's plan is truly one of love and order.