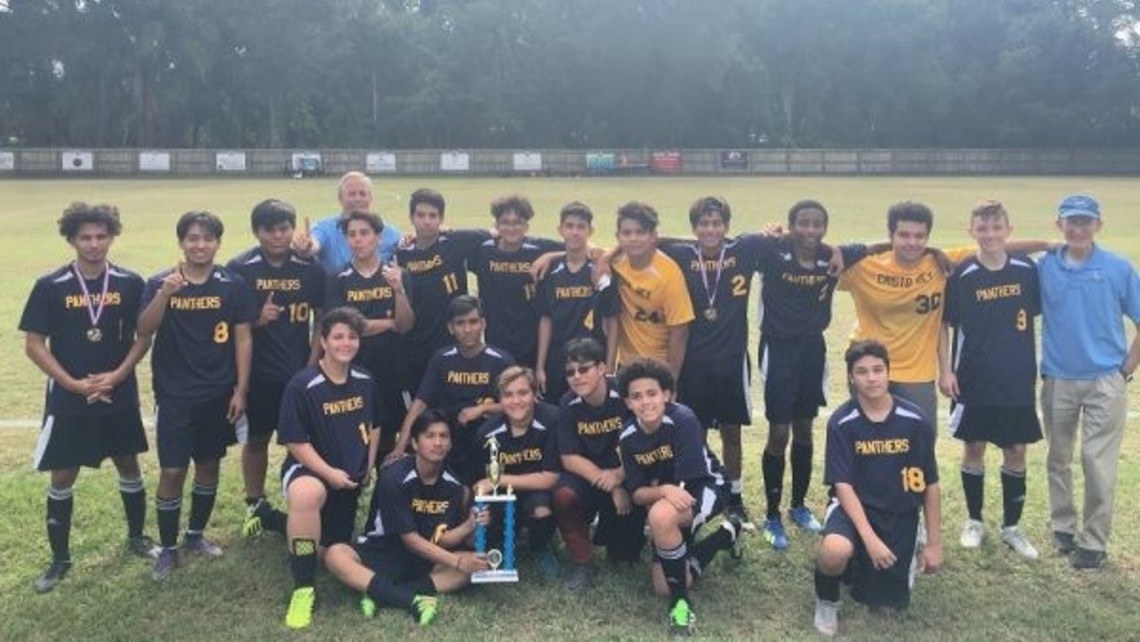 This year a very bright moment occurred for Cristo Rey Tampa. The boys soccer team claimed third place in the Cambridge Christian Lancer Invitational Soccer tournament. Two players, Favian Monodragon and Robert Morales, were named to the all-tournament team. This is the first athletics trophy in CRT's short history, and it augers well for the future growth of CRT's sports program.
One of the factors that helped the Panthers accomplish this success was excellent coaching and preparation under the leadership of athletics director John Davidson, head coach of the boys varsity team Bob Bauman, and assistant coach Fr. Joe Hannon. Coach Bauman has had years of experience and won many awards in his previous coaching experiences in Hillsborough County, most notably leading Jesuit High School's soccer team to 24 district titles, 5 state titles, and the national title in 2001. He was the National High School Athletic Coaches Association's National Coach of the Year in 2006.
After retiring from coaching in 2013, Mr. Bauman, an attorney, campaigned for and was elected judge of the Hillsborough County Circuit Court, Group 34. After four years away from coaching soccer, however, Judge Bauman felt a desire to come back to coaching high school youth. He also recalled a conversation he had shared with the late Msgr. Laurence Higgins, who had boosted the founding and growth of Cristo Rey Tampa. Msgr. Higgins had mentioned to Coach Bauman that a local Catholic high school was opening to serve needy youngsters and would eventually need a soccer coach. Remembering that conversation a few years later, Coach Bauman came to CRT and now leads the Panthers in their first season of competitive play in the Tampa area.
As the team continues to develop, it is becoming clear that this young squad has great potential, backed by the strong leadership of Coach Bauman.
December 27, 2018 - 4:07pm