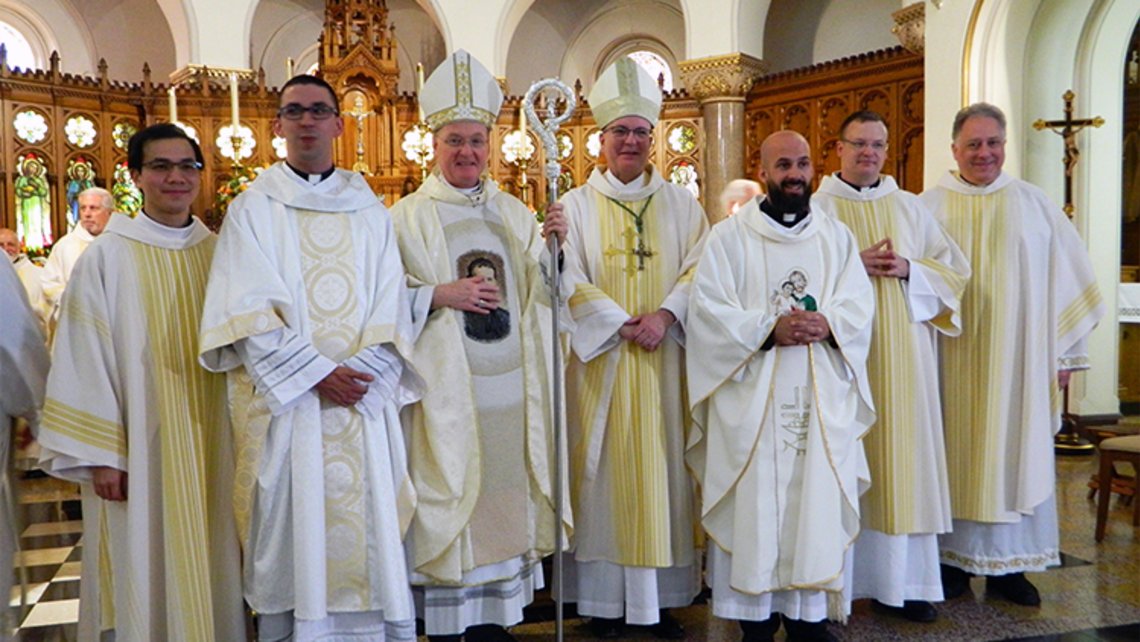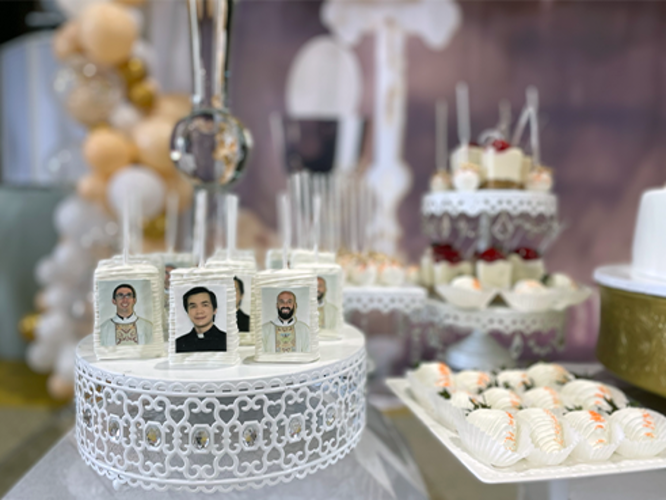 By Fr. Mike Mendl, SDB, with contributions from Julia St. Clair, Communications Coordinator
Two Salesians of Don Bosco were ordained to the presbyterate and one to the diaconate on Saturday, June 26, at St. John Bosco Church in Port Chester, NY. They were Frs. Leonard Carlino and Steven DeMaio and Deacon Ky Nguyen. All three men belong to the Salesian province of St. Philip the Apostle, which covers the Eastern USA and all of Canada.
Auxiliary Bishop Edmund J. Whalen of New York presided and preached. Also participating was Bishop John O. Barres of Rockville Centre, Fr. Lenny's diocese of origin. Another 46 priests concelebrated, mostly Salesians, and five deacons also vested for service at the altar or participation by their presence.
The church was about half-full, a couple of hundred people, with pews still marked off for social distancing. Attending were the ordinands' families and friends, members of the Salesian Family, and parishioners of St. John Bosco.
Many others tuned in via the live stream from St. John Bosco Church's Facebook and YouTube.
"It's absolutely beautiful that someone so young has decided to dedicate his life to God," Joanna Garbatini, Fr. Steve's cousin, proudly commented to Julia St. Clair of the Salesian Communications Office.
"I remember when I first met Deacon Ky, who was my small group leader on the Salesian Leadership Retreat, and Fr. Steve, who was my homeroom teacher when I was a freshman," Anthony Del-Debbio, Salesian High School '19, shared with Miss St. Clair. "Fr. Steve was the one who got me into the Salesian community." He then told a humorous story of an occurrence he encountered after Deacon Ky's departure from Salesian High. "[Deacon Ky] oversaw chapel when I was an altar server. When he left, he left instructions for us on where everything was, steps one to 20—and we didn't find them until we called him for help!"
"It's really overwhelming because I had the grace of accompanying Fr. Steve for four years. I also know Fr. Lenny well since we studied together. It's beautiful this day has come, and they will be wonderful priests," Fr. Benny Di Bitonto, diocesan priest from Jerusalem, began explaining to Miss St. Clair. "We will miss them but celebrate the Mass every day. We are one and will always meet at the altar. There is no periphery; we are all at the center."
The parish provided a buffet luncheon after Mass. Both Fr. Lenny and Fr. Steve studied theology for four years at the Studium Theologicum Salesianum in Jerusalem, also known as the Ratisbonne Institute, an affiliate of the Salesian Pontifical University in Rome, and both were ordained deacons on June 14, 2020, at the Church of All Nations in Gethsemane, Jerusalem.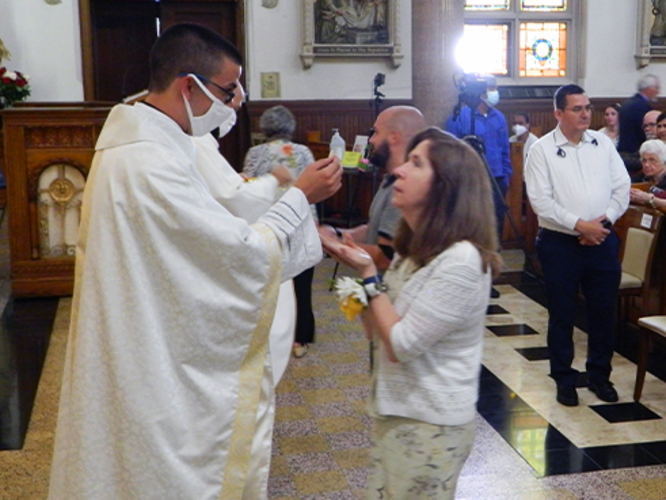 Fr. Leonard Joseph Carlino Jr. was born in 1991 at Stony Brook, NY. His parents are Leonard Carlino Sr. and Linda Carlino. All of them have made their home in Hauppauge, NY, and have been parishioners of St. Thomas More Church there. Fr. Lenny was educated at Forest Brook Elementary School in Hauppauge and Hauppauge High School before entering the Salesians in August 2009. At Seton Hall University in South Orange, NJ, he earned a B.A. in Catholic theology, followed by an M.A. in religious education from Fordham University in the Bronx. At the Ratisbonne he earned a Bachelor's degree in sacred theology; his thesis was titled "Consecration and the Recapitulation of All Things in Christ."
Fr. Lenny came to know of the Salesians through the presence of Salesian Cooperators at St. Thomas More Parish, which led to his participation in Salesian youth ministry retreats. He entered the novitiate in Rosemead, CA, in 2013 and made his first profession of vows on August 16, 2014, at Haverstraw, NY, and his perpetual profession on August 17, 2019, also at Haverstraw. He completed two years of practical training at Archbishop Shaw High School in Marrero, LA, teaching religion and assisting with band and choir (2015-2017). He has found his eleven years of Salesian life a beautiful "life of consecration in prayer, community, and mission. I've been blessed to meet Salesians from many different contexts, backgrounds, and countries. While we are all unique, we share this identity as sons of Don Bosco and followers of Christ as ministers of the Church to young people."
As a newly ordained priest, Fr. Lenny is assigned to St. John Bosco Parish in Port Chester as parochial vicar and coordinator of youth ministry. There he hopes "to personalize and truly interiorize the priestly ministerial identity through practice of the ministry at St. John Bosco parish, especially among the young people of the village."
All of the newly ordained men were extremely happy and grateful to have experienced such an amazing day. "It's very good to be here," Fr. Lenny told Miss. St. Clair. "For me, witnessing the wonderful laypeople embrace their vocations helps me to live mine. While it's been a long time coming, God is with you and that makes it all worth it." For Fr. Lenny, the next step on his vocation journey is to "be at peace and have grace flow through ministry."
Fr. Lenny celebrated a Mass of thanksgiving in his home parish of St. Thomas More on Sunday, June 27, receiving a warm welcome from pastor Fr. Antony Asir and hundreds of parishioners.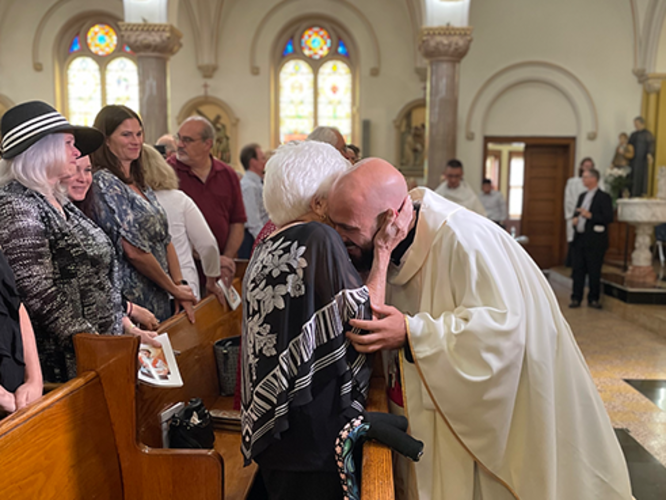 Fr. Steven Joseph DeMaio is the son of Steven and Theresa DeMaio of Ave Maria, FL. He was born in Danbury, CT, in 1985. His original hometown was Sherman, CT, where the family belonged to Holy Trinity Parish. Fr. Steve got his schooling at Sherman Middle School, Canterbury High School (New Milford, CT), and James Madison University (Harrisonburg, VA); at JMU he earned a B.A. in business administration. At the Ratisbonne he earned a Bachelor's degree in sacred theology; his thesis was titled "Created, Accompanied and Divinized in Trinitarian Friendship."
After his college graduation, Fr. Steve met the Salesian Sisters in Lusaka, Zambia, while working for a Spanish NGO. That encounter induced him to join the Salesians in 2010. He entered the novitiate at Rosemead in 2011 and made his first profession of vows on August 21, 2012, at New Rochelle, NY. He made his perpetual profession on September 7, 2018, at Haverstraw, NY. He completed three years of practical training (2014-2017) at Salesian High School in New Rochelle, N.Y., teaching religion and serving as campus minister.
He speaks of his Salesian experience thus far as having "been one of healing and growth towards a deeper and more intimate relationship with God through my encounter with my Salesian brothers and the many people I have encountered on the way."
Newly ordained, he will return to New Rochelle to assist in the province's vocation office. He "hopes to be a dedicated and authentic Salesian priest wherever God sends me."
Fr. Steve told Miss. St. Clair that he's "really grateful to be back in the province." He continued, "I'm excited to work with vocations and youth and young adult ministry, accompany young people, and be a blessing."
Fr. Steve celebrated a Mass of thanksgiving at St. Rose of Lima Church in Meriden, CT, on Sunday, June 27.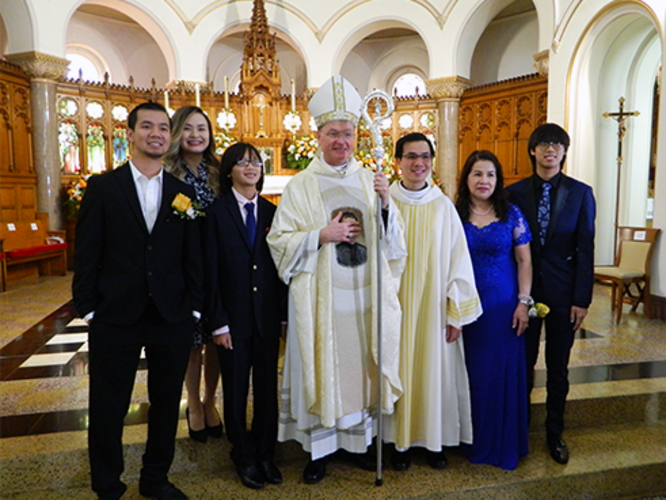 Deacon Paul Ky Nguyen was born in 1986 at Dakmil, Vietnam. He is the son of Peter Minh Xuan Nguyen and Mary Hoang Dang. He got his early education in Vietnam, up to a B.A. in material science from the University of Natural Science in Ho Chi Minh City (Saigon), Vietnam. He is currently a student at Immaculate Conception Seminary, attached to Seton Hall University, in South Orange, NJ.
Deacon Ky knew the Salesians early in life because his father is a Salesian past pupil. He entered the Salesians as a candidate in 2004 and made his novitiate in 2010-2011 in Ho Chi Minh City, professing first vows on August 14, 2011. After immigrating to the US in 2016 to rejoin his family, he made his perpetual profession on August 17, 2019, at Haverstraw, NY.
Deacon Ky did his practical training in the Salesian boarding school at Bao Loc, Vietnam, teaching computer science and providing general assistance to the students, and at Salesian High School in New Rochelle as a campus minister (2017-2018). As a student of theology at Immaculate Conception Seminary, he resides in the Salesian community of Orange, NJ, and continues youth ministry activities there.
Concerning his Salesian life in two countries, he writes: "Being a professed Salesian for ten years has offered me chances to follow Christ in Don Bosco's charism, i.e., to serve young people. There have been up-and-down moments on this journey. But in general, it has been a beautiful journey. Like Mary, who said 'Yes' to the call to become the Mother of God without understanding what it means, I am also called to continue to say 'Yes' to God with a complete trust in his wisdom and providence."
When asked how he felt after the ordination Mass, Deacon Ky remarked, "Wow! I'm full of hope and know this is what God wants." He added, "It's a vocation and journey of faith because the Lord is by my side."
This summer, Deacon Ky will exercise his ministry at St. Rosalie and St. John Bosco parishes in Harvey, LA, which are administered by the Salesians. In the fall he will continue his theological studies at Immaculate Conception Seminary. He says simply that he hopes to "continue to grow in faith, being closer to Jesus."
Preaching without notes, Bp. Whalen began by noting the blessings that the ordinands' parents gave to them after they responded, "Present," to the call to step forward for ordination.  Their parents gave them the gift of God's love, and through the ordained that love will flow on to God's family, the Church.
The gospel reading (John 20:19-23), the bishop said, shows Jesus coming to his disciples, challenging them, and sending them to visit God's people and breathe his life into them. Then, citing the concluding words of the Eucharistic Prayer at every Mass, "Through him, with him, and in him," Bp. Whalen challenged the ordinands to remember that their ministry is always about Jesus and his people.
He noted that this ordination is taking place between the memorial of St. Joseph Cafasso (June 23) and the solemnity of Sts. Peter and Paul (June 29), and that June 29 will be the 70th ordination anniversary of Joseph Ratzinger/Benedict XVI.  He urged prayer that many more young men will come forward to answer God's call and accept this gift of love from God, as "young, skinny" Joseph Ratzinger did and the three men are doing today.
The Bp. Whalen pointed to the priestly example of St. Joseph Cafasso, whose ministry focused on Jesus and on the condemned prisoners to whom he brought God's love, "breathing on them the creative life of God."  St. Joseph taught that same focus and attention to Don Bosco. He also imitated Mary in his readiness to obey and readiness to suffer, because of poor health, in his ministry.
The bishop turned then to the example of Sts. Peter and Paul.  Like St. Peter, priests can bring Christ's forgiveness to people only after they have accepted that forgiveness. Like St. Paul, they are to be zealous ("not zealots") in bringing the gift of God that has been "boiling up inside them" like hot water in a tea kettle. Joseph Ratzinger has always remained a teacher attentive to individuals, even after being called in obedience out of his classroom to ministry as bishop, cardinal prefect, and Pope.  He kept his focus on Jesus through the sacraments of Eucharist and Reconciliation.
Finally, the bishop emphasized, all priestly ministry happens through the Eucharist, and the ordained have to start every day by experiencing that gift:  "through him, with him, and in him."
A third Salesian, Fr. Charles Craig Spence of Pass Christian, MS, will be ordained on July 31 at St. John Bosco Church in Harvey, LA, by New Orleans Archbishop Gregory Aymond.

Read the original article here, and view photos on Facebook and Shutterfly.