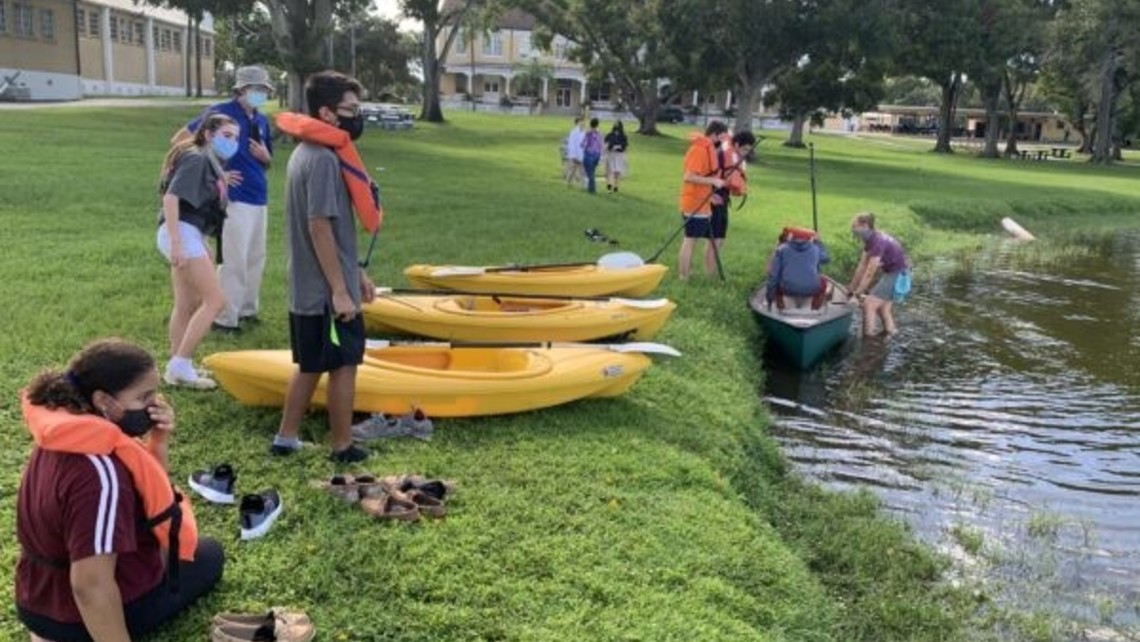 By Lili DeGrasse
This year, the campus ministry of Cristo Rey Tampa Salesian High is run by Fr. Eddie Chincha SDB and Ms. Katie Braun. One of the components of CRT's campus ministry is the afterschool program. Every day, once school is dismissed, students have an open invitation to come to the Oratory, located in the campus ministry room of CRT. It is a time and place where students can feel at home at school, relax, and enjoy recreation with friends while in a positive environment with an encouraging Salesian presence. (Did we mention that several of the Salesian priests and brothers, like Fr. Joe Hannon, Fr. Jay Horan, and Br. Jerry Meegan, assist with or drop by and join the afterschool Oratory?)
The Monday through Thursday schedule goes like this: At 4:15 PM EST, once school is out, students arrive, play games such as four square, basketball, card games, and video games, and hang out with their friends. At about 5:00 PM EST, Fr. Eddie gives a Good Night then the Oratory switches from "playground" to "school" and time is spent on homework—the classroom which adjoins the campus ministry room makes a great study hall. At 6:00 PM EST, it's time for the students to go home.
On Fridays, the afterschool Oratory is extended. Not only does it run longer, but the fun and play component encompasses more of what is available at the oratory that is Mary Help of Christians Center (the lake, pool, fields, and farm). It also includes dinner and time for reflection and God via Lectio Divina, the Rosary, Adoration, etc. Here, too, the Salesian priests and brothers stop by and enter into conversation with our youth, present them with moments of encounter with God, and join in play.
Here's a lovely example of one such Friday: There were about 30 students. The sun was setting as the Oratory finished Lectio Divina and headed toward the pavilion for a delicious dinner of fried chicken, collard greens, and mac and cheese. Bellies full, the young people broke off into groups to toss a football, or to play volleyball or four square, as SDBs walked around talking with them all. Truly HOME, SCHOOL, CHURCH, and PLAYGROUND.
December 7, 2020 - 3:06pm