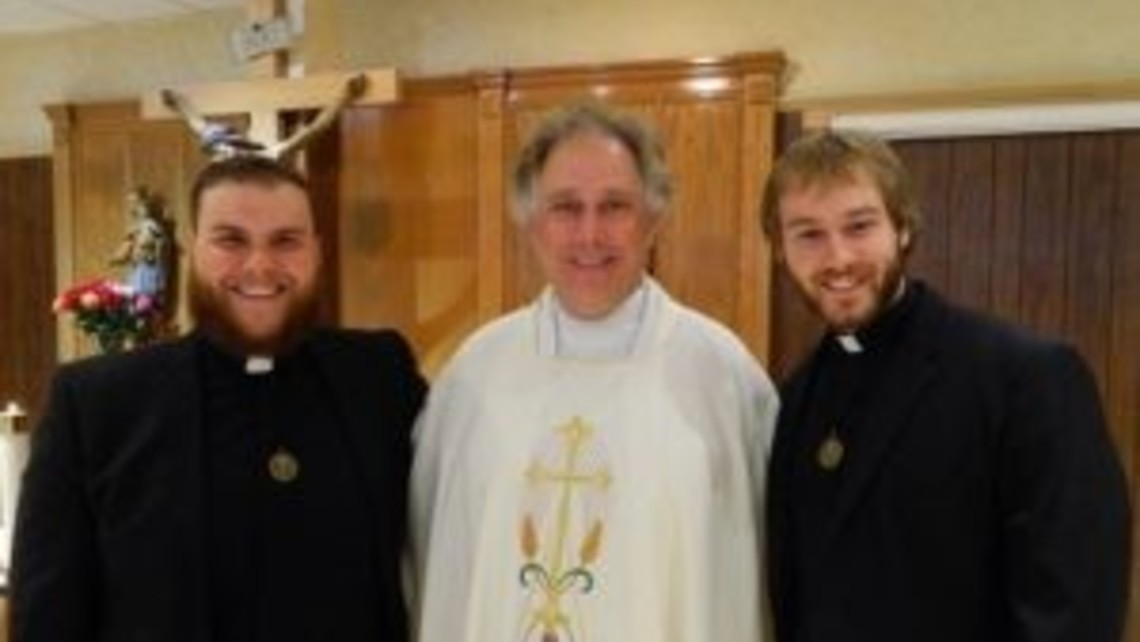 Story and photos by Fr. Mike Mendl
(Stony Point, NY – August 17) – Near the end of the Salesian retreat at Don Bosco Retreat Center in Haverstraw, on August 16 Bros. Daniel Glass and Thomas Junis renewed their temporary vows. Following the prescriptions of the Congregation, they professed for one year—their second as vowed Salesians. Fr. Timothy Zak, provincial, presided at the afternoon Mass and received their vows.
The Mass was celebrated in the retreat house chapel and was attended by the approximately 40 Salesians on retreat, 15 Salesian Lay Missioners and their staff also on retreat, confreres from the local "Stony Point" and Orange, NJ, communities, family members of some of the Salesians, and friends of Salesian Missions.
Fr. Zak took his homiletic cue from recent remarks of the papal nuncio, Abp. Christophe Pierre, addressed to the Conference of Major Superiors of Men, which compared contemporary religious life in North America to a voyage at sea. As mariners will reach their destination safely only by attending to signs like wind, current, chart, and stars, so will a religious reach heaven by discerning the signs of the time and place around him.
In the case of Salesians, Fr. Zak continued, that means not only attending to Christ, above all, but also to the young. Abp. Pierre had noted that the young are looking to religious for guidance and direction in their lives. A Salesian's friendship with Christ and faith in him, said Fr. Zak, will inspire the young and call forth from them the best that they have.
Finally, Fr. Zak referred to the stained glass windows of the chapel, depicting an array of Salesian saints and blesseds, and linked them to this year's Salesian strenna: holiness is for us, too. We have a great many Salesian examples to inspire us on our voyage toward our heavenly destination.