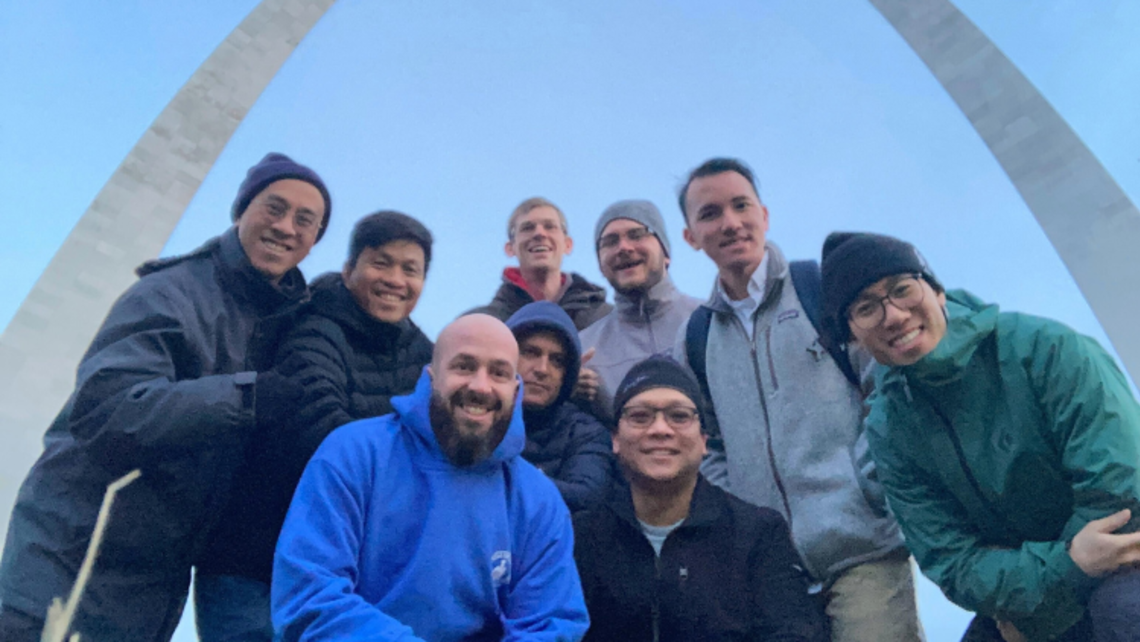 Dear Confreres,
A while ago, I was in a cemetery to bless a grave. The granddaughter of the deceased and her boyfriend, both in their late 20s, came over to me with a question: "Why don't we usually say the 'For thine is the Kingdom…' at the end of the Our Father?" This brief discussion led to another question about the 10 Commandments and to another question about the firstborn son belonging to the Lord. This young couple had decided to read the entire Bible in one year, not from the beginning to end, but following an outline on a Christian app. They are reading it separately, but when they happen to be on the same passage, they read it together out loud. I was amazed at their sincere interest in the meaning of Sacred Scriptures. How the Spirit of God is working in the most surprising ways!
Five years ago, our province spent significant time studying Going, Going, Gone: the Dynamics of Disaffiliation in Young Catholics. Besides understanding in greater depth what most faith communities were experiencing, that fewer young people were coming to church, the study gave us a chance to talk about our pastoral response. In our province's strategic plan, we have two objectives that specifically mention young adults. One focuses on accompaniment toward vocational discernment, and the other on past pupils. For the 125th anniversary of SDBs coming to New York and to commemorate the visit of the Rector Major, I have given a challenge to each community to identify at least one young adult who will be encouraged to be a missionary. From the surprising conversation with a young couple at a graveside service, I know the Holy Spirit is still stirring the hearts of the young. How much more can be done when we cooperate with the movement of the Spirit!
In the first week of January this year, SDBs and members of the Salesian Family participated in the SEEK Conference in St. Louis, MO. They joined over 17,000 young adults, who were enthusiastic about the opportunity to go to Mass, Reconciliation, and Adoration together, listen to talks from popular Catholic speakers, including Fr. Mike Schmitz, Paul J. Kim and Sr. Miriam James Heidland, SOLT, and share fellowship with other believers. SEEK24 will return to America's Center in St. Louis, January 1-5, 2024. We expect to have a Salesian presence again, sharing the gift of the Salesian charism with this dynamic, young Church. The experience of young Catholics gathered for mega events is not isolated to SEEK, NCYC, or Steubenville Conferences. It was repeated more recently in London, when 10,000 young adults from across England and Wales met for the Fifth CYMFed Flame Congress, on Saturday, March 4. The Pope's message to the participants urged them to dare to be different as they walk in friendship with Christ. They met in preparation for World Youth Day which will be in Lisbon, Portugal, August 1-6, 2023.
Did you know that Don Bosco is one of the patron saints of WYD this year? Young adults from Salesian presences in Canada and USA will join hundreds of thousands of young believers from around the world. In January, 400,000 people had already registered; 10,000 volunteers had also registered. Some of our young adults will go early to visit Fatima, the Shrine of St. Therese in Lisieux—marking the 150th anniversary of her birth—Annecy, Turin, and some other Salesian holy sites. Some will stay after WYD to go to the Salesian sites. Some will anticipate WYD with a pilgrimage to the Holy Land. Some are registering with the province; others are registering with the diocese. It's not too late to register with the province or make a donation. Please contact Amy in the province office of youth ministry at amarinaro@salesianym.com.
Whether in individual encounters or at mega events, we, like Don Bosco, are committed to accompanying young adults on their spiritual journey.
Happy Feasts of St. Patrick and St. Joseph to you all.
Tim Zak