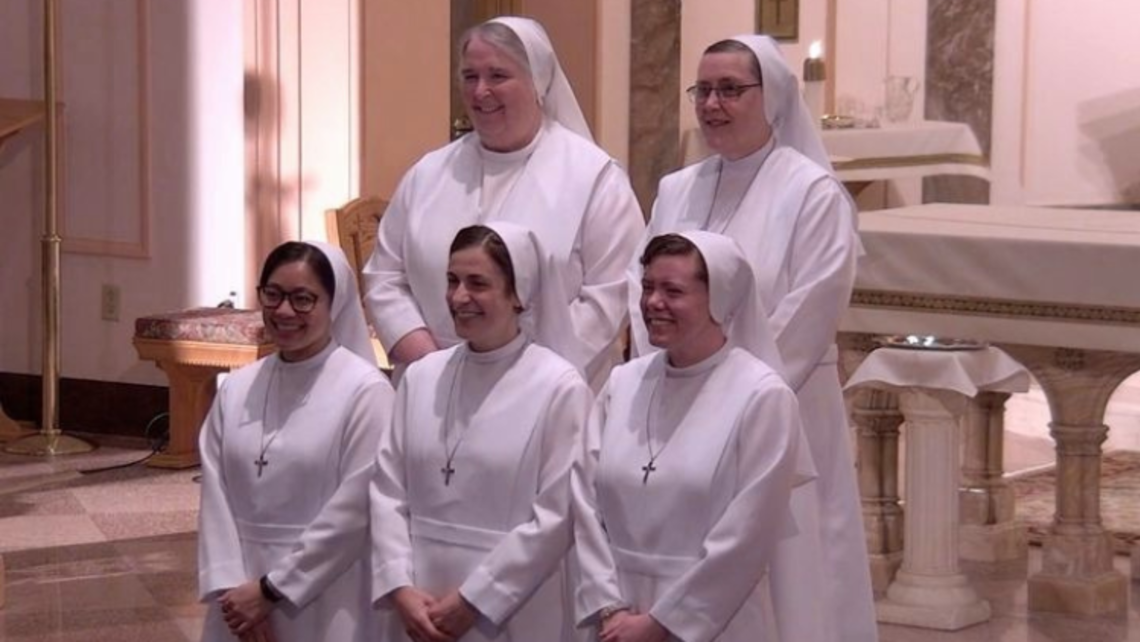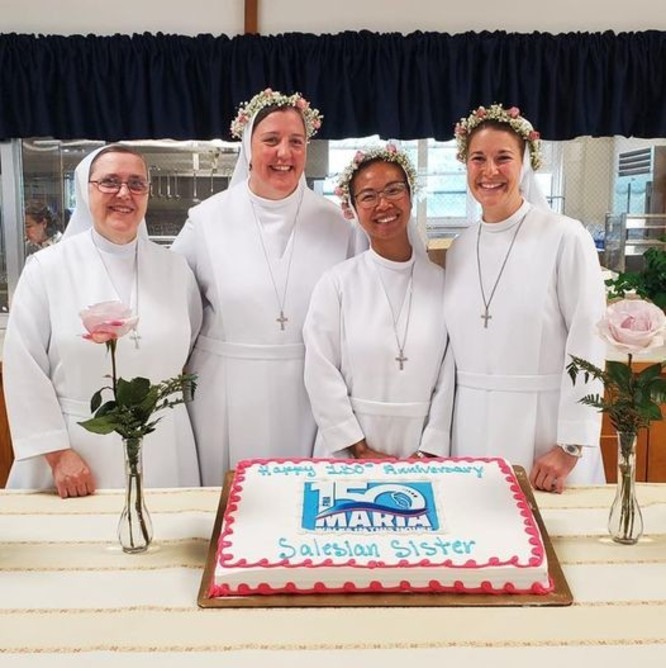 By Fr. Mike Mendl, SDB
(New Rochelle, NY – August 9) – The Daughters of Mary Help of Christians (FMAs) celebrated their 150th anniversary on Friday, August 5. The spiritual highlight of the day in their province of Canada and the Eastern USA was the religious profession of six young women, three pronouncing vows for the first time and three making their perpetual vows.
At a 9:00 a.m. EST Mass at St. Anthony Church in Hawthorne, NJ, Srs. Nicole Daly, Katheen Deighan, and Amy Thi Nguyen made their first profession. Fr. Provincial Tim Zak, SDB, presided at the Mass, which was concelebrated by six SDBs and five diocesan priests who either support the FMAs in their New Jersey ministries or are friends of the newly professed. Srs. Nicole, Kathleen, and Amy were also supported by the presence of some 60 sisters and another 60 or so family members and friends.
Fr. Tim began his homily by recounting how the first FMA professions took place on August 5, 1872, not by design but by Don Bosco's unplanned presence on the 5th and an episcopal order. Ever since, FMA professions have been celebrated on August 5. Fr. Tim then stressed the sisters' religious profession as the actualization of the consecration to God that began with their Baptism.
Three sisters belonging to the FMA San Antonio Province also made their first profession in San Antonio.
All six of the newly professed sisters were guided in their novitiate at Newton, NJ, by Sr. Karen Dunn, FMA, directress of novices, and a skilled team of formators.
At a second Mass, celebrated at 11:00 a.m. EST, also at St. Anthony in Hawthorne, Srs. April Cabaccang, Kathryn Flanagan, and April Hoffman made their perpetual profession. Bp. Kevin Sweeney of Paterson presided. Even more sisters, family, and friends participated than at the earlier Mass.