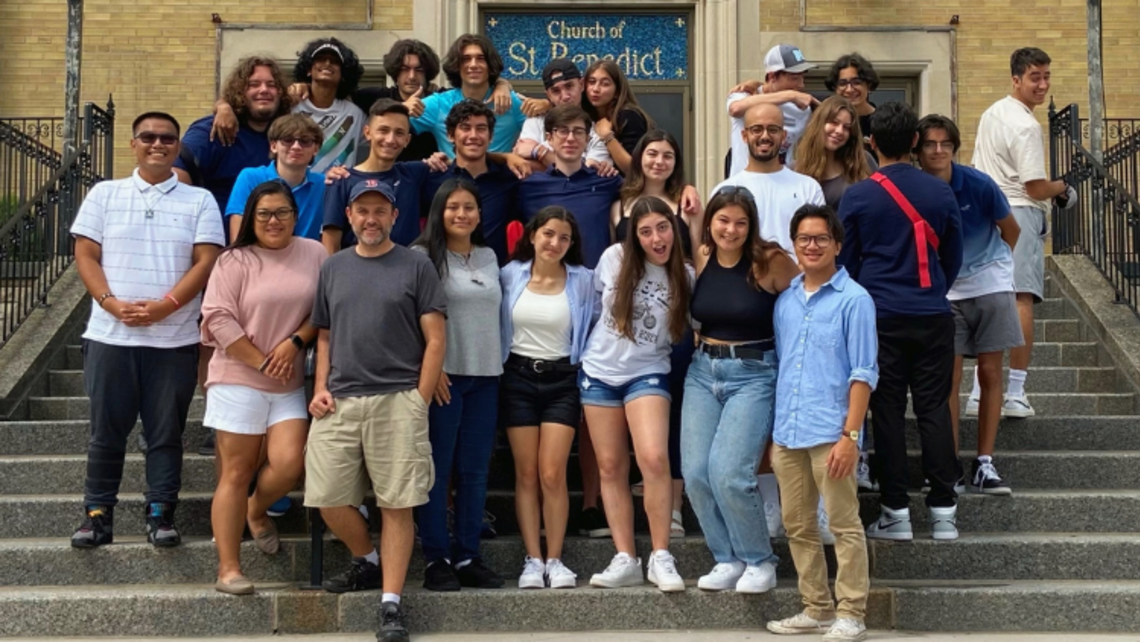 Dear Confreres,
The week before Christmas, I visited our confreres in Etobicoke. The principal work there is St. Benedict Parish (St. Benedict's). Like nearly everyone in the world, the SDBs and colleagues adjusted their pastoral ministry because of the rise in cases of the coronavirus. Even as this stress loomed over everyone, I was delighted to attend two gatherings at which the young adults played an essential leadership role. The Friday night Oratory, a gathering of mostly middle school youth, entertained the kids with Christmas crafts and games. The "core team" of young adults ran all the activities. Mariel Cabrera, St Benedict's coordinator of youth ministry, supervised everyone, and the SDBs visited at different times during evening. Everyone had a great time and respected all health protocols. On Saturday evening, there was a reunion of the SummerDaze camp staff. Besides having had some games and lots of food, the young adults prayed together and planned the one-day WinterDaze camp for January.
It was impressive to see the strong faith of these young adults, who support and challenge their peers to live like Jesus. Their dedication to the Salesian mission of education and evangelization of the young was also impressive. Of course, not everything is perfect. These young people suffered the same isolation, depression, and anxiety that many people faced during the pandemic. Their attachment to the institutional Church may not be strong. Although they are tired of Zoom meetings, their feelings of occasional discomfort with in-person gatherings since the pandemic lingers. We could say they are normal young adults, responding to the grace of God in their lives.
The joy and generosity exhibited by the young adults at St. Benedict's did not develop overnight, nor is it an isolated experience in our province. These young people have been accompanied for years in a healthy Salesian environment from the time they were campers to having become volunteers to having served as administrators. We see this process of human and spiritual growth being repeated in many places. We might even take it for granted, but we should not. In fact, we should be very intentional about this process and commit ourselves to providing this personal and group accompaniment through all their young adulthood. This last step is what makes St. Benedict's stand out a bit more than some of our other Salesian presences. The Salesian community—religious and lay—provides time and space for the young adults beyond a program. With this continued accompaniment, some of them are ready to volunteer for the missions while others are interested in religious life or ordained ministry.
Lent begins in just two weeks. This holy season of prayer, sacrifice, and charity is ideal for Salesians to provide more intentional spiritual accompaniment of young adults. During Lent, we introduce special prayer experiences, like the Stations of the Cross. I suggest we go out from our community chapels to pray with young adults where they gather. Lent is 40 days, which is just long enough to require a commitment to be part of a faith formation program, but not so long that it frightens participants away. Lent leads to Holy Week and Easter, so any accompaniment can end with a joyful celebration of new life in Christ. Last year, the province youth ministry office published Walking Side by Side: a Salesian Journey of Faith with Young Adults. I strongly encourage every Salesian presence to use this resource as part of your accompaniment of young adults during Lent. If you already have your Lenten program in place, then please use Walking Side by Side during the Easter season. It can also serve as a worthwhile part of the Salesian formation for camp staff. I also remind you of the discernment journal that the province vocation office published last year, which is another simple resource to help young people listen to God's call. You can get digital copies of these resources from Amy Stockinger in the province youth ministry office via email.
As we recall how Don Bosco founded the Salesian Society with young adults, we also want to live the Oratory experience today as we accompany our young adults to discern God's call and respond with generosity.
Fr. Tim Zak
February 17, 2022 - 8:00am