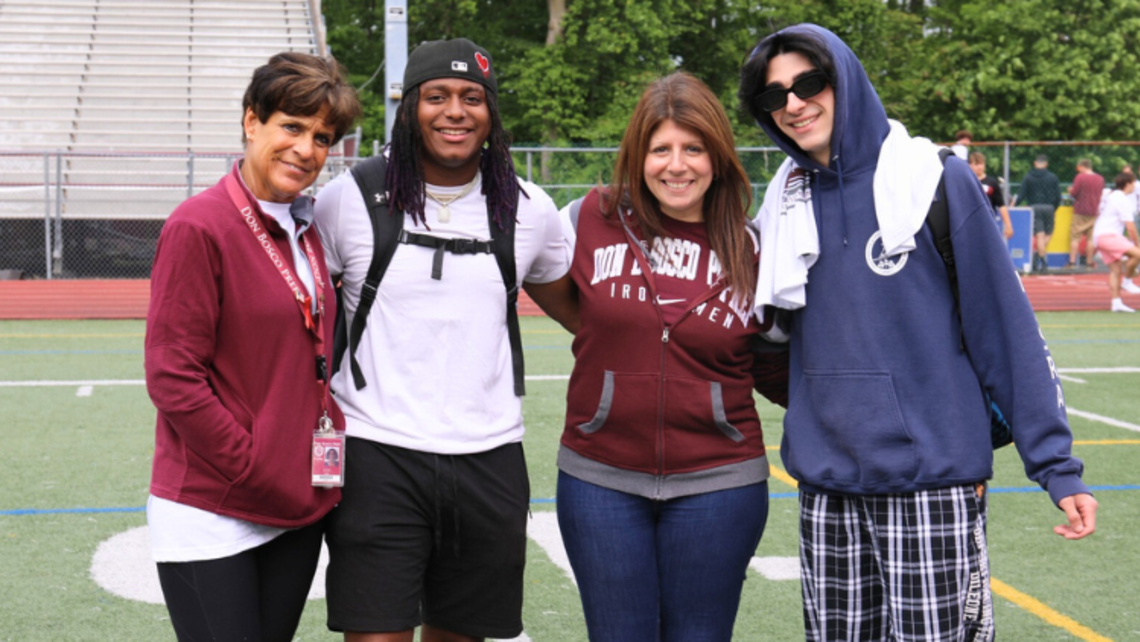 By Fr. Tom Dunne, SDB
Why a Salesian Family Festival? What can it offer?
How can we take advantage of this opportunity?
The Salesian Family (SF) Festival is only two months away (Oct. 6-9, 2023). It has been on our province calendar for over a year. With the program complete, it is time for each of us to decide how we will take advantage of the benefits that the Salesian Family Festival can offer us as individuals, Salesian communities, pastoral leaders, and a province.
The Salesian Family Festival is a project of the Salesian Family Provincial Council to implement the Rector Major's Strenna of 2023: As the Yeast in Today's Human Family: The Lay Dimension of the Family of Don Bosco. Sr. Denise Sickinger, FMA, and Fr. Tom Dunne, SDB, province delegates of the Salesian Family, are spearheading this effort for the provinces in the Eastern US and Canada. Many teams of Salesian Family members are assisting in this project.
How is the SF Festival a great opportunity for me and the Salesian Family here in the province?
The Salesian Family Festival is organized in a way that can lead directly to the implementation of important priorities in our local centers, provinces, and congregation. Before long, most of us will be busy creating strategic plans for our ministries and communities. Undoubtedly, we will be reflecting on the call of Pope Francis to the 28th General Chapter to "return to Valdocco." We will look to our province's strategic plan as a guide in building and nurturing a growing educational and pastoral community that reflects the "vast movement" of people who shared Don Bosco's passion for serving the young most in need.
The Salesian Family Festival is a large-scale exercise for implementing the core and major segments of our Province Strategic Plan.
Starting off from the Rector Major's Strenna of 2023, we consecrated Salesians are invited to join more fully with our lay members in exploring the realities of secular life today (family, social, and civic) in the light of Don Bosco's charism. We will share in a process for formation to assist us in deepening our knowledge and practice of Don Bosco's Preventive System as a spiritual and relational path on the way to human fulfillment and holiness.
The Salesian Family Festival will aim at extending Don Bosco's Preventive System to parents and families in the home. Some parents of SDB past pupils have commented that they wished that they had received a more complete introduction to Don Bosco's educational approach when their sons were enrolled in the school. They knew that the Preventive System was effective in changing the lives of their sons. They wished that we had helped them to understand how to take on a more active part in Don Bosco's education and formation in the home. This is an important realization for us in the province if we are to initiate a Valdocco environment for our young people that immerses them more completely in Don Bosco's pastoral approach. The Salesian Family Festival is a chance for us to be more effective partners with our parents in helping their children grow into good citizens and devoted Christians.
On the last day of the festival, the Salesian Family members will gather with the worldwide delegates of the Salesian Family to share our common vocation in Don Bosco's movement, and to explore ways of integrating the Preventive System into the home life of our lay people. This process will flow out of the previous days' experiences with families. It will profit from recent studies on the ways that the Preventive System can be made effective in the homes of our young people. Together, our Salesian Family members will work toward setting up a model for fostering the development of the domestic church in our students' homes.
Who should take part in the SF Festival?
It will be imperative that we view this gathering as the chance to develop much further our Educative Pastoral Communities to include that critical mass of Don Bosco's followers who can form the energizing community needed to be the yeast of Christ's Good News in the families, parishes, and neighborhoods where we minister. This goal will require us to send teams of Don Bosco enthusiasts from each of our presences. Sadly, our default option of sending a "delegate" to the Salesian Family Festival is not likely to bring about the change that is needed. A delegate can bring back information to the local presence. However, one person cannot bring about the transformation needed to fulfill the promise of Don Bosco's dream at age nine.
Why does this program have to be so large?
Experience shows the futility of trying to animate Don Bosco's vision of a "vast movement" by interacting with small groups of lay colleagues who are already in our employ or on our ministry teams. Our past experience amply demonstrates the futility of this approach to Don Bosco's vision and charism. This approach all too often leads to strategic plans that fail to approach the scope of Don Bosco's vast movement.
The Salesian Family Festival provides the large-scale environment that is needed to foster a change or transformation of this kind. What an individual Salesian community and local pastoral team struggle to bring about on their own, becomes possible when joined with others in a broader setting. We in the Church are well convinced of the effectiveness of mega-gatherings such as the current World Youth Day in Fatima and the coming Eucharistic Congress in Indianapolis. These large gatherings are effective in fostering the transformation of individuals, communities, and the Church because they bring together a great many participants and powerful resources in an environment that can lead to a renewed sense of faith, life, and service in the Church.
It is time to register and motivate others to register!
Salesians of Don Bosco have been called to help preserve and nourish fidelity to Don Bosco's charism and mission. In these days, we are called to invite confreres, Salesian Family members, and the general public to participate in the Salesian Family Festival. We need new registrations now to share Don Bosco's charism with our own members and the entire Church.
Links to registering for the Salesian Family Festival