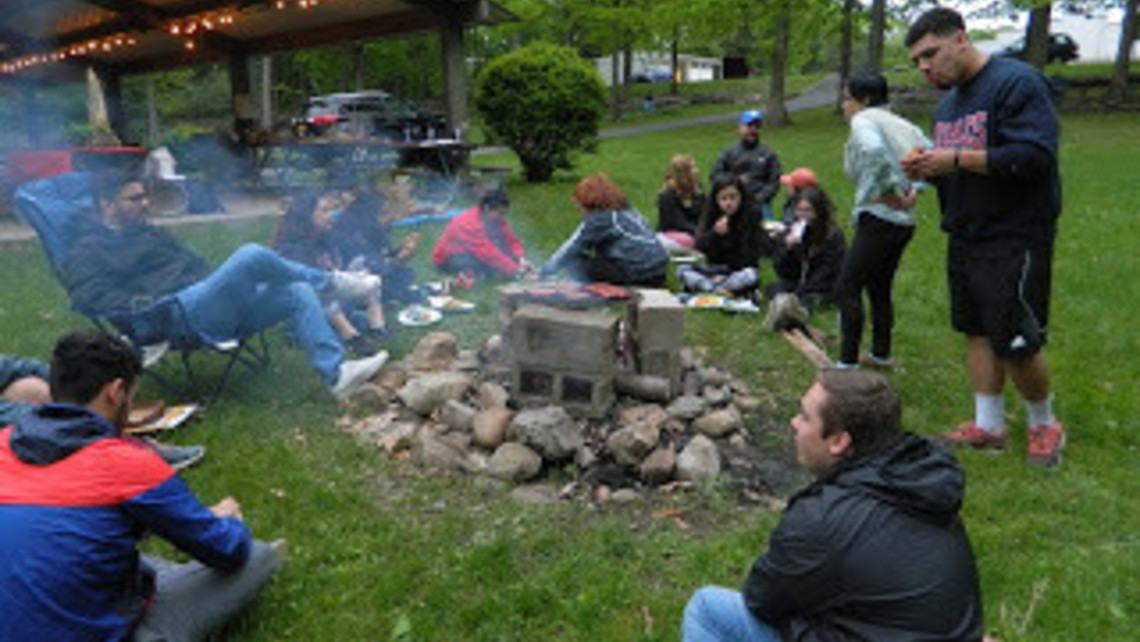 Every May, members of the Salesian Family gather in regional celebrations in honor of Mary Help of Christians and for family togetherness.  Without intending any slight to the Tampa or Montreal regions, for example, perhaps we may say that the assemblage at the Marian Shrine in Haverstraw, N.Y., is prototypical.
This year's gathering on Saturday, May 19, was blessed with a new feature, a prayer vigil for young adults organized by the Province Youth Ministry Office.  It was marred by 2 events, one minor and one grave.  The minor one was the all-day rain on Saturday.  The grave one was the previous day's fire in North Haledon that destroyed the chapel at Mary Help of Christians Academy and, obviously, weighed on the minds of all the FMAs, few of whom were able to participate at Haverstraw.
The young adults (ages 18-29) vigil was originally going to be a camping trip in Harriman State Park leading into a pilgrimage walk to the Marian Shrine.  For various reasons that didn't work out, and the 13 participants (plus YM Office staff Fr. Abe Feliciano and Gui Lopes, and non-staff veteran camper your humble blogger) then planned to camp out at the Shrine in tents or open air near the picnic pavilion.
Fr. Abe and his planning team worked out a program of fun, food, and prayer, all based at the pavilion.  With rain in the overnite forecast, tho, we all moved indoors to sleep–the youths in the gym and the 2 SDBs in Lomagno Hall.  That decision was wise because, as noted above, it did rain overnite and all day Saturday.  Your humble blogger certainly would not have been happy to have to break down and then deal with 6 soaking wet tents, and we were all happier to be dry in our persons.
 The young participants were almost all alumni of Salesian schools (Don Bosco Prep, Mary Help of Christians Academy, and Salesian HS); one was a parishioner of OL of the Valley in Orange, N.J.  Most had taken part in leadership retreats, and many already knew each other well.  The program began with ice breakers, nonetheless, and then moved on to lectio divina, a cookout over a campfire (simply burgers and dogs), Eucharistic adoration, opportunity for Reconciliation, s'mores around the campfire, and nite prayer.
On Saturday the youths took part in the Marian Day program except for a final gathering with Fr. Abe and Mr. Lopes to sum up the program.
The Marian Day program was prepared carefully and in detail by Fr. Tom Dunne, Sr. Denise Sickinger, and others, and it ran smoothly once adjustments were made for the weather.  Fr. Tom welcomed more than 100 pilgrims in the Shrine chapel at 9:00 a.m., and then the pilgrims split into 2 groups, one for English and one for Spanish.  In the former, Sr. Denise presented the evolution of Don Bosco's Marian devotion.
Everyone reassembled in Fr. John Lee Hall, and 2 of the young adults and an ADMA member gave witness talks.  There was reflection on Mary in our lives in small groups, some of which was shared with the entire group.
With late arrivals, the participants numbered over 200.  They came in groups from OL of the Valley in Orange, Port Chester, Manhattan (our former parishioners from 12th Street), and locally, and of course there were SDBs and FMAs from several communities, including their respective houses of formation.  Cooperators and ADMA were well represented.
There was a period of quiet and reflection before Mass, with opportunity for Reconciliation.  Fr. Tim Zak, provincial, presided and preached at the noon Mass (which included the Shrine's regular noon Mass-goers).  It was treated as the external solemnity of MHC.  The planners were taken by surprise at the number of concelebrants (mostly SDBs) who showed up–a nice surprise, of course–and had to provide for extra seating.  Mass concluded with everyone making a prayer of entrustment to the Help of Christians.
Then came Eucharistic adoration and another opportunity for Reconciliation.  The Rosary procession was moved indoors, circling the perimeter of the chapel.  The crowning of the statue of Mary was done very simply with the large MHC statue in the chapel; 2 of the young adults had that honor.
Everyone seemed happy with the day, and we trust that we paid good homage to our heavenly Mother.