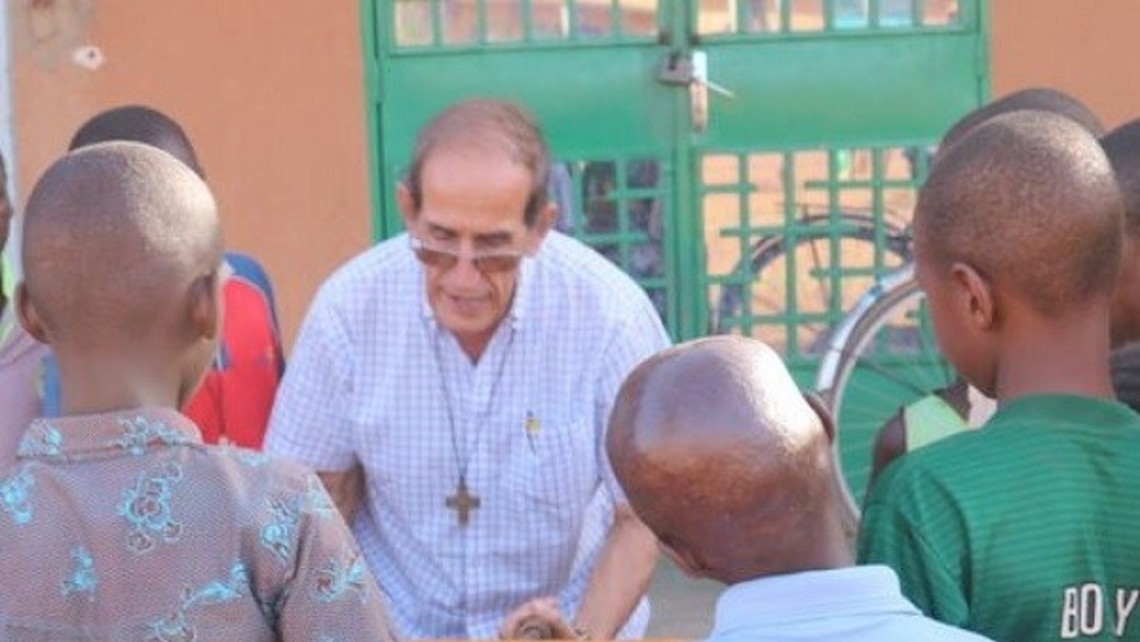 By Fr. Martin Lasarte, SDB
(ANS – Ouagadougou, Burkina Faso – February 25) – February 15 is a hot day at Nohao, in the province of Boulgou, Burkina Faso. Three Salesians coming from Lomé, Togo, arrive at the customs office on their way to their mission at Ouagadougou. But a group of guerrillas has already killed the officers at the customs post. The attackers take control of the Salesians' car and call the oldest confrere aside. The guerillas speak to each other in a low voice and lead the priest into the bush. Three shots are heard. Only the guerrillas return; they speed off on their noisy motorcycles in a cloud of dust. And on the soil of Burkina Faso lies the body of Fr. Antonio Cesar Fernandez.
It's the ninth hour (3:00 pm) on a Friday. For Fr. Cesar it's Good Friday. Instead of the three nails the Savior suffered, there are three bullets; not on the hands and feet, but two in the stomach and one to the head. As Christ's journey culminated on Calvary, where he gave his final "yes" to the Father and completed his dedication to humanity, at Nohao Fr. Cesar reaches the end of his pilgrimage in African lands, after 72 years of life, 55 as Salesian, 46 as a priest, 37 as a missionary. It's the end of a journey of love for the Lord and for Africa's youths. Don Bosco said that when a Salesian succumbs at work it's a glorious day for the Congregation. How much more if he succumbs by giving his life in martyrdom.
On February 25, the Salesian Family celebrated the Salesian protomartyrs Sts. Louis Versiglia and Callistus Caravario, who loved their adoptive people and gave their lives for them; they too were taken into a forest and shot. Father Cesar is the protomartyr priest of 2019.
Fr. Cesar liked to be first. He was in the first group of Salesians to establish Don Bosco's presence in Togo. He wanted to be first, but with the eyes of Jesus: first in service, first in being the last.
His family and countrymen in Pozoblanco, Spain, mourn Fr. Cesar's death. His Salesian confreres mourn him, feeling they've lost a beloved brother. He was a source of orientation for the Francophone West Africa Province, where he helped enculturate Don Bosco's charism during his ten years as master of novices. The young people and many others mourn him in Burkina Faso, Togo, Benin, Senegal, Mali, Guinea, Ivory Coast, and the other places where he did so much good.
As Fr. Faustino Garcia Peña said about his death: "It was the point of arrival of a life offered for love and with love…. He bore so much fruit in life that it will continue after his death." Thus he reminds us of the words of Jesus: "If the grain of wheat that falls on the earth does not die, it remains alone; but if it dies, it bears much fruit" (John 12:24).
Fr. Cesar's witness will be a Gospel permanently announced. His joyful Salesian life will be a call to the young to live a full and happy life. His moving and emotional testimony of consecration can be seen in a little video he left us now circulating on the Net.
From Heaven he will now continue to give thanks for his Salesian vocation, for the benefits that the Lord granted him in the missions; for the grace of living with and for the young. And now he will also sing: "Thank you for giving me the palm of martyrdom."