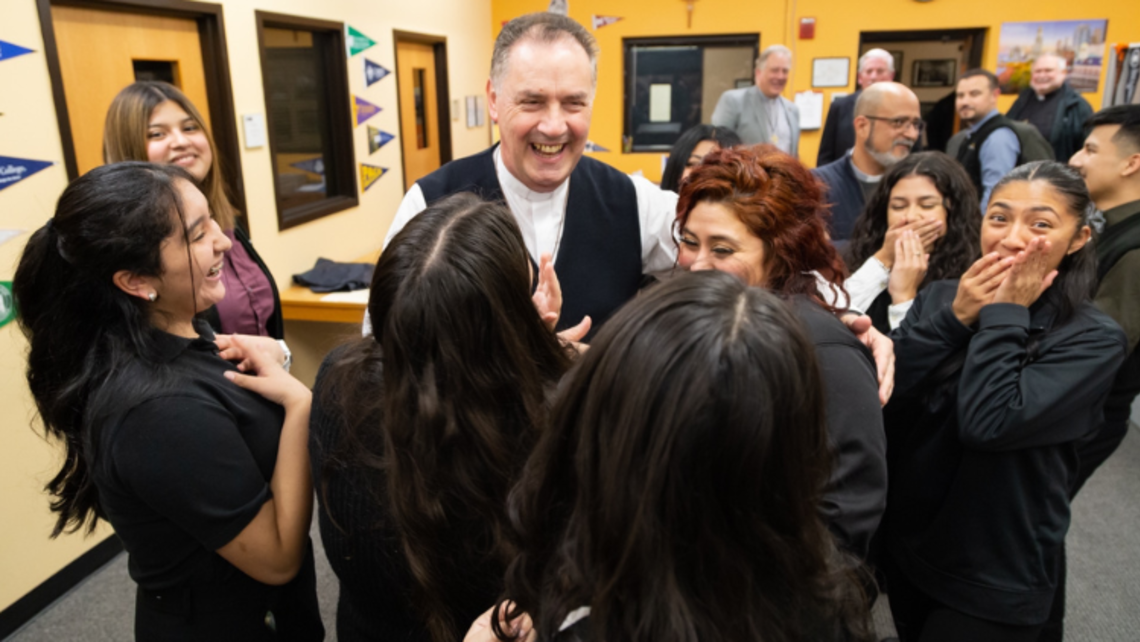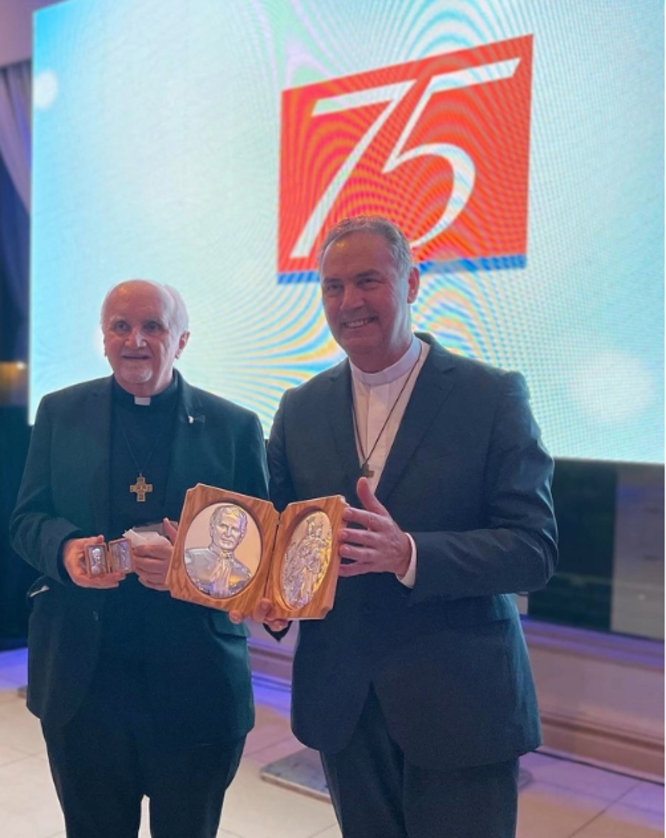 Taken from ANS articles by Vice-Provincial Fr. Dominic Tran, SDB; Fr. Mike Mendl, SDB; and Julia St. Clair, Province Communications Director
(New Rochelle, NY – November 29) – Last week, the Rector Major, Fr. Ángel Fernandez Artime, SDB, visited the SUE Province.
He arrived at Don Bosco Cristo Rey High School (DBCR) in Takoma Park, MD from San Francisco, CA on Monday, November 21. Don Ángel visited DBCR that evening and the following day before he arrived at the Salesian Provincial Center in New Rochelle, NY on Tuesday afternoon.
On Tuesday evening, the Rector Major presided over Salesian Missions' 75th Anniversary Celebration at the Greentree Country Club in New Rochelle. Around 260 people—including SDBs, FMAs, novices, pre-novices, candidates, aspirants, lay colleagues, staff members, and friends—attended the event, including Fr. Ángel and General Councilor for Interamerica Region to the SUE Province, Fr. Hugo Orozco, SDB, and nearly filled up the ballroom.
Confreres and colleagues were treated to videos on the history and work of Salesian Missions. Additionally, Salesian Missions staff members who had over 25 years of service were recognized and honored with a gift, which was presented to them by the Rector Major. They then posed for pictures with Fr. Ángel and Fr. Tim Ploch, SDB.
Salesian Missions presented the Rector Major with a check for $2 million to be used for services that directly benefit the young. Fr. Ángel then gave a beautiful speech, which was translated by Fr. Tim Ploch.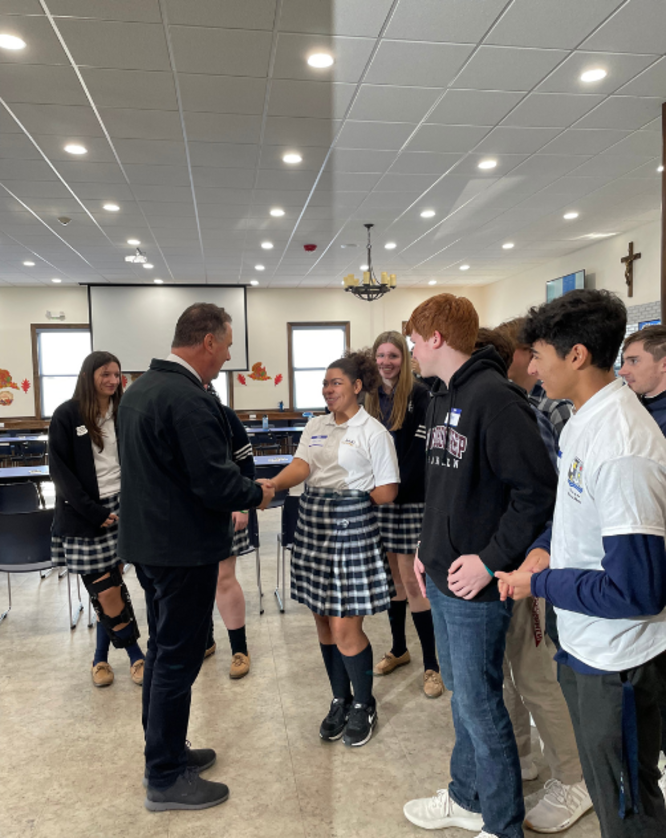 He stated that ever since he became a Salesian, he had heard about the good works of Salesian Missions. Since becoming Rector Major, he has studied intensely what Salesian Missions does for the benefit of the Church and of the Salesian Family. He has observed that contributions to Salesian Missions reach those who are farthest away, in the most remote places served by the Congregation.
The following day, the Rector Major spent the morning with students at Salesian High School (Salesian High). Several students from Don Bosco Prep in Ramsey, NJ, and Mary Help of Christians Academy (Mary Help) in North Haledon, NJ, also joined.
Their day began with a prayer service, followed by a tour of the school's facilities. Then, Fr. Ángel blessed the new STEM Center, and he later spoke with 40 students from Salesian High, Don Bosco Prep, and Mary Help about the Salesian Leadership Retreat (SLR) experience in the Cassin Commons.
The Rector Major had a beautiful talk with the students and gave them wonderful words of wisdom. By having illustrated the example of Aristotle and his friend and teacher, Plato, as he advised students to always stay with the truth and never give away their own integrity and personal convictions. He relayed how this is also an excellent result of their time in Salesian schools.
Afterward, Fr. Ángel toured Salesian Missions' office and then met with about 30 young adults who are mostly graduates of Salesian high schools. He noted his satisfaction in many of his visits around the world at discovering how many alumni of the Salesian schools return to teach there; indeed, four of the young men taking part in this meeting are graduates of Salesian High School and now teach there.
Asked by one of the Salesians what advice he would give to these young people, Fr. Ángel urged that they pay attention to what's really important, especially their relationships with others and the dispositions of their hearts. Being able to communicate is an indication of success. The great success of our Salesian schools is that our young people experience communication, presence, and freedom.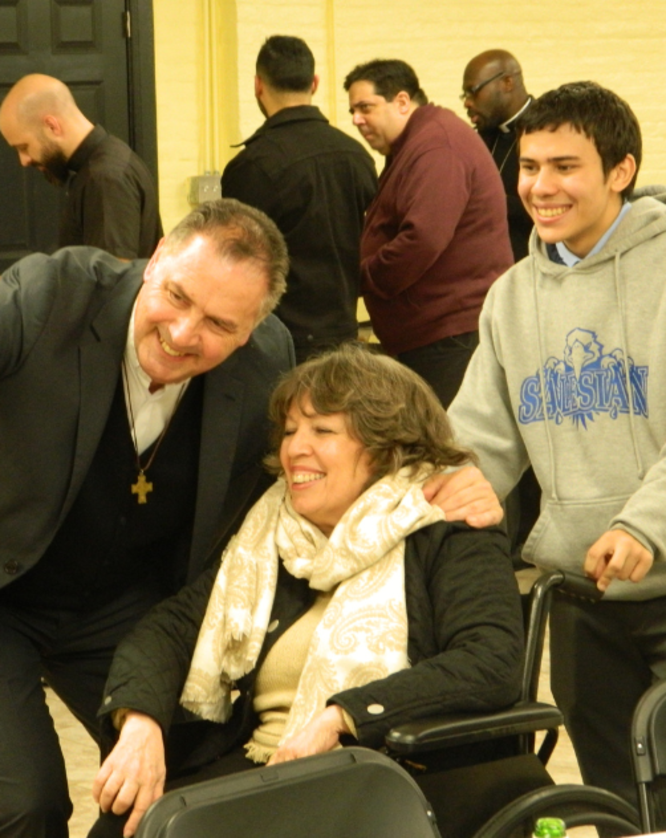 Following a meeting with the Provincial and his Council in New Rochelle later that afternoon, the Rector Major went to the parish of St. John Bosco in Port Chester, NY, to celebrate Mass at 7:00 p.m. EST in honor of St. John Bosco for the Salesian Family. The parish captivated the Rector Major, and he captivated everyone in attendance.
Members of the Salesian Family from the New York metro area were invited, and some braved holiday weekend travel to come from a distance. Over 400 people took part in the Eucharistic celebration—mostly parishioners including the members of ADMA, but also about 20 SDBs from New York, New Jersey, and Connecticut, four FMAs, and numerous Cooperators from the parish and elsewhere.
As he has done in all his meetings with Salesians and young people, Fr. Ángel immediately captivated the congregation with his warmth and openness. He, in turn, was captivated by the youthfulness of some many in attendance and the parish's diversity and vibrancy. The people participated in the Mass, almost entirely in Spanish, with enthusiasm. The readings and general intercessions were done in other parish languages: Portuguese, Polish, and English.
After Mass, the parish hosted a reception in the parish hall, attended by 160 people. A representative of the Salesian Family and a representative of the young adult ministry addressed Fr. Ángel, and Fr. Ángel gave a Good Night. He has seen that the parish is a parish of the poor serving the poor, and he encourages the parish to expand on that. He compared Don Bosco's Good Nights under the portico at Valdocco to the way a family might end its day on a good, familiar note. He reminded everyone that they are experiencing Salesian family spirit, which you can learn only by being in its presence, not from any long dissertation. The Salesian Family is the largest family in the Catholic Church, laying on us a great responsibility because the Church, the young, and the poor need us. "I love you, and I carry you in my heart," the Rector Major concluded.
On Thanksgiving Day, Thursday, November 24, Fr. Ángel left the Salesian Provincial Center and visited the Salesian Sisters at their provincialate in Haledon, NJ. Then, the Rector Major joined around 86 SDBs and celebrated Thanksgiving at Don Bosco Prep in Ramsey, NJ. The celebration began at 2:00 p.m. EST in the school's main chapel with the thanksgiving service that lasted 22 minutes: prayers, hymns, and symbolic indications of what the confreres are grateful for (a globe, the Constitutions, and a cross) for our worldwide presence, our consecrated calling, and our faith in Christ. Ramsey Director Abraham Feliciano welcomed everyone to Don Bosco Prep. He noted that this SDB community is the second-oldest in the province (founded in 1915), and the school is the oldest Salesian school in North America, presently enrolling 800 high school boys. The community includes 12 professed SDBs, a prenovice, and a candidate.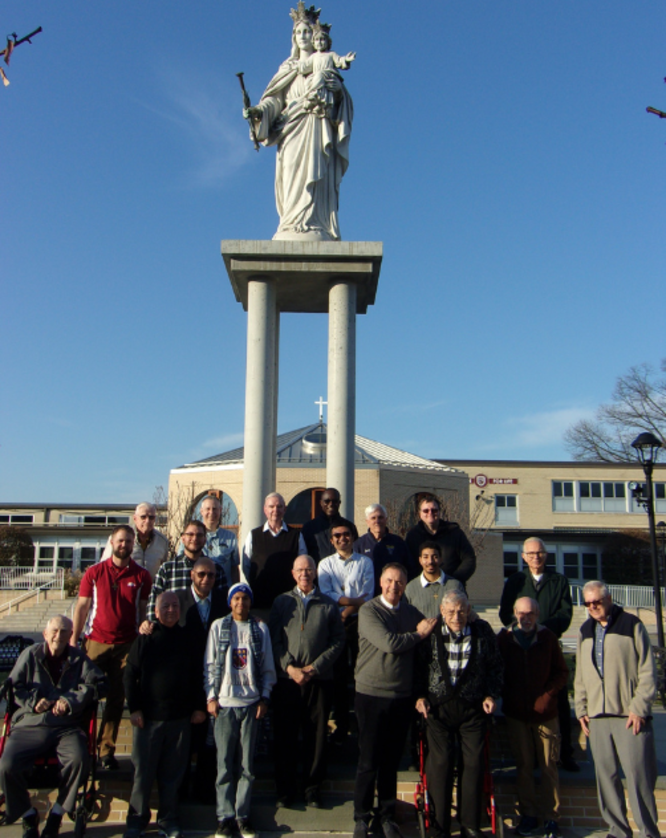 Fr. Ángel took part in the thanksgiving prayers and joined all the Salesians for a feast in the school cafeteria. He called all the coadjutor brothers out for a group photo, then posed for a photo with each brother individually. Later he posed with the Ramsey community and with the Polish confreres present. Don Bosco Prep began as a school for Polish immigrant boys, and although it no longer has that character, the continuation of Polish immigration has required a continued presence of Polish confreres in the province. Finally, he had everyone present pose for a group portrait in front of the statue of Mary Help of Christians.
Then on Friday, November 25, at Don Bosco Residence in Orange, NJ, the Rector Major celebrated Mass with the men in initial formation, coadjutor brothers and priests in their quinquennium, and formators. He met with them after Mass and breakfast and also met with the provincial delegate for formation and Fr. Provincial Tim Zak.
In his conversation with the formators, the Rector Major shared that he noticed the evident signs of joy and fraternity among the men in initial formation and among the confreres in the province. He encouraged all to continue to develop a deep sense of God who gives meaning and purpose to our lives and vocation.
He exhorted the province to be provocative in our vocation proposal to young people. He observed that during his visits to the two U.S. provinces SUO and SUE Provinces of Canada and the USA, he met young people who expressed their desire to be Salesian religious. He added that we also must be present to accompany young people in their vocational journey.
The SUE Province has been grateful and overjoyed to have the Rector Major with them. Thank you to everyone who helped with and prayed for this beautiful and historical visit. God bless you and be with you during this Advent!
November 29, 2022 - 8:00am