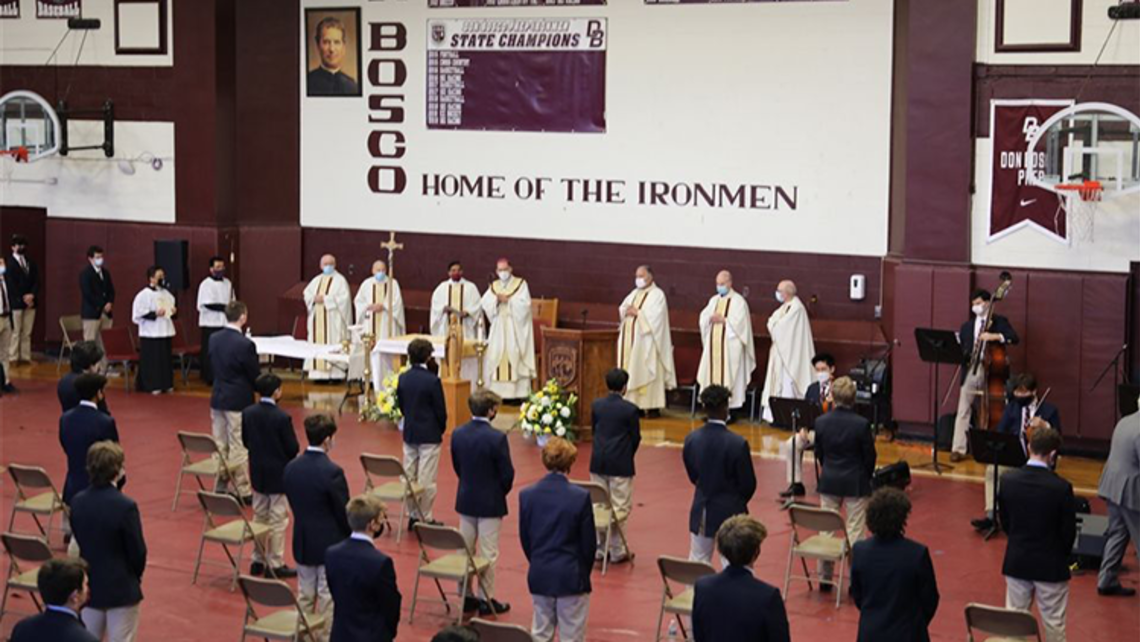 By Jennifer Passerino, P'15, '20, Director of Events & Public Relations, Don Bosco Prep, Ramsey, NJ
On Friday, April 16, Don Bosco Prep High School celebrated a school Mass in honor of St. Joseph, to mark the Year of St. Joseph called by Pope Francis. We welcomed the newly ordained Auxiliary Bishop Michael A. Saporito from the Archdiocese of Newark, who celebrated Mass, concelebrated by the Salesian priests of our community. 
In his homily, Bishop Saporito talked to the student body about St. Joseph, describing him as a just and righteous man, who responded to God's calling as Jesus' earthly father. Bishop Michael shared with the boys a bit of his own vocational journey, entering the seminary after several years working as an accountant. He invited the students to listen openly to the promptings of God in their life and to respond generously, as Joseph did.
Some students were socially distanced in the gymnasium, while others were in their classrooms or at home, sharing in the Mass via livestream. Adding to the beautiful Mass were the contributions of Don Bosco Prep's music ministry and student eucharistic ministers.
The Mass followed the month of March, which was dedicated to St. Joseph. Throughout the month, a St. Joseph Altar was prominent in Immaculata Hall, decorated with candles, plants, and flowers. Students brought food in daily throughout the month, which was then shared with food pantries identified in four counties from which many students hail: Bergen and Passaic in NJ, and Rockland and Orange in NY. In honor of St. Joseph, the school aimed to provide for families experiencing food insecurity due to the pandemic.