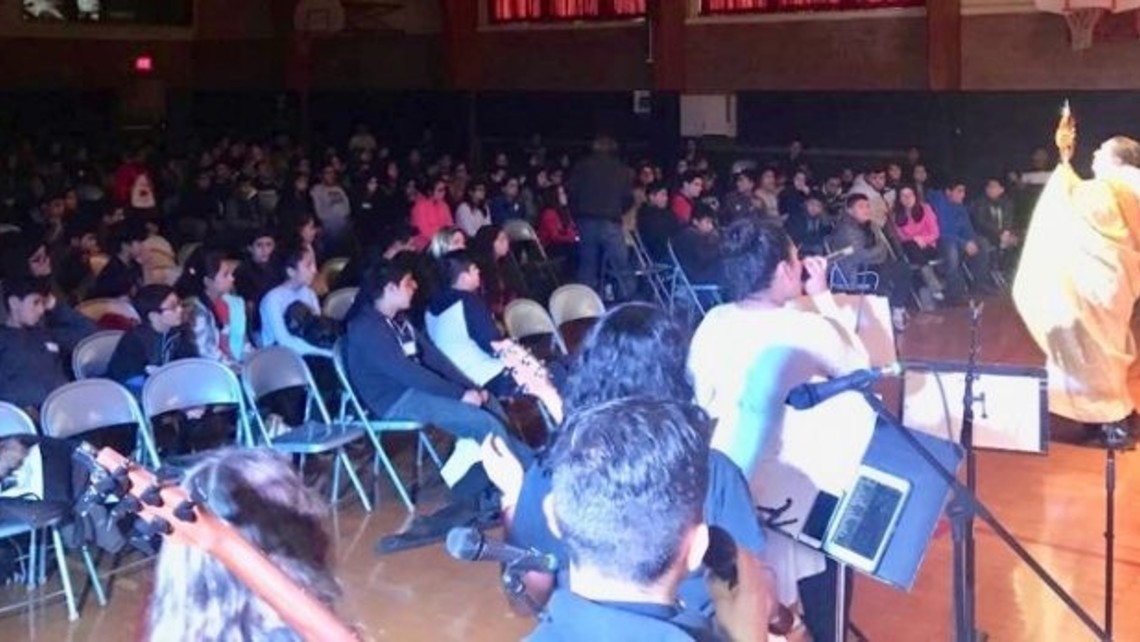 by Irma M. Austin
(Port Chester, N.Y. – January 27) – The first youth rally of newly-configured newly-named St. John Bosco Parish in Port Chester took place on Saturday, January 27. It served as part of the parish's celebration of the feast of St. John Bosco.
Over 300 young people from the Don Bosco religious education program, Corpus Christi-Holy Rosary School's Confirmation classes, and other ministries participated in the rally, which was led by Fr. Manny Gallo, parish director of youth ministry.
The day's theme was "Perfect love drives out fear" (1 John 4:18); hence the aim of the day was to help the young people know that God is the face of love, compel them to look for the face of God in each other, and impress upon them that our lifeline is our relationship with God!
Throughout the day-long retreat, our youths experienced fun, laughter, a lunch served by the Salesian Cooperators, compelling talks by Fr. Manny and other leaders in youth ministry, testimonials by Christian Zaccagnino and Lucas Gemio, inspiring worship music by Nueva Vida and Misioneros de Tira La Red music ministries, adoration of the Blessed Sacrament, and a beautiful dance performance by two of youths of the parish, Mayra and Jose Luis, around the struggles to make good decisions that our young people face every day. During adoration, the participants had the opportunity for confession, which was a grace that many of them took advantage of.
Fr. Pat Angelucci, pastor, ended the day by celebrating an inspiring Mass. He let the young people know that they are loved and that they have Don Bosco as the parish's model and patron saint – Don Bosco, who served the young and the poor!
January 31, 2018 - 3:22pm