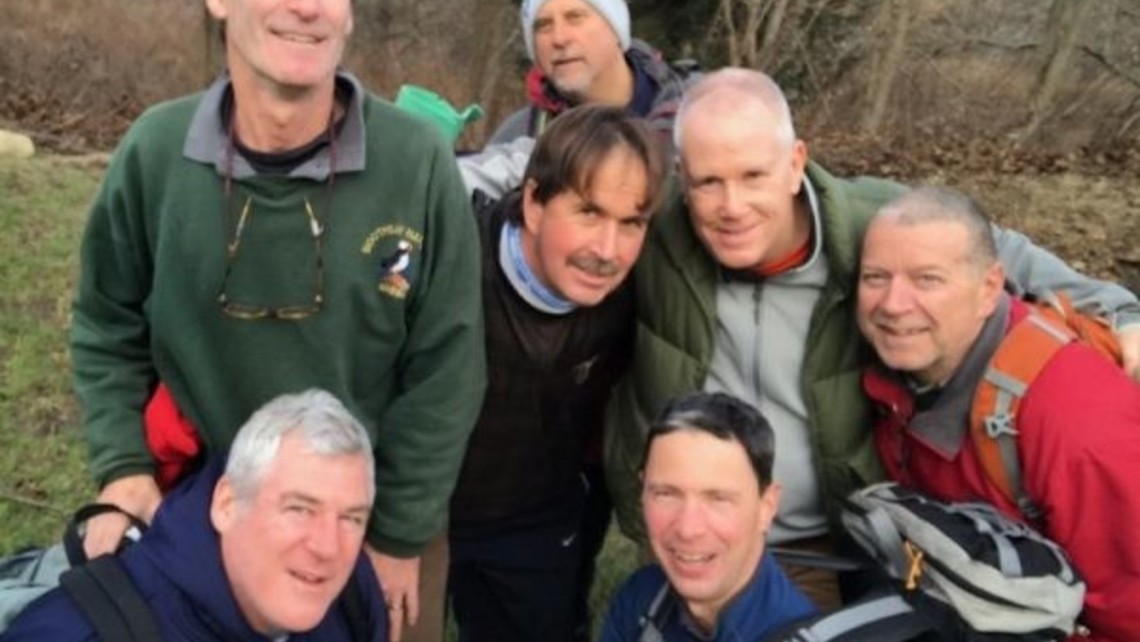 Story and photo by Jim Matthews
(Haverstraw, N.Y. – December 4) – Alumni of Don Bosco Tech in Paterson and some of their New Jersey friends held their annual Christmas hike, "to get them into the spirit of Christmas." They trekked almost eight miles along the Appalachian Trail from Bear Mountain to Graymoor, N.Y., on December 1. The day ended with Mass celebrated by Fr. Steve Ryan.
The hikers included Jim "Juice" Matthews (DBT '78), Dr. Tommy "Beano" Eanelli ('78), "Beatnik Lou" Elia ('77), John "Goose" Kouten, "Highland Jim" McMillan, Marty "the Martian" McGiver, "El Camino Joe" Martin, and Fr. Ryan. They've been doing this for 21 years along sections of the A.T. between New Hampshire and New Jersey "to find solace and the true spirit of Christ" through a hike that is also a pilgrimage, says trek organizer Jim Matthews. He explains: "Somehow this walk in the woods gives us hope. In a world in confusion, we pray and journey along the path, uniting our bonds of brotherhood."
Their pilgrimage now honors their "original confidant," the late Fr. Fred Alvarez, an Atonement friar at Graymoor, who "met us and like an old friend bonded. We came to see him and share hot chocolate. He proceeded to tell us stories of hikers who stopped in for a shower or bowl of spaghetti. It was fate as he became our guide and preacher. We shared Mass in the chapel. We studied the international creche designs from all around the world. They adorned the window sills of the friary."
Now Fr. Ryan serves as their chaplain, and Jim Matthews offers reflections from Don Bosco's life.
December 6, 2018 - 4:23pm