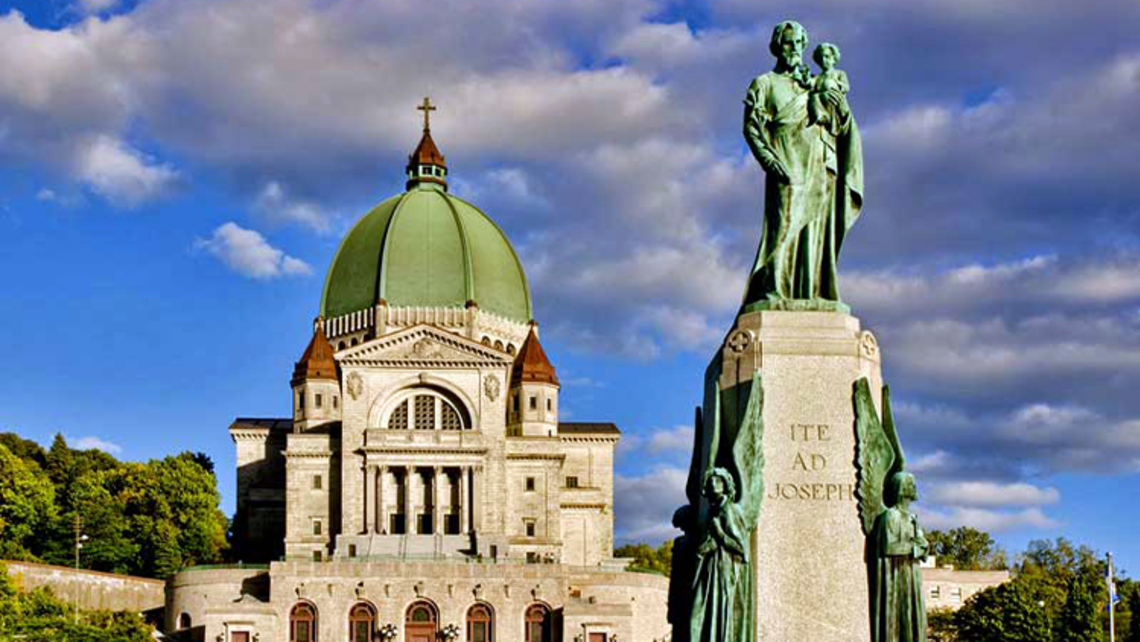 By Fr. Richard Authier, SDB
Greetings to each of you. I'm happy to share a few words with you about my devotion to St. Joseph. When I received this request to share, my first thought was, "Well, why not?  I live in Montréal, the capital of devotion to St. Joseph." You can certainly all understand why! St. Joseph's Oratory, the largest shrine in the whole world dedicated to him, is found in Montréal! Moreover, in the first year of my life, my parents moved to an apartment in Montréal, literally three or four streets from the Oratory. From our home, I could clearly see the magnificence of the Oratory just by looking out my window. Surely, St. Joseph was taking me and my parents under his fatherly presence!
As I grew older, I remember my mother surprising me one day by telling me that she had participated in the funeral of now St. Br. André, on the occasion of his death on January 6, 1937. She would then have been 16 years of age and really remembered that event, because of the terrible January cold on that day. For Montréalers, St. Br. André was our Saint and the best all-time promoter of devotion to St. Joseph. During the depression years, he provided hope and healing to innumerable citizens; the proof being all the crutches suspended to this day in the Crypt of the Oratory. Obviously, I was very impressed with all of this and loved going back for mini pilgrimages!
My third important moment with St. Joseph was when, in 1988 on the 100th Anniversary of the Death of St. John Bosco, a Pan-Canadian celebration of Don Bosco took place at, you guessed it, St. Joseph's Oratory. The Salesian Family from all of Eastern Canada was present for a Youth Rally and the Celebration of the Eucharist in honor of our founder. I was the main coordinator of this event, and I assure you, I looked over to the statue of St. Joseph many times during that day, asking for his protection and guidance for all. And he did come through to make this event a holy and memorable one.
My last encounter with St. Joseph was once more at the Oratory! A few summers ago, we decided to bring the 400 children and teens of our Montréal summer camp on a little pilgrimage to St. Joseph. Being children of their generation, most of them had never been to the Oratory. I was very proud to be able to celebrate the Eucharist with all these children and their leaders and to share the importance of St. Joseph to Mary and Jesus, as well as to us their followers in the faith.
All in all, I can say that my devotion to St. Joseph was always linked to special moments in my life and to his presence at these events. Simultaneously, my devotion has been a family thing, a Salesian thing, and a youth ministry thing. I thank him with all my heart for his own vocation, so crucial to the lives of Jesus and Mary and to mine. And I ask that he continue to be a "foster father" to all of us, especially the young we serve. St. Joseph, pray for us.
February 15, 2021 - 8:21am