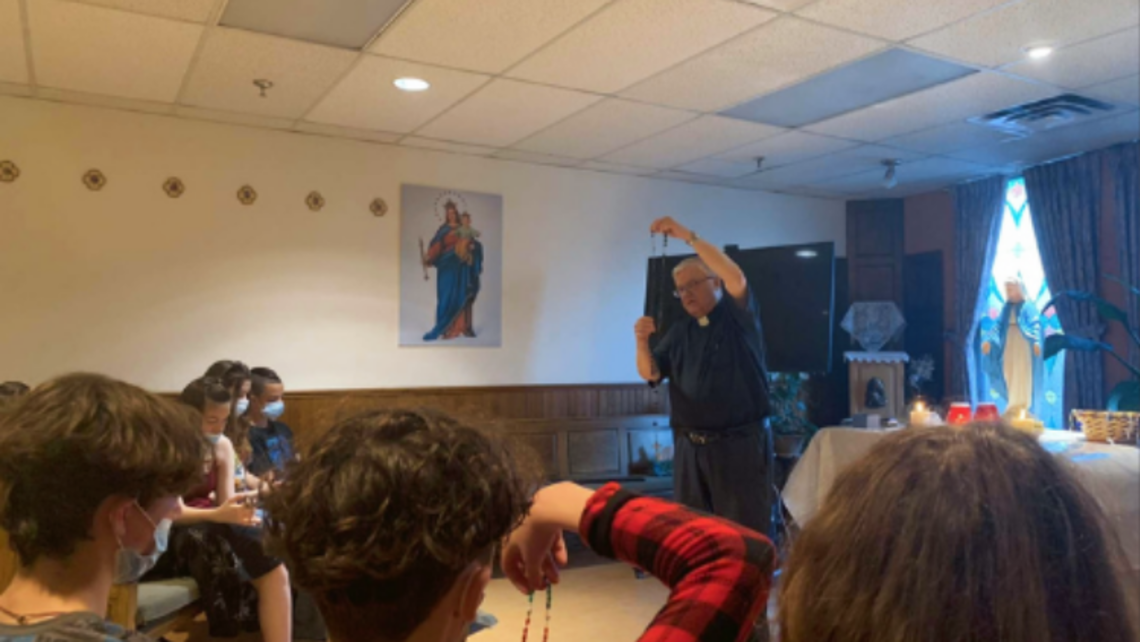 By Fr. Richard Authier, SDB
(Montréal, QC – May 17) – A Blessed Month of Mary to the whole Salesian Family. Here is a little project we are carrying out from the Don Bosco Youth Leadership Centre (DBYLC).
The most active evening of our youth centre occurs each Friday. Small group activities take place in the DBYLC itself, and there are sports activities going on in four of the school gyms that surround us. For all the groups, we offer a monthly little Catechism and prayer moment called "Faithspace." For Mary to be able to reach the youth in the gyms, she had to be mobile, "on wheels." So, we used a little red cart to roll her into the gyms!
The theme of the Faithspace moment is "Learning to Pray to Mary using the Rosary." Most of the children and teens knew about the Rosary through their grandmothers. However, they don't know how to use it in prayer. So, with the help of one of our young leaders, I began to explain the meaning of the words of the Hail Mary and how to use a Rosary to pray to them. Then, I blessed and gave each of them a little plastic Rosary. There are also two little Rosaries in the basket in front of the statue of Mary, who is on the "little red cart."
Even though all these children and teens no longer have Catechism in their schools, they quickly became intrigued with "praying the Rosary." I think it all had much more to do with Mary than with me.
Thank you, Mother Mary, for continuing to touch the heart of our Montréal youth with your love. Mary Help of Christians pray for us!