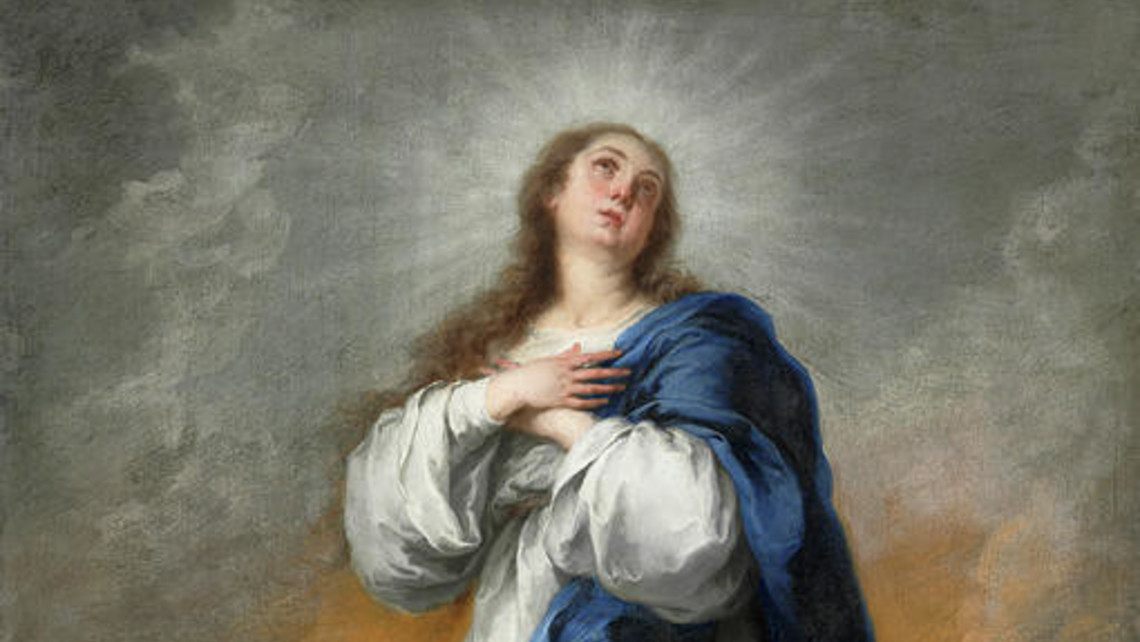 Day 8 – December 6: "Do not be afraid, Mary, for you have found favor with God"
The angel's words descend upon our human fears, dissolving them with the power of the Good News of which we are heralds:  our life is not pure chance or a mere struggle for survival.  Rather, each of us is a cherished story loved by God.  That we have "found grace in [God's] eyes" means that the Creator sees a unique beauty in our being and that he has a magnificent plan for our lives.  The awareness of this certainty, of course, does not resolve all our problems nor does it take away life's uncertainties.  But it does have the power to transform our lives deeply.  The unknown that tomorrow holds for us is not a dark threat we need to overcome, but a favorable time given to us for living out the uniqueness of our personal vocation, and for sharing it with our brothers and sisters in the Church and in the world. 
To the young Mary was entrusted an important task, precisely because she was young.  You young people have strength as you go through a phase of your lives where energy is not lacking.  Make use of this strength and this energy to improve the world, beginning with the realities closest to you.  I want important responsibilities to be given to you within the Church; that there may be the courage to make space for you; and that you may be prepared to take on these responsibilities.
I invite you once again to contemplate Mary's love:  a caring, dynamic, and concrete love, a love full of boldness and focused completely on the gift of self.  A Church permeated by these Marian qualities will always be a Church going forth, one that goes beyond her own limits and boundaries to let the grace she has received overflow.
Act of Veneration to the Immaculate Virgin Mary (Pope Francis, December 8, 2013)
Virgin most holy and immaculate, to you, the honor of our people, 
and the loving protector of our Church,
do we turn with trust and love.
You are all-beautiful, O Mary! In you there is no stain of sin.
Awaken in all of us a renewed desire for holiness:
may the splendor of truth shine forth in our words, 
the song of charity resound in our works, 
purity and chastity abide in our bodies and hearts,
and the full beauty of the Gospel be evident in our lives.
You are all-beautiful, O Mary!
In you the Word of God became flesh.
Help us always to heed the Lord's voice:
may we never be indifferent to the cry of the poor,
or untouched by the sufferings of the sick and those in need;
may we be moved by the loneliness of the elderly
and the vulnerability of children, 
and always love and respect the life of every human being.
You are all-beautiful, O Mary!
In you is the fullness of joy born of a blessed life with God.
Help us never to forget the meaning of our earthly journey:
may the kindly light of faith illumine our days,
the comforting power of hope direct our steps,
the contagious warmth of love stir our hearts;
and may our gaze be fixed on God, in whom true joy is found.
You are all-beautiful, O Mary!
Listen to our prayer, graciously hear our plea:
may the beauty of God's merciful love in Jesus remain in us,
and may this divine beauty save us,
our Church and the entire world.  Amen.
December 6, 2018 - 4:37pm