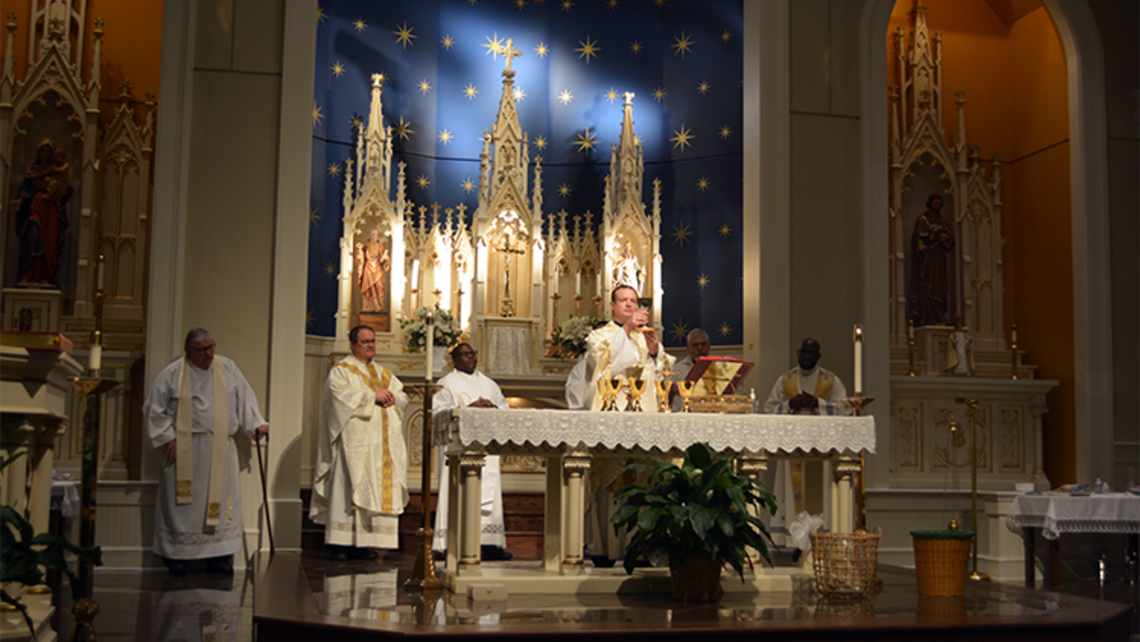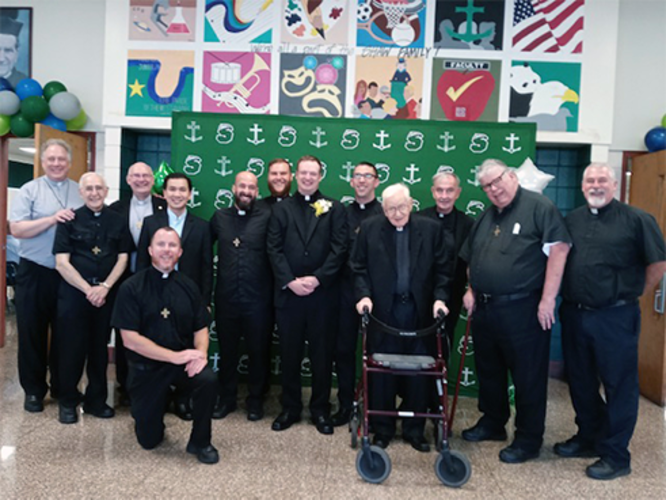 By Fr. Mike Mendl, SDB           
Fr. Charles Craig Spence, SDB, was ordained a priest on Saturday, July 31, by Abp. Gregory Aymond of New Orleans. The ordination was celebrated at St. John Bosco Church in Harvey, LA, with 14 priests and two deacons concelebrating.
The congregation, including Salesians and members of the local Salesian Family, gave Abp. Aymond a hearty welcome at the beginning of Mass, and the archbishop reciprocated with warm words of appreciation for the Salesians, who have served the New Orleans Archdiocese since 1933 and, with the Salesian Sisters, currently staff two archdiocesan high schools, two parishes, and three parochial elementary schools.
Fr. Craig joined the Salesian formation program in 2011. He came to know the Salesians through their lay missioner program. Serving on the youth ministry team at Don Bosco Tech in Paterson, NJ, in 2001-2002, he was quickly dubbed "Missionary Craig" by the students and then by the Salesians, too. He showed a talent for youth ministry and easily won the respect and affection of students and staff.
When the school was closed at the end of that school year, Craig decided to do a second volunteer year as a "missionary" and moved to Mary Help of Christians Parish on E. 12th Street. Together with the Salesians, he developed a thriving youth ministry program, and at the end of the 2003 pastoral year was hired as the parish's full-time youth minister. He remained there until the New York Archdiocese closed the parish in June 2007.
Fr. Craig was born to Marsha Bickford and Chuck Spence in 1976 in Jackson, MS and raised in Mobile, AL. He has a younger sister, Maggie, and a younger brother, Patrick. Ms. Bickford now lives in Pearl, MS, and Mr. Spence in Prairieville, LA.
After attending local public schools in Mobile, Craig went to the University of Southern Mississippi, where he graduated with a B.S. in economic development and tourism. He moved to Pass Christian, MS and belonged to Holy Family Parish.
Following the closure of Mary Help of Christians Parish, Craig spent four years discerning his life's course, including the possibility of marrying and starting a family. He continued parish youth ministry in the Biloxi Diocese.
His discernment brought him back to the Salesians in Orange, NJ. He did further studies at Seton Hall University, was admitted to the novitiate in Rosemead, CA, in 2012, and professed his first religious vows on August 16, 2013. Six years later, he was admitted to perpetual vows.
From 2015 to 2017, Br. Craig did practical training as a religion teacher and campus minister at Salesian High in New Rochelle, NY. Besides teaching, his ministry included a midnight run (a program to provide basic necessities to the homeless while introducing students to the needs of others), weekly trips to the soup kitchen at Holy Rosary Parish in Port Chester, NY, and a variety of monthly oratory-types of experiences for the students.
After practical training, Br. Craig began theological studies in Jerusalem in the fall of 2017 at the Ratisbonne Institute—a branch of the Salesian Pontifical University, Rome. His favorite area of study was the sacred Scriptures. His pastoral work as a student was mainly among Filipino immigrants in Jerusalem.
Br. Craig earned a Bachelor's degree in theology, writing a thesis entitled "Shepherding at the Heart of the Church for the Good of All Humanity." In June 2020 he was ordained a deacon in Jerusalem.
Fr. Craig's first assignment as a priest is to Don Bosco Cristo Rey High School in Takoma Park, MD. He'll teach freshman religion and serve in campus ministry.
During the ordination rite, Dcn. Craig was called forward for priestly ordination by Fr. Steve Ryan, the local Salesian director; the provincial, Fr. Timothy Zak, asked the archbishop to ordain him a priest. Fr. Craig's priestly vestments were presented at the appropriate time by his parents, and Fr. Mark Hyde, the local pastor and a longtime mentor of Fr. Craig, assisted him in putting the vestments on.
The archbishop's 15-minute homily began with a comparison of our human lives with fingerprints: everyone's are unique. Everyone's call and everyone's relationships are unique. From conversation with Dcn. Spence, he had learned that there were three main influences on Craig's life: his family, seeing and hearing St. John Paul II at World Youth Day in 1994, and the example of the Salesians he had lived and ministered with.
Abp. Aymond identified Fr. Craig's first calling as the one he received in Baptism. That calling has been lived out through Salesian life and will be followed further in the priesthood.
According to the archbishop, Fr. Craig has said he is grateful to many people, beginning with his parents, extending to his many relatives, and to male and female Salesians. Many people have supported him and encouraged him for years.
The archbishop observed that at this ordination we carry on the practices of the early Church described in the New Testament: the apostles chose men to be their co-workers, prayed over them, laid hands on them, and invoked the Holy Spirit.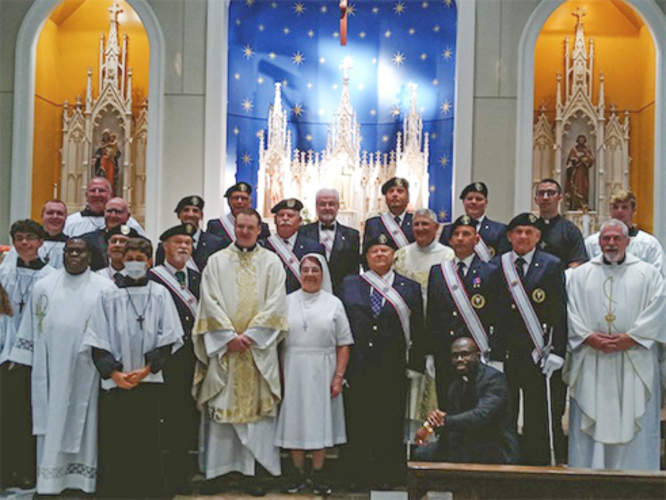 He explained that before the laying on of hands, Dcn. Craig would prostrate himself on the floor, symbolizing his total self-surrender and self-emptying to God. The congregation will join him in praying that God accepts all that he is.
The archbishop then explained the threefold ministry of priests: teaching, praying, and shepherding. As a teacher and preacher, he gives direction to people's lives—inviting, challenging, convincing them, doing everything possible to reach people's hearts. He prays and celebrates the sacraments always in Christ's name. Like a shepherd, he seeks the lost, practicing patience and extending mercy.
Abp. Aymond urged Fr. Craig to make Christ the center of his life, to seek forgiveness in sacramental confession so as to be able to offer it to penitents and to live out his Salesian vows.
Finally, he encouraged the congregation to pray that Fr. Craig will be like Jesus in his service to God's people, after the example also of St. John Bosco.
Fr. Craig celebrated a Mass of Thanksgiving (his "first Mass") at Holy Family Church in Pass Christian, MS, on Sunday, August 1.

*The feature photo shows Fr. Craig as he elevates the chalice after consecrating the Precious Blood. Concelebrating priests (l-r) include Fr. Dennis Hartigan, SDB; Fr. Mike Austin, pastor; Fr. Wilgintz Polynice, SDB; Fr. Steve Ryan, SDB; and Fr. Dieunel Victor, SDB. (Credit: Terrance Dickson/Gulf Pine Catholic)