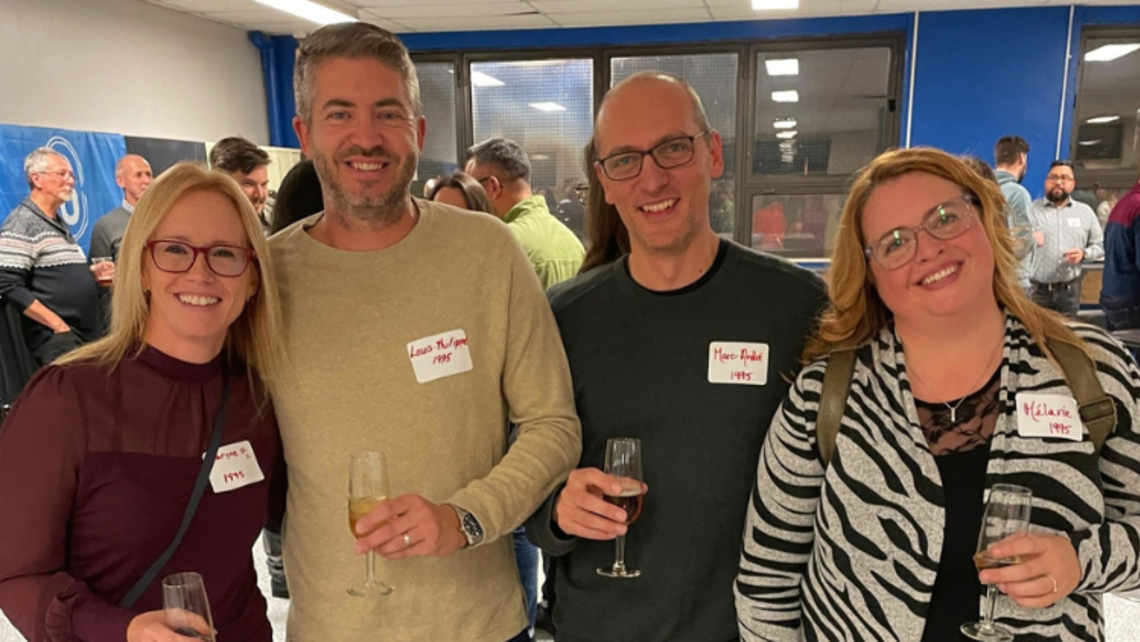 Dear Confreres,
Happy 2023! May this New Year, and this month of Don Bosco, begin with our renewed desire to live Da Mihi Animas Caetera Tolle. I would like to take advantage of these messages in Salesian News this month to reflect with you on some parts of our province's strategic plan. It has been six months since the plan was presented to the confreres. It is important that the vision, goals, and objectives be incorporated into the plans of every province department, religious community, and Salesian work.
Today I would like to highlight Goal Four: Together with Lay People in the Mission and in Formation. During the visitation to Sherbrooke in early December, the administrative team of Le Salésien, as well as some of the teachers, told me about a formation session on the Salesian charism that Fr. Alain and Fr. Pierre Celestin had offered some of the faculty and staff. They were delighted with how the SDBs communicated the Salesian philosophy and methodology in a way that was relevant and inspiring. The colleagues are looking forward to the next session. Fr. Alain and Fr. Pierre Celestin based their presentation on Hearts Present and Joyful. I am happy to say that every community I have visited so far this year is using this resource in some way. Once again, I thank everyone who contributed to developing Hearts Present and Joyful. Let's continue to offer our colleagues, especially the leadership teams, meaningful formation in the Salesian charism.
Objective Three states that we will take advantage of the formation opportunities offered in the regional centers of formation (Berkeley and Quito) and of the Congregation. Here are the courses offered at the Salesian Center for Ongoing Formation in America in Quito, Ecuador. These courses are offered in Spanish for SDBs and our lay colleagues. If you are interested in recommending an SDB or colleague to begin the four-year study of Salesianity, please let me know.
February 19 - March 11: Salesianity Level I
March 19 - April 1: Intensive Salesian Studies
April 30 - May 28: Salesianity Level IV
July 2-22: Salesianity Level III
August 13 - September 2: Salesianity Level II
October 8-21: Program for SDB Directors
The dates have not been set for the online program, "With the Eyes of Don Bosco."
The Rector Major recommended that our province should have a core group of six to eight SDBs and colleagues who have completed this type of formation in the Salesian charism, who would then be available to offer similar programs in all the Salesian presences in our province. We have SDBs who have begun the program. We need some committed colleagues to share this opportunity.
Objective Two of this section of the province strategic plan speaks about volunteering (short-term and long-term missionary experiences). I repeat what I wrote at the beginning of December. "Flowing from the grace of the visit of the Rector Major, I present to each SDB community a challenge to cultivate among our young adults a missionary perspective so that by the end of 2023, each community can present a candidate for the SLMs or one of the groups of the Salesian Family. One hundred years ago, four SDBs came to this land as Salesian missionaries. Let's enkindle the flame of missionary zeal in our young adults, so many more young people and their families will hear the Good News. At least one candidate from each Salesian presence by the end of 2023."
This is the month of Don Bosco. The offices of youth ministry and communications will provide us with some prayer resources for the Don Bosco Novena. Please send stories and one to two photos with captions about how you are celebrating in your local Salesian presence to Salesian News.
Fr. Tim Zak