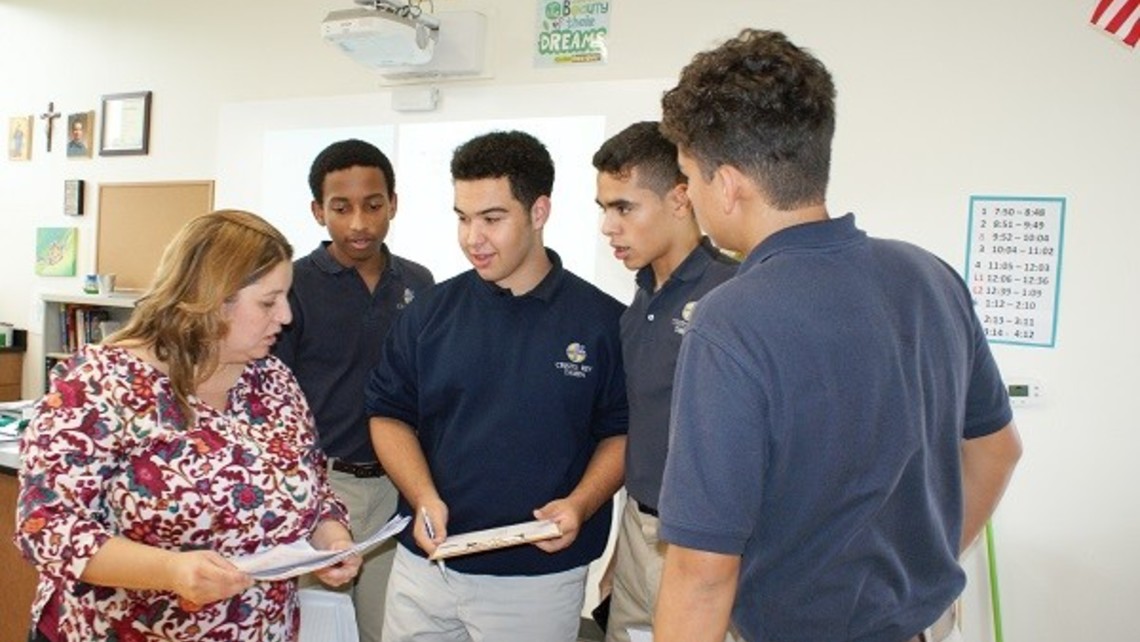 In February of 2014 Catholic businessman Peter Reynolds challenged Fr. Ryan after daily Mass one morning. "Father Steve," he said, "if the Salesians get serious about finding a new way of helping poor youth here in Tampa, I'll help." He followed that up with a business card for the Cristo Rey Network which he had acquired at a Legatus meeting.
Peter was good on his promise, and today Neal Herman from Peter's company serves as chairman of the board of directors of Cristo Rey Tampa High School. Avesta (InvestRes) is a founding partner and big supporter.
Cristo Rey Tampa High School at Mary Help of Christians Center, now in its fifth year of existence (with Grades 9-11 thus far), came about through the hand of Divine Providence and the initial financial backing of the Mary Help of Christians Foundation. The hard work of many people – the Salesians; Bill Palmisano, director of the foundation; Jim Madden, the first principal; and the school's founding president and CEO, Charles Imbergamo – have brought us to where we are today. 
Recently Ms. Terrie Dodson from the school asked Fr. Ryan some questions about how CRT got started. Here is a transcript of the interview:  
What was your inspiration for bringing Cristo Rey to Tampa?
St. John Bosco, the founder of the Salesians, was amazing at finding creative ways to educate and evangelize young people who desperately needed help to make it in life. In starting the first Cristo Rey school 23 years ago, Fr. John Foley brought the same passion and ingenuity into a new type of high school in Chicago. It developed into a model that could be replicated across the United States. Bringing Cristo Rey Tampa to Mary Help of Christians made perfect sense. It matched completely with the Salesian mission, and we had an extraordinarily beautiful campus to host it.
What was your favorite part of launching Cristo Rey Tampa?
At every turn, moving from an idea to a reality, God opened the right doors for Cristo Rey in Tampa. I enjoyed experiencing the hand of Divine Providence as the Lord brought us the gifts of people, funding, students, jobs, administrators, and teachers. Looking back, I can truly say that every obstacle was overcome by the Lord's guidance and the hard work of the founding team, including Mr. Jim Madden, the Mary Help Foundation, the initial board of directors, the staff and volunteers of Mary Help Center, and the hard effort of Mr. Charles Imbergamo and the launch team.
What is important to sustain Cristo Rey Tampa?
From my perspective, a strong faith culture in our school and the practice of Don Bosco's style, method, and spirituality are essential. Yet just as important on a practical level will be the following: a strong board of trustees to assist the president; corporate work partners who are passionate about our students and this program; educators who will motivate our students to strive for excellence; benefactors who are willing to make ongoing financial contributions; and finally, the recruitment of students who truly want to receive a high-caliber Catholic education and sacrifice to get it.
What do you want the Tampa community to know about Cristo Rey Tampa?
CRT is a game-changer in the lives of Tampa's underserved families. Our students and their families are being elevated toward a brighter future because of this school. Come by the campus and see what's going on (the joy, the family spirit, the excellent academics) and watch what happens after our first graduating class (the class of 2020)
goes on to four-year universities. Oh, and yes – we want everyone in the community to know that they are welcome to be a part of this phenomenal school.
What one word describes Cristo Rey Tampa?
Miracle. It's a miracle.
Readers of Salesian News are invited to make an end-of-year financial contribution to Cristo Rey Tampa High School (click here to donate). Questions may be directed to Cynthia Spano, director of annual giving ([email protected], 813-621-8300).
November 8, 2018 - 4:39pm