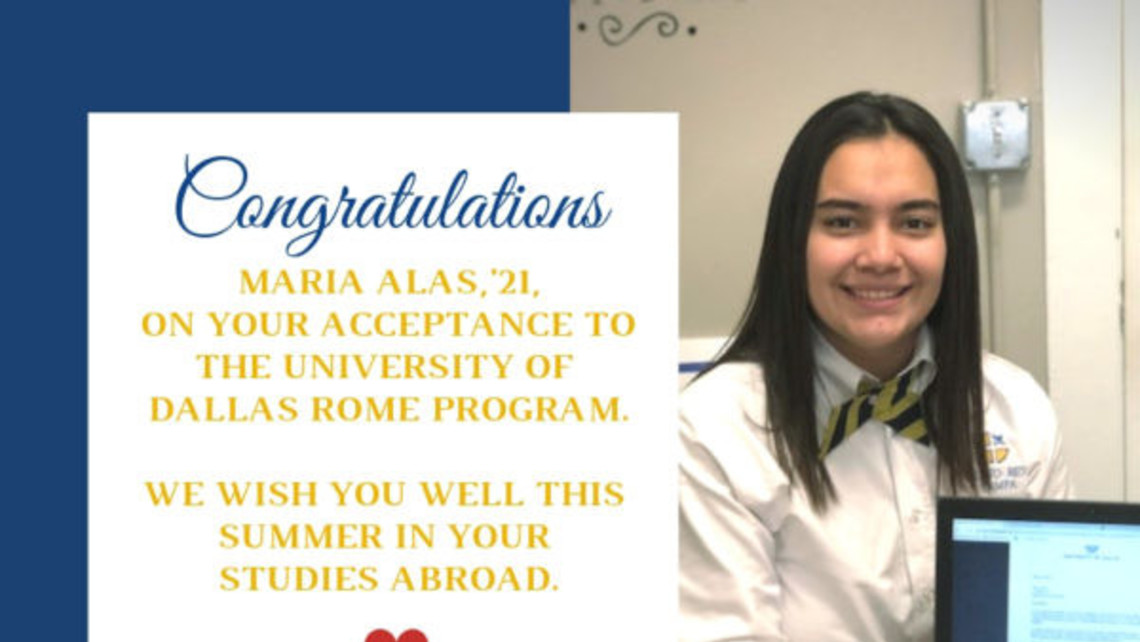 (Tampa, Fla. – March 19) – Maria Alas, a member of Cristo Rey Tampa's Class of 2021, is one of 15 high school students selected nationwide to attend the University of Dallas Rome Program – Rome and the Catholic Church Odyssey. This program is open to rising juniors and seniors of high academic achievement and high moral and ethical values.
Cristo Rey Tampa High School and Corporate Work-Study Program, now in its third year of operation, is based at Mary Help of Christians Center in Tampa.
Maria's study abroad experience will take place July 8-30, 2019, at the University of Dallas's Eugene Rome Campus at Due Santi, 12 miles southeast of the center of Rome.
During her time in Due Santi, Maria will study and deepen her faith while simultaneously earning three college credits. She will explore Catholicism through the study of saints, religious readings, historical landmarks, and the rich culture of Rome. A few highlights along her journey will be visits to basilicas, the Vatican Museums and Observatory, Trevi Fountain, the Scavi beneath St. Peter's Basilica, and the Pantheon. Her studies will also take her on day trips to Subiaco and Orvieto and a four-day trip to Assisi and Siena.
It is hard for Maria to contain her excitement while beaming with pride when speaking of her recent accomplishment. This young woman, who is passionate about her Catholic faith, told us: "I am so excited to grow deeper in my faith, learn more about Catholicism, and expand my knowledge base. I am looking forward to a taste of college life abroad before my senior year as well."
Kevin McArdle, youth ministry coordinator at her local parish, Nativity in Brandon, is proud of Maria. He said, "Her ability to focus and strive for greater things, her demeanor and maturity, her commitment to family and friends, and her unwavering faith in God's plan have made Maria a strong role model and inspiration to her classmates and others throughout the parish."
Maria learned of this opportunity while exploring summer program options with John Davidson, Cristo Rey Tampa's director of guidance and college counseling. "I encouraged her to apply after asking her about her summer plans and reviewing a few college opportunities online. This particular opportunity stood out among the rest," said Mr. Davidson.
Once Maria realized this was what she wanted, she moved forward expeditiously. She completed her application, gathered the required recommendations, and completed the required essay to accompany her transcripts and standardized test scores.
Maria is an active parishioner at Nativity who serves as a lector and extraordinary Eucharistic minister at Sunday Mass and is a youth group leader. At CRT also she serves as a Eucharistic minister and lector and is president of the Key Club.