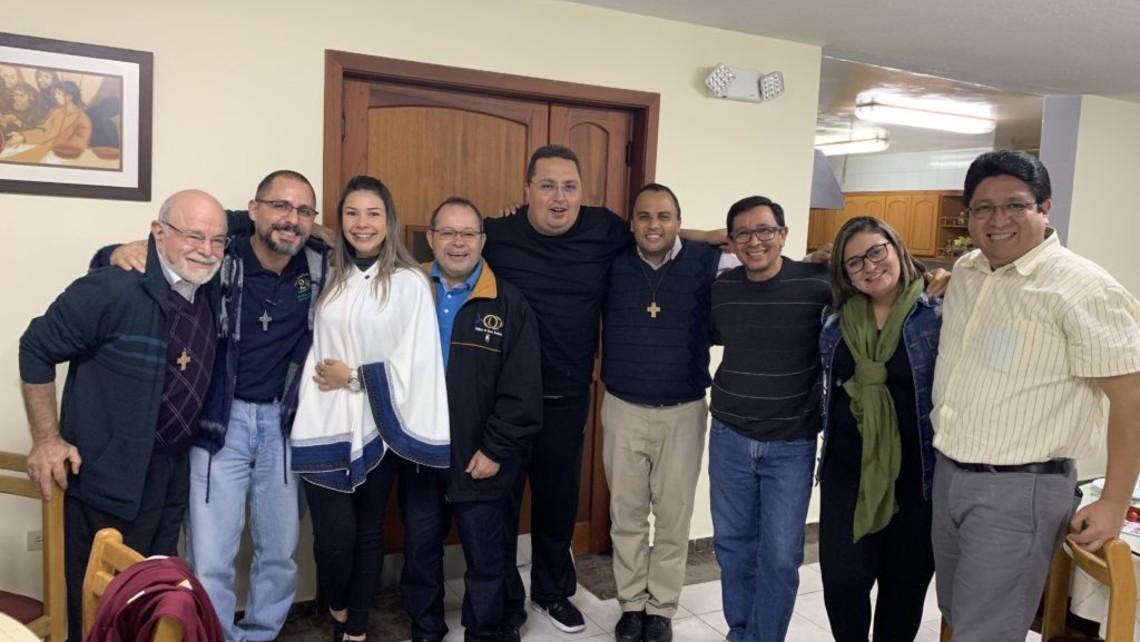 By Fr. Abe Feliciano, SDB
Fr. Manny Gallo, Fr. Abe Feliciano, and Deacon Ivan Gemio in Quito. (Courtesy of Fr. Abe Feliciano)
(New Rochelle, NY – March 13) – From Monday, February 18, to Friday, March 8, Deacon Ivan Gemio (Salesian Cooperator from St. John Bosco Parish in Port Chester, NY), Fr. Manny Gallo, SDB (CYM at St. John Bosco Parish), and I were blessed to participate in the first level course on Salesianity offered by the Salesian Center for Ongoing Formation of the Americas (El Centro de Formación Permanente America) in Quito, Ecuador.
We were part of a group of 35 members of the Salesian Family, who included SDBs, FMAs, Cooperators, a Don Bosco Volunteer, and numerous dedicated Salesian lay collaborators.
The formation team, comprised of Salesians from various parts of the Americas, is led by Fr. Salvador Delgadillo, who is also the former director of the Salesian house of theology in Tlaquepaque, Mexico. The ambiance was truly one of Salesian family spirit, and the enthusiasm of all of the participants ensured that the experience as a whole would be quite lively, as well as enriching.
The course began on February 18 with a moving prayer service entitled, "Entering the Heart of Don Bosco," and it involved a short "pilgrimage," if you will, into the beautiful chapel at the Center. The symbolism of the various elements and structures of the chapel inspired moments of prayer and reflection that aptly set the tone for what we were all about to engage in over the subsequent weeks: entering more deeply and knowing better the heart of our spiritual father, St. John Bosco. The program is a wonderful gift to our Salesian Family that provides graced moments of study, reflection, discussion, and prayer that really allow the participants to get to know Don Bosco well beyond the merely anecdotal or almost "legendary" way that we can often speak about him. In many senses, it allows him to become, once again, "flesh and bone."
Having completed the first level of this four-tiered program, I can attest to having learned significantly more about Don Bosco than I knew prior to going into the program—with a number of surprises along the way! We learned not only about Don Bosco, but also a great deal about key figures in his life, such as Mama Margaret and St. Joseph Cafasso. In the end, it all provided a very wholesome formative experience that strengthened my vocational identity, forged and fortified Salesian Family ties, nourished my life of prayer, and helped to deepen my love for our spiritual father Don Bosco.
My companions and I returned from Ecuador with tremendous gratitude to Fr. Tim Zak and the province for the opportunity, and we look forward with great enthusiasm to participating in the next three levels.