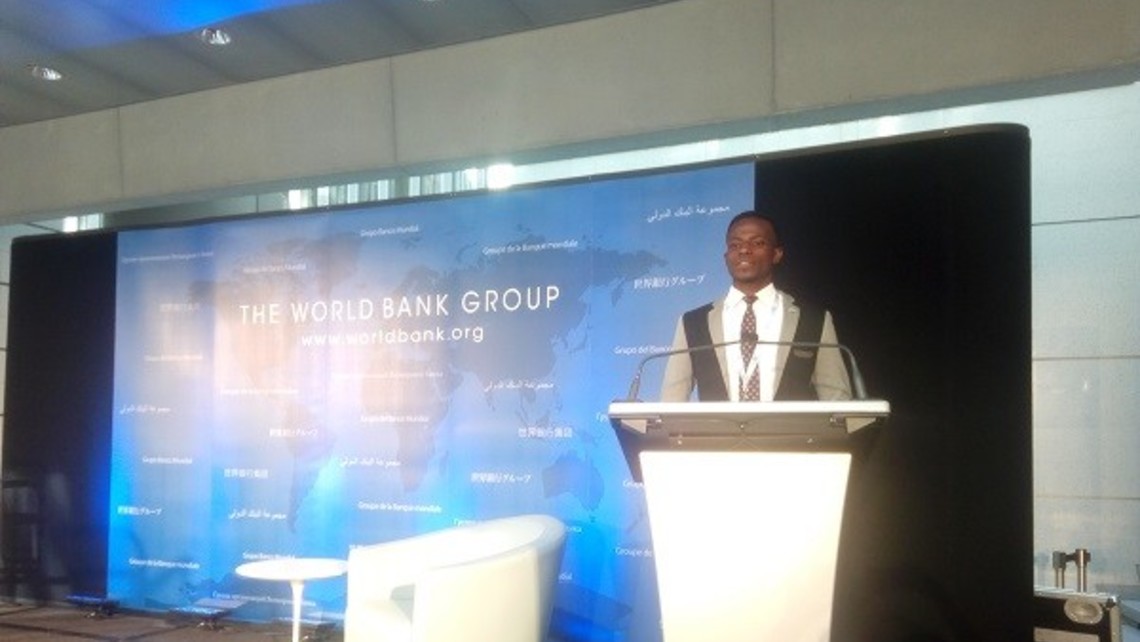 (Takoma Park, MD – December 11) – Don Bosco Cristo Rey High School in Takoma Park made the participation of a Salesian student from Ghana in the 2019 World Bank Group Youth Summit  memorable by extending the school's hospitality to him and facilitating his interaction with a selected number of students from the school.
The World Bank Group Youth Summit was held in Washington, DC, on December 2-3. This summit is an annual event hosted by the World Bank Group (WBG) to engage youths globally on the most pressing challenges before the world. The WBG Youth Summit is an affiliate of the Youth-to-Youth (Y2Y) network, the largest volunteer organization at the WBG, which aims to inspire and empower young people.
This year's summit discussed the theme "Smarter Cities for a Resilient Future" and set for itself three primary goals.
Empower youths to explore innovative ideas to tackle emerging development challenges.
Provide youths with the tools to build and engage in projects that will have an impact.
Promote the dialog between youths, the WBG, and other key stakeholders globally.
Agyei Philip, a young staff member of Don Bosco Tech in Sunyani, Ghana, was selected out of 3,000 applicants to participate in the WBG Youth Summit. His participation in the summit was indeed a proud moment not only for him but also for Don Bosco Tech Sunyani and Anglophone West Africa Province. He found it to be a great learning experience, and he willingly shared it with the students of Don Bosco Cristo Rey and the local Salesians. He shares his experience here:
"The Salesian Community in College Park, Maryland, warmly received me with love and kindness. They extended to me excellent hospitality at their residence. In school, I had animated discussions about innovation, technology, and smart cities with some of the students. They were happy and receptive during the discussions. They were excited to hear about what was happening in Ghana. Their feedback was quite amazing. Some of the students said that they would be very happy to visit Ghana if the school organizes a trip for them to go and experience how things work in Ghana. I explained to them how certain things such as the Ghana education system, internet access, automation, resources, and other things make Ghana quite different from the US."
Among the many eminent people whom Agyei Philip was privileged to listen to at the conference were David Malpass, president, World Bank Group; Alex Van Trotsenburg, managing director of World Bank Operations; Miguel Gamino Jr., executive vice president for Global Cities and Enterprise Partnerships, Mastercard; and Nigel Jacob, co-chairman of the Mayor's Office of New Urban Mechanics in Boston.
In response to a case study regarding "Health & Air Quality," Agyei's suggestion to introduce a real-time air quality monitoring device for pollution detection using air sensors was very well received.
The young man continues: "I would like to share my experiences with the people in my community and country who didn't get this opportunity. The youth summit was a wonderful one, interactive, and very educative. Not only has the summit broadened my knowledge in innovation and smart city solutions, but it has also enhanced my knowledge in the Sustainable Development Goal (SDG) number 11. My trip to the US, the summit, the accommodation, everything was beyond my expectation. I really love every second I spent at the summit."
Agyei's participation was facilitated by Salesian Missions' UN office. Participation of the young at the highest places of advocacy, lobbying, and giving them the much-needed visibility at such learning platforms are strategies that the office is adopting to empower our Salesian youths. The office hopes that this is just the beginning of a journey on a path less traveled.
December 12, 2019 - 10:58am