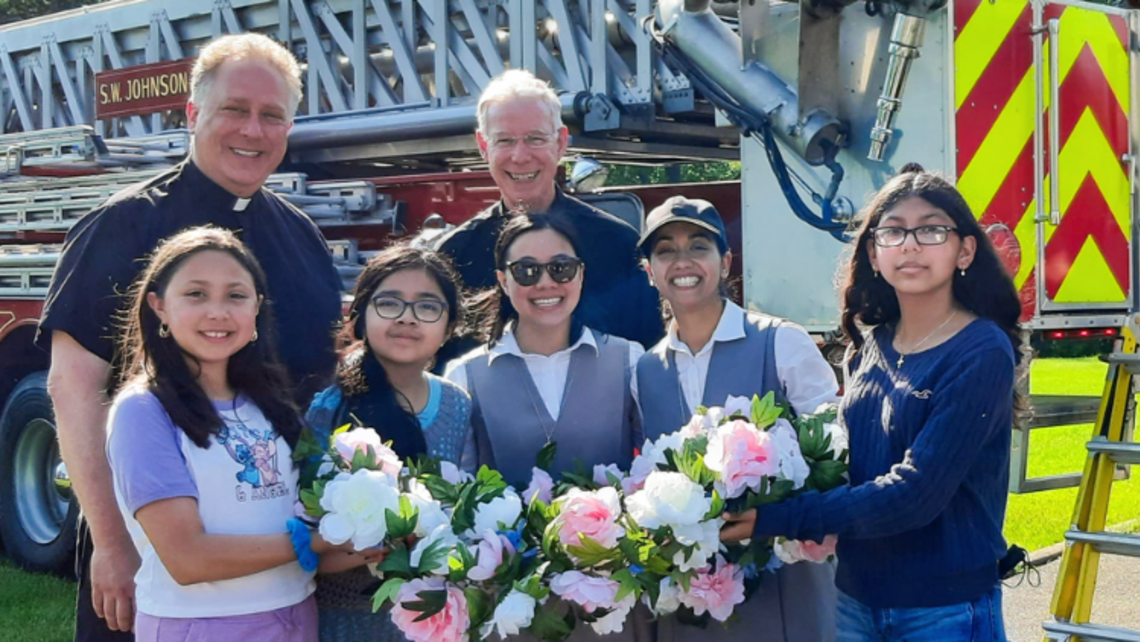 Homily from Salesian Family Festival (Marian Day), May 21, 2022, Marian Shrine, Stony Point, NY
It was about this time of year, during the novena of Mary Help of Christians in 1877 that, in a good night, Don Bosco encouraged the young people of the Oratory to pray fervently to our Blessed Mother. He reminded them to say the little prayer which has become so familiar in every Salesian setting today: "Mary Help of Christians, pray for us." Don Bosco recounted how he had recommended this short prayer to thousands of people, especially the sick, parents worried about their teenagers, anyone facing temptation. That little prayer has been known to work miracles. Don Bosco went on with the good night asking the young people and the Salesians present if anyone had ever prayed to Mary Help of Christians, and not had their prayers heard. He assured them that Mary always hears our prayers, because she is a loving mother, and presents them to our merciful God. Don Bosco remembered one man who said his prayer was not hear, but when Don Bosco questioned the man a little more, he admitted that he had actually forgotten to pray. Don Bosco challenged the young people to put their trust in Mary Help of Christians and they would see miracles. If not, Don Bosco himself would write to St. Bernard of Clairvaux to say the Memorare prayer was misleading. Don Bosco teased his assistant, Don Rua, that Don Rua might have trouble getting such a letter delivered by the Italian post, but he felt he wouldn't need to send it, because no one has ever told him Mary let them down. He concluded the good night by entrusting the young to the Lord and to Mary Help of Christians.
Mary Help of Christians, pray for us. What a simple and cheerful way for us to revive the filial trust that is integral to the Salesian spirit. We wouldn't be Salesians if we didn't have this confidence in Mary, Mother of Jesus, Mother of the Church and Immaculate Help of Christians. I would like to reflect on a few moments of life today when Mary shows herself once more to be our mother and model.
Let's begin considering how Mary is a mother who cares for her children in need. We have the dramatic example of her motherly presence close to the people whose lives are devastated by the war in Ukraine and all the places in the world where hatred and weapons are destroying lives. The Pope led the Church in a consecration to the Immaculate Heart of Mary of all believers, the Church, and the world, especially Ukraine and Russia. It is a renewal of previous consecrations led by Popes over the past seven decades. One of the paragraphs of the prayer recalls Mary's readiness to come to the aid of the newly married couple in Cana, showing how she always intercedes for her children in moments of trial. With a sense of sadness, the Pope prays, "...in our own day we have run out of the wine of hope, joy has fled, fraternity has faded. We have forgotten our humanity and squandered the gift of peace. We opened our hearts to violence and destructiveness. How greatly we need your maternal help!" As we heard in the Gospel of the Wedding Feast in Cana, Mary brings the needs of humanity to Jesus, and instructs us to do whatever he tells us. We will not find lasting peace if we do not follow Mary's example and open our hearts to Jesus, the Prince of Peace.
In a second example of Mary as a mother and model for us, more personal, we consider Mary who willingly cooperated with God's dream for her. This is related to the strenna: Do all through love, nothing through force. Fr. Ángel highlights the love of St. Francis de Sales for the Blessed Mother. Like Francis de Sales, Don Bosco, in various writings and conferences, presented Mary as a model of all virtues and a help for all vocations. She is a shining example of what God is ready to do with a person when the heart is open to God's plan. Mary's "fiat" opened the way for all humanity and all history to receive the Son of God! What would God do with each one of us if we emptied ourselves a bit more of our selfishness, greed, indifference, aggression and pride? What would God be able to do with a family or religious community or Salesian work or an entire nation, if it were more available to be filled with God? Looking at the great things God has accomplished in the maiden from Nazareth, we get a glimpse at the amazing dream God has for us.
Following the example of the many holy men and women in the Salesian Family, we also find in Mary a tender mother who shows us how to live the Da Mihi Animas Caetera Tolle. In particular this year, we relate Mary's presence among us to the 150th anniversary of the Institute of the Daughters of Mary Help of Christians. Don Bosco wanted the Sisters to be a living monument of gratitude to Mary for the singular graces obtained by such a good Mother. Each FMA has the joy of knowing she was chosen to live in close relationship to Mary and to follow her example of pastoral charity. At a time in internal struggle in the life of Mary Mazzarello, the Blessed Mother gave her this mandate, "I entrust them to you." The Blessed Mother was speaking about the girls Mary Mazzarello would care for. This mandate reorienting her entire life to live the Gospel in the service of the young. We are all inspired to follow the example of the Blessed Mother, attentive to the needs of those around us, as Mary was in Cana, and with gentleness and humility, give ourselves to the mission of education and evangelization.
It is significant that Jesus performs his first sign at a wedding, through the intercession of his mother. In this Year of Amoris Laetitia Family, we welcome Mary's presence in our homes and communities. Some of the members of the Salesian Family from our provinces will be going in pilgrimage to Italy at the end of June and beginning of July. They represent us all, making the journey of faith, supporting the joy of love in the family, extending that sense of belonging to those on the periphery, especially the young. Amid the poverty and stress, young John Bosco experienced in his own family, Mamma Margaret was able to fill the home with love, showing her children, in the ordinary moments of life, how to live in God's love. We find a similar atmosphere in the Mazzarello family in Mornese. These experiences became foundational in developing the family spirit of the Salesian charism.
In the Gospel passage of the Wedding Feast of Cana, we hear that Jesus revealed his glory, and His disciples began to believe in Him. With Mary, the mother of Jesus, as our mother and model, may we too grow in faith in Jesus, living our Salesian vocation with generosity and joy.