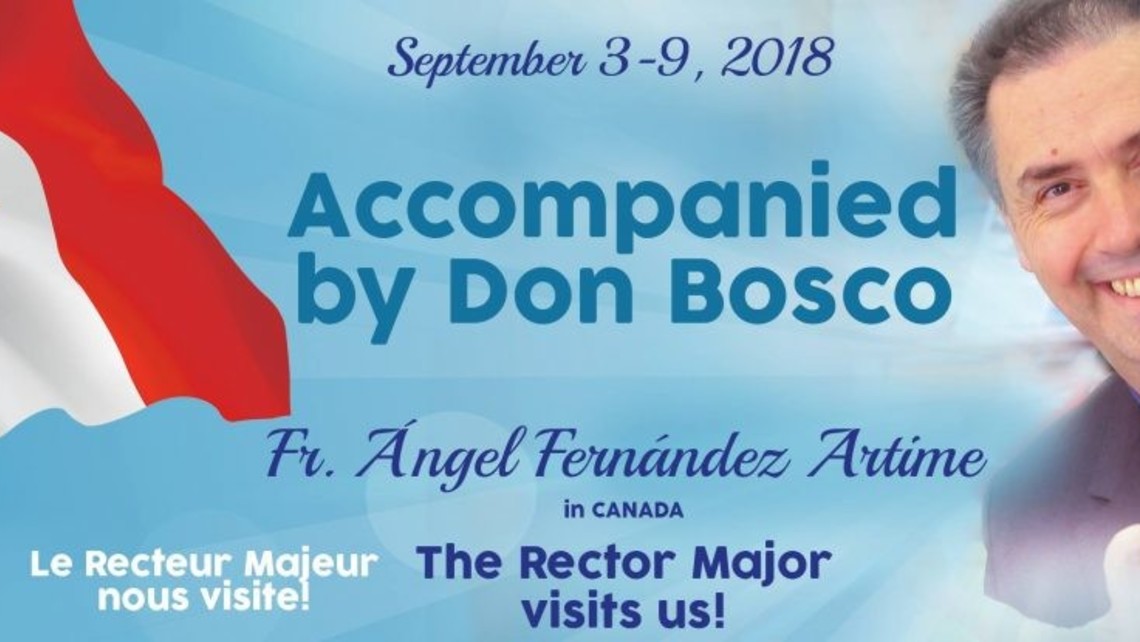 Dear brothers and sisters in the Salesian Family,
As we are aware, for over a year our province has been enthusiastically preparing to receive the tenth successor of Don Bosco, Fr. Angel Fernandez Artime, SDB. This long-awaited visit is almost here. On Monday, September 3, he and Fr. Horacio Lopez, his secretary, will arrive in Surrey, BC. There he will meet with the SDB provincial council, the SDB confreres, the Salesian Family, and young people and their families. He will continue the visit in Toronto and Montreal, where he will again meet with SDBs, Salesian Family, young people, and their families.
Unfortunately, Fr. Angel will not be visiting the United States. A few weeks ago, we learned that, due to his pastoral visit to Syria last April, Fr. Angel was not granted the ESTA (Electronic System for Travel Authorization) visa waiver to enter the US, which is the normal travel protocol for citizens of European Union nations (Fr. Angel is a Spanish citizen.). Numerous members of the Salesian Family have exerted great effort and worked tirelessly to try to resolve this issue so that Fr. Angel could visit both the U.S. as well as Canada. We are deeply grateful for all their efforts. Unfortunately, for several reasons, including the limited services available in the European-based U.S. consulates due to the vacation season, the amount of time required for a normal tourist visa to be processed, and the Rector Major's already full schedule, Fr. Angel will not come to the United States in 2018.
This is, naturally, of great disappointment to us all. We must not lose sight of the fact, however, that our Salesian Family provinces will still joyfully receive Fr. Angel in Surrey, Toronto, and Montreal. It will be a tremendous blessing to be present at these gatherings with the Rector Major.
For those who cannot be present, let us at least be united in prayer during these days of grace and follow closely the visit through our various means of communication. (See our webpage, www.salesians.org, for the links to social media.) I encourage all those for whom it is possible to join Fr. Angel in Surrey, Toronto, or Montreal. From Montreal, Fr. Angel and Fr. Horacio will travel to Tijuana to meet with the provincial council of the U.S. Western Province.
The original itinerary for Fr. Angel's visit to the U.S. has been changed; some events have been canceled, others adjusted. I urge everyone in our US presences to participate wholeheartedly in the events in the New York-New Jersey area and Florida. Perpetual professions on September 7 and the jubilees on September 8 will still be celebrated. We will be blessed to have Fr. Tim Ploch preside at both these celebrations. The meetings of the Salesian Family (SDBs, FMAs, Cooperators, DBVs, ADMA, past pupils) in New York on September 8 and in Tampa on September 11 will still occur. Here we have an opportunity to gather and share faith, fellowship, and our family spirit.
Members of the planning committee have been working out details of the revised plans with local organizers. They are available to answer any questions. Once again, I thank them for all their hard work.
While Fr. Angel will not be physically with us in the US, we know that Don Bosco's charism is very much alive in our provinces. Let us take advantage of this moment to be renewed in the Salesian spirit and mission. We will still honor the Rector Major by funding a water well in Ghana. You can make your contributions by going to www.salesianmissions.org and clicking on "donate now." On the "select a program" drop-down menu, choose "Rector Major water project." This project is related to the Rector Major's visit; even more, it is a practical way of living the 2018 Strenna. Religious communities and Salesian works are encouraged to incorporate the water project into their particular implementation of the strenna, involving the young people and their families to hear the cry of other young people, "Give us this water to drink."
In Don Bosco,
Fr. Tim Zak, SDB
August 30, 2018 - 12:54pm