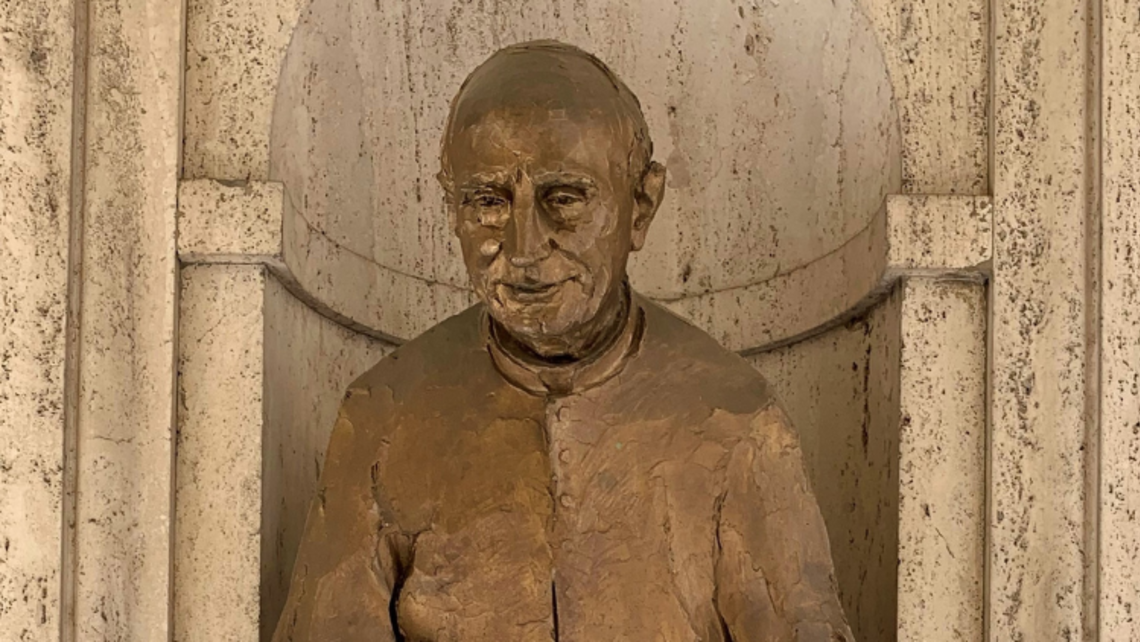 Dear Confreres,
The Year of Fr. Paul Albera is almost over. As we look back, we can see how this year has helped us know better the second successor of Don Bosco, to appreciate the growth of the Congregation during a time of international crisis, and to understand his dynamic fidelity to the Salesian charism in the face of new social realities. We were able to make a virtual visit to the special exhibition on Fr. Albera at the Museo Casa Don Bosco. This exhibition is now available in PDF format in five languages. With Fr. Mike Mendl's help as translator and editor, we printed Fr. Paul Albera: Master of Spiritual Life, by Aldo Giraudo. Fr. Mike also has translated and annotated the letters from Albera that are in our province archives. The Congregation hosted a scholarly conference on Albera, October 30-31, organized by the Salesian Historical Institute (ISS), conducted in person at the Salesian Pontifical University (UPS) and live- streamed. Numerous photos of Albera and brief explanations of the photos were included in ANS throughout the year. The year of Albera continues until January. All of these resources are still available for the entire Salesian Family to help us live our Salesian vocation with joy and generosity today, following the example of Fr. Albera.
Sunday, December 5 is the Memorial of Bl. Philip Rinaldi, the third successor of Don Bosco, and, like Fr. Albera, a master of the spiritual life. This year is the 90th anniversary of Rinaldi's death, and April 2022 is the 100th anniversary of his election as Rector Major. As we have learned much from Fr. Albera, so we have much to learn from Bl. Philip Rinaldi. In fact, with the help of Fr. John Puntino, we hope to make available in the new year some edited translations of articles on Bl. Rinaldi. Thus, we can continue the historical and spiritual journey begun in the Year of Fr. Albera.
We recall the many ways Bl. Philip Rinaldi embodied the spirit of Don Bosco: his fatherliness, his love for Mary Help of Christians, his concern for the missions, his attention to those in initial formation, and his heart full of pastoral charity like the heart of Jesus. We also remember Rinaldi as the founder of the Don Bosco Volunteers, an international secular institute of women who live the Salesian charism with vows in the world. The Lord is still calling women to this unique way of following Christ. It is our duty as SDBs to know and promote this vocation. Like Don Bosco and Don Rinaldi, once again we see that personal spiritual accompaniment of young adults toward vocational discernment is an essential and daily aspect of our Salesian mission.
We are preparing for the Solemnity of the Immaculate Conception. The novena sent out to the directors helps us reflect on different titles of our Blessed Mother, recognizing in her a model of virtue. For the Salesian Family, this feast has particular importance in renewing our vocation. Together, we remember how Don Bosco recognized God's call through his encounter with Bartholomew Garelli on the Feast of the Immaculate Conception in 1841. With Mary and Don Bosco, we allow ourselves to be surprised by God. This feast also motivates us to be attentive to the call of God in the lives of the young people and our colleagues. During National Vocation Awareness Week (November 7-13), I urged each SDB to invite one young adult to consider a vocation to consecrated life or ordained ministry. As part of our novena of the Immaculate Conception, I again urge you to invite at least one young adult to consider belonging to Don Bosco's Salesian Family.
May the Immaculate Help of Christians inspire us to be worthy heirs of Don Bosco's spirit and mission.
Fr. Tim Zak
December 2, 2021 - 8:00am