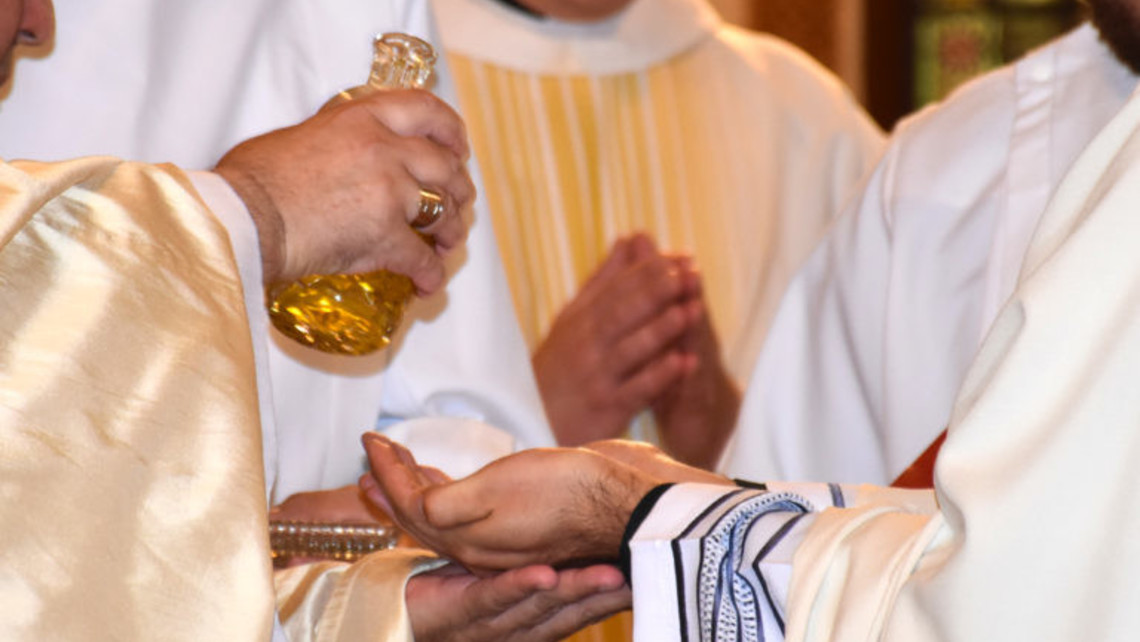 By Fr. Steve Ryan, SDB
November is Clergy Appreciation Month. The first Sunday in November is Priesthood Sunday. Some of you might think, "So what?"
It's an opportunity to think about priesthood in the Catholic Church. There have been a lot of eyebrows raised regarding Catholic priests in today's world. Priests have lost some respect due to scandal and sexual abuse accusations from generations past. Priests now have work to do to regain credibility. The best way to work on public relations is for priests to be sincere. Strong. Kind. Totally authentic. To be basically holy.
What do you think about the priesthood? It's a question people ask me, and it's a question that I have to ask myself regularly.
In fact, as a priest, I think a lot of things about the priesthood:
It's an honor to stand with Christ and share in his apostolic mission for the world as an ordained minister.
It's a humbling and amazing experience to be at the altar and celebrate Holy Mass and bring Christ's saving love in the Eucharist into the lives of people.
It's a joy to be the instrument of healing and forgiveness in the sacrament of Confession.
It's a huge responsibility for a priest to be an evangelical witness who is a father, a guide, a friend, and a mentor for people.
It's amazing how many people love their priests and are praying for them and supporting them.
It can be lonely without a family of your own but on the other hand, you get to have a ton of people in your life and you really do feel a part of many families.
It is so important for a priest to love the Church.
Priests who have a strong relationship with the Blessed Mother have something important. Mary really helps priests out. She supplies a lot of support.
It's a joy to serve and there are ample ways to do that as a priest – all day every day.
A priest needs to pray daily to survive.
The devil tries to destroy people who strive for holiness and the devil definitely has it out for priests. He tries real hard to mess them up.
Pride and anger are buggers for men, and priests are no exception.
Chastity is a beautiful virtue—it also takes discipline, prayer, and attentiveness.
When St. John Bosco (Don Bosco) finished his seminary training and was ordained on June 5, 1841, he received from his mother a little personal speech. The words she chose were not the warmest of congratulations. She felt it was necessary to caution him rather than coddle him. She gave him the best piece of advice any priest could have been given. Mama Margaret said to her son – something like this: "Now that you're ordained, you better keep your head on straight. To be a priest means to sacrifice. If you want to do this right, learn to put others first and give until it hurts. Son, to be a priest means to begin to suffer. You will suffer misunderstanding and prejudice, and you will suffer like Christ, to whom you are conforming your life. Priesthood is about giving your life away."
Mama Margaret also told him to remember where he came from and to remember why he became a priest. She told him always to care for the poor, especially the young who were most in need. Finally, she said to him, "If you ever become an arrogant, selfish priest, I'll never set foot in your rectory."
In order to get new recruits who will really prevent the ordained priesthood from becoming extinct, I beg you to pray for priests. Besides the grace of the Holy Spirit (which is always first), priests themselves have to be hardworking, joyful, prayerful, balanced, and good at social relationships. Most of all, as Mama Margaret said, priests have to be in it to give their lives away and not for some kind of status or personal gain. They have to be able to sacrifice, or it doesn't work.
Are there men out there capable of this? Yes. I'm seeing them. The Salesian prenovices I had dinner with the other night at Don Bosco Prep are sacrificial, prayerful, and joyful. The four Salesian seminarians who made perpetual vows two months ago at the Marian Shrine are like that. There's hope. Keep praying. Say one for me especially.
October 25, 2019 - 11:37am