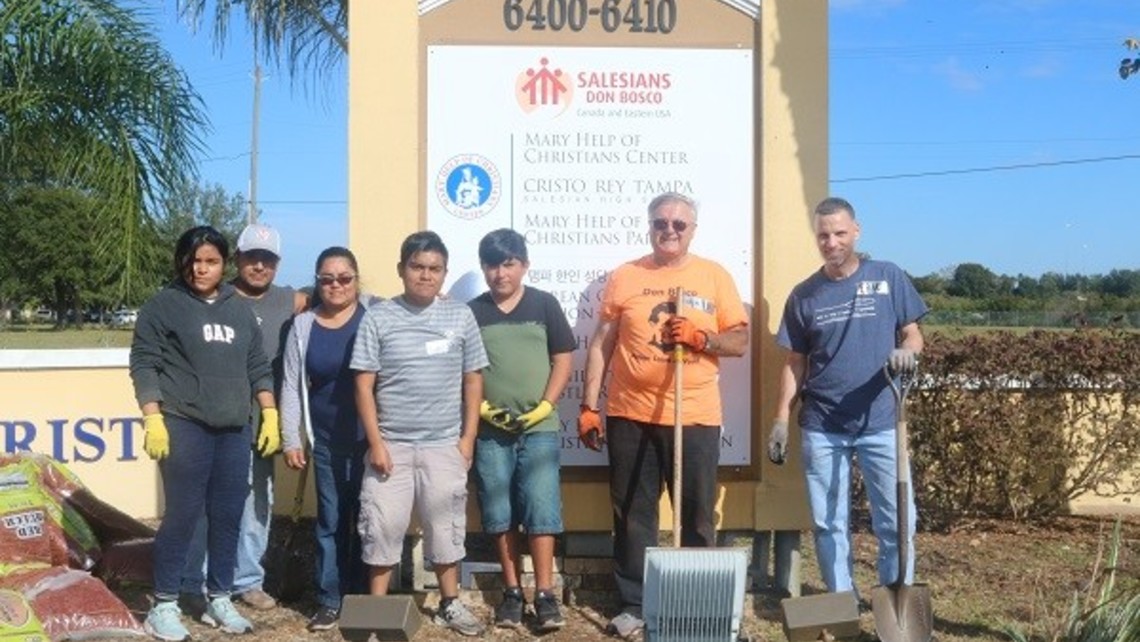 By Emmanuel Diaz
(Tampa, FL – December 9) – On Saturday, December 7, Mary Help of Christians Center in Tampa hosted the 16th annual 200 Hands for Mary. This was a service day on which over 120 parishioners, young people from the local schools, and many members from the community volunteered their time to help MHCC by working around the 140-acre property.
Heeding Don Bosco's promise to his early followers of "bread, work, and paradise," the participants began the day with Mass in Mary Help of Christians Church. After a quick breakfast, the participants went with their groups to the particular stations that they were assigned to. These workstations included pressure washing various areas on the property, mulching the church area and other parts around the property, landscaping work across the front of the property, building a fence along the property's street frontage, picking up fallen branches, and cleaning up the center's interior.
After the first period of work, participants came together at noon for a lunch break in the pavilion. This offered a great opportunity for participants to form a community and enjoy the beautiful property of Mary Help of Christians Center. After lunch, many participants stayed to finish their projects till 4:00 p.m.
Over the years, these service days, 200 Hands for Mary, have saved MHCC over $10,000 that the work would otherwise have cost. Mary Help of Christians Center is grateful to those who have volunteered their time and labor to beautify and restore the property. This type of service allows for the continuation and growth of the Salesian mission at MHCC.
December 12, 2019 - 11:00am