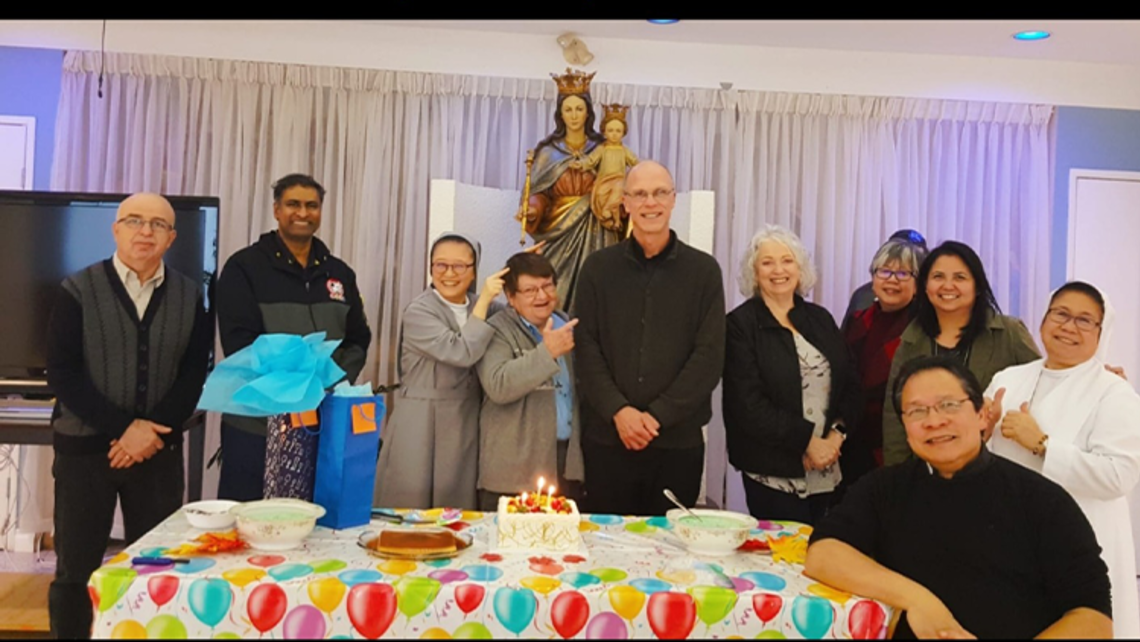 By Fr. Samson D. Antony, SDB, OLGC Parish, Surrey, BC, Canada
All About the Rosary
We began the month of Our Lady of the Rosary by reciting Rosary after the Vespers as an SDB community. On October 7, the Wednesday Marian Mass was solemnized with a special emphasis on Rosary, being the Feast of Our Lady of the Rosary. Three days later, the CWL had a special Rosary service with Fr. Samson (ADMA Spiritual Director), animating the Rosary in the Church at midday. About 18 participated in it, then took photos with the pastor (Fr. John) and the CWL members who donated two apple trees in commemoration of the 100th CWL anniversary. On October 14, the Salesian Cooperators prayed the Rosary together with Fr. George, the Rector at 6:00 PM through Zoom. They had 20 participants. Later, the ADMA members had Rosary and the conclusion of the Novena to MHC from 1:00 PM to 2:00 PM PST on October 24 animated by Fr. Samson.
Happy Thanksgiving, Canada!
We celebrated Thanksgiving Day in Canada on October 12. The SDBs and the FMAs had Thanksgiving mid-day prayers and lunch together for the first time.
Our Lady of Good Counsel (OLGC) School
We had confession for the OLGC school students from 10:00 to 11:30 AM PST on October 27. Frs. John, George, and Samson helped out.
Our Lady of Good Counsel (OLGC) Parish
We began the Prep classes in the gym for the first Holy Communion Group from 6:30 PM to 8:30 PM PST on October 29.
SDBs and Office Community
We celebrated the birthday of Fr. John Cosgrove on October 30. There was lunch organized by the office staff and the SDBs, along with FMAs.
November 3, 2020 - 12:00pm