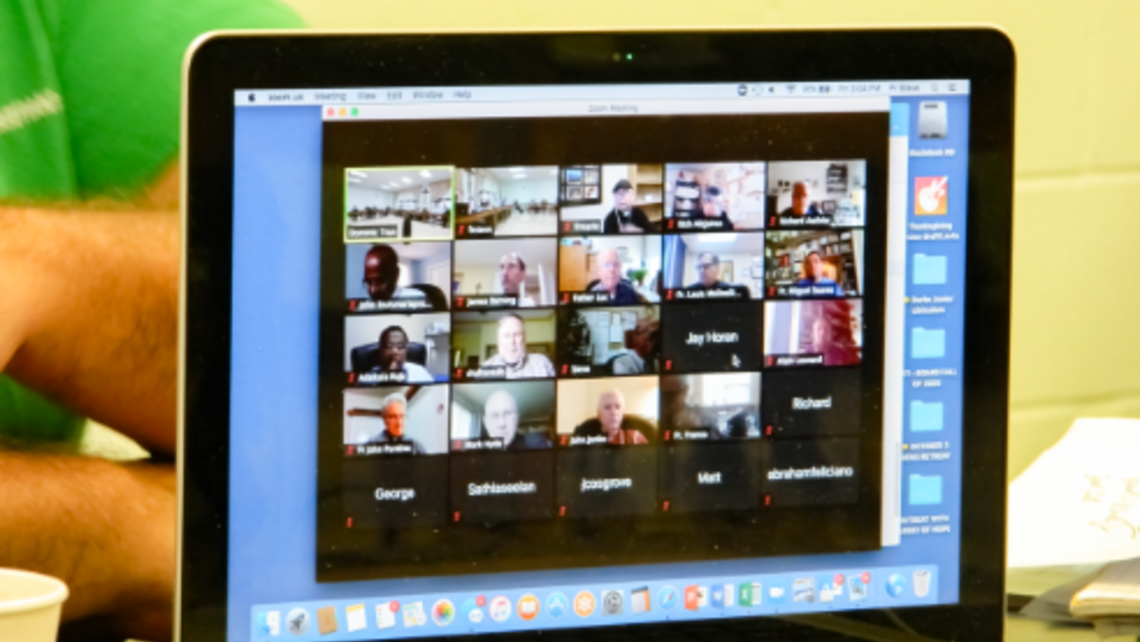 By Fr. Mike Mendl, SDB
(New Rochelle – September 30, 2020) – The New Rochelle Province held its usual fall leadership meeting at Don Bosco Retreat Center in Haverstraw, NY. Because of the Covid-19 pandemic, however, it wasn't held in the usual fashion. Only half of the invited participants (19 of them, from College Park, Haverstraw, New Rochelle, Orange, Port Chester, and Ramsey) were able to be present physically in the Paul VI meeting room; the other half (20, actually) were present virtually from the distant outposts of the province.
The meeting took place over two days, September 24-25—two quite long days, from about 9:30 a.m. to 5:00 p.m. each day, but with a long lunch break. Naturally, a lot of ground was covered in that amount of time, which I attempt to summarize here.
Both the Eucharist and the Liturgy of the Hours were significant parts of the days outside of meeting times.
September 24 Morning Session
Besides Fr. Tim Zak, provincial, the province's invited leaders included the provincial council, all directors and pastors, and confreres with particular province offices. Three additional invitees made digital presentations on specific topics.
Fr. Steve Ryan chaired the meeting and opened it with a welcome and a common prayer. Fr. Zak followed by observing that the meeting strengthens the province's unity with opportunities to share experiences and listen to one another.
For 40 minutes the participants met in small groups, the only such break-up of the two days, in which they talked about the impact of Covid-19 on themselves and their communities. Some of this feedback was also brought to the entire group.
The morning wrapped up with consideration of the Province Strategic Plan (PSP) for 2020-2023. Fr. Zak said that it emphasizes the "Valdocco option" proposed by Pope Francis to GC28, as well as particulars from last year's extraordinary visitation. Parts of the PSP are still being tweaked, e.g., by various province sectors and in response to experience.
Fr. Zak said that the PSP is an expression of God's will for the province and is a reference point for each community's pastoral plan. He said that it's a call to individual and community conversion, to a new way of living our Salesian consecration.
Fr. Ryan noted that the Oratory criteria for our works (home, school, parish, playground) are still valid. To them, we add the concepts of a vast Salesian movement, missionary animation, evangelization, and hope.
Several participants called for more attention to care for creation, in response to Pope Francis's emphasis.
Finally, Fr. Zak said that the province is using Google Docs to share documents and resources more effectively.
September 24 Afternoon Session
Fr. Mike Conway commented upon his experience as a member of GC28. The highlights for him were being in Valdocco with confreres from all over the world, and the presence of invited young adults for one week. There were two disappointments: not being able to complete the chapter's work, on account of the pandemic, and the cancelation of Pope Francis's personal visit.
Fr. Ryan gave an in-depth safe environment report, stressing the importance of following the province's policies.
After a break, Fr. Ryan spoke about formation—not only of confreres but also of laity who minister alongside us. He called for dialog about racism, mentioned upcoming formation workshops, and stressed two new documents: the Director's Manual and Accompanying Young Salesians.
Fr. John Nazzaro, Bro. Tom Dion, and Fr. Zak gave brief reports on particular aspects of SDB formation. Fr. Zak pointed to the Congregation's primary areas of concern:  preparing formators, preparing directors, and preparing youth ministers and other educators.
Fr. Tom Brennan, "mission animator" for the province, advocated for missionary discipleship in all the settings of the province and among both the young and the mature. This discipleship takes the forms of witnessing to the Gospel and of reflection upon one's experiences. He called for missionary volunteers from the works of the province and for communities ready to take in such volunteers. Fr. Gus Baek spoke briefly about the Salesian Lay Missioners, observing that our youth ministry should help young people to deepen their commitment to be missionary disciples.
Fr. Dennis Donovan presented the province's financial status. The province treasurer's office is preparing the transition for a new province treasurer next summer and updating the province treasurer's manual. The office is always ready to assist local communities in their financial planning.
As delegate for eldercare, Fr. Donovan spoke on that subject, touching on regional members of the eldercare team, ongoing spiritual formation for our elders, and the province's health care manual. Fr. Zak encourages confreres to keep in touch with our men in care facilities.
September 25 Morning Session
Fr. Abe Feliciano presented the province's youth ministry program, beginning with a survey of the Salesian Educational-Pastoral Plan (SEPP). There are distinct pastoral plans for each form of ministry in the province. A resource of major importance is the Congregation's Frame of Reference for Youth Ministry. He mentioned other resources.
Vicky Weekley of the Youth Ministry Office gave a detailed digital presentation on conversations that she has had with CYMs, very much appreciated by the meeting participants.
Fr. Zak added that two important forms of young adult ministry are marriage preparation and the guidance offered to our senior camp counselors.
Fr. Dominic Tran outlined the PSP's vocation component. He suggested some possibilities for vocation ministry in addition to what's already being done. He summed up his recommended approach: "Be intentional and be present." He asked that each local presence have a vocation team, which could be part of an already-existing team. As for attracting vocations to the SDBs, we must be perceived as men of God who pray and pursue holiness. He reviewed the candidates of recent years, noting that the program for each one is individually tailored.
Fr. Tom Dunne spoke about the Salesian Family, noting the goals set out in the PSP, some available resources, and plans for a Salesian Family provincial council (representing all the groups present in the province) and for Salesian spirituality days. He highlighted the Cooperators' positive sentiments about last year's Forming the Formators workshop.
September 25 Afternoon Session
Julia St. Clair, the province's new communications coordinator, appeared digitally. She listed the priorities delegated to her: weekly Salesian News, social media, the province website, the Salesian Family's Snippets monthly newsletter, and the Don Bosco Portal. Then she said something about each—how it works and what's been done since she started in August. Fr. Zak added some comments.
Ms. Weekley returned for an encore, speaking about accompanying young adults in vocational discernment. We have three objectives, she said: to gather and form them, to give them direction at various levels, and to make missionary disciples.
Fr. Zak pointed out some aids for ministry with young adults, mentioning "Creating a Culture of Encounter," "Forming Intentional Disciples," and "Duc in Altum."
Fr. Jim Berning urged listening to the needs that young adults voice and mentoring them as part of accompaniment.
The final presentation came from Fr. Steve Shafran in digital form. That was on formation for Salesian mission, encompassing both SDBs and laypeople. He and a team have devised a detailed four-year formation program covering the Salesian way and the Preventive System; the educational-pastoral community and oratory models; the SEPP; and Salesian spirituality. Special attention needs to be given not only to teachers but also to administrators and other leaders (such as boards). He encouraged networking between schools.
Fr. Zak suggested that the formation program be implemented starting in 2020-2021, that a writing committee flesh out the outline and that short videos be prepared to summarize each session.
Conclusion
Fr. Zak spoke about the provincial visitation schedule, such as it can be during the pandemic. He gave a strong advisory to take Covid-19 seriously, which led to some discussion about safety.
Fr. Feliciano polled the meeting participants about the possibility of a leadership retreat for the schools.
Fr. Nazzaro proposed that the province find a way to honor the 2020 jubilarians who can't join the province's celebration on September 26. Fr. Zak added that we want also to celebrate the confreres who have died since March.
View photos on Shutterfly.
October 14, 2020 - 3:26pm