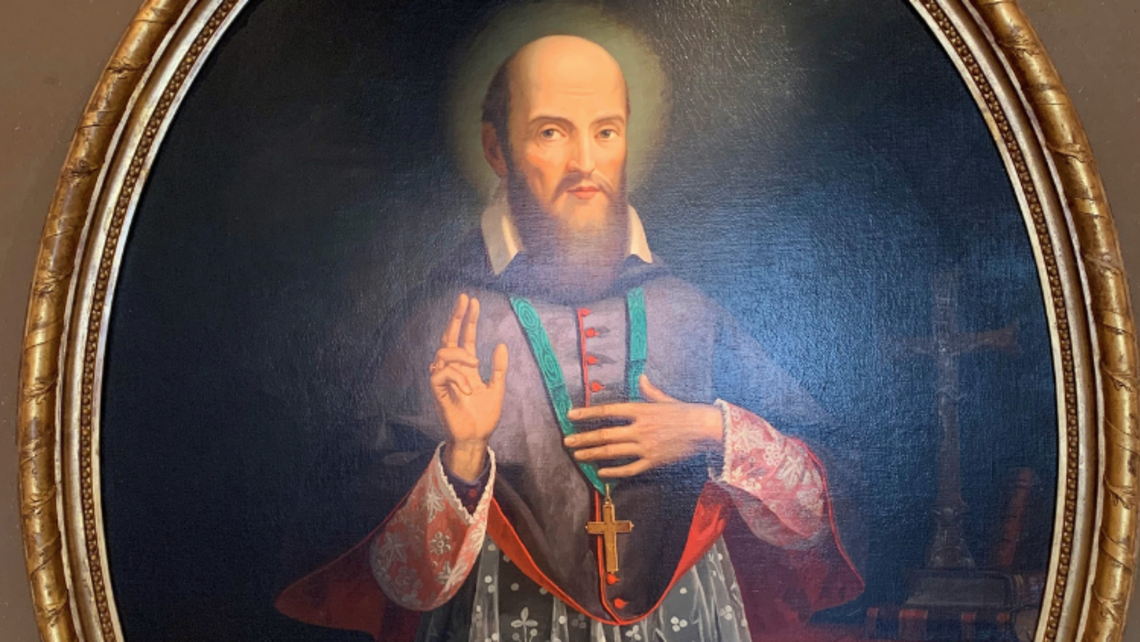 By Julia St. Clair, Province Communications Coordinator
"To live according to the Spirit is to love according to the Spirit."

- St. Francis de Sales
On Monday, January 24, we will celebrate the Feast of St. Francis de Sales, the patron saint of writers, journalists, and Catholic media. Our Founder, the patron saint of editors and the youth, looked up to this great saint and used his teachings as the basis of our Salesian spirituality. Indeed, it is because of St. Francis de Sales that we are called Salesians. With this in mind, let's look at St. Francis de Sales' role in communications and what it means for us as Salesians.
St. Francis de Sales lived during a time of division and discord. Yet that did not stop him from sharing the Word of God, nor did it prevent him from finding new ways and means to do so. His method to bring God into the everyday home through his writings would later inspire Don Bosco to create and distribute the Salesian Bulletin two centuries later. During this time of pandemic—and we pray we are closer to its end—it is truly just as important that we bring the Word of God into the everyday home, just like St. Francis de Sales and Don Bosco. This is accomplished through print and digital publications (such as Salesian News and Salesian Family Snippets), social media (for our province, province youth ministry and vocations office, and all our schools, parishes, and local works), and visual communication (websites, videos, photos, etc.). It's important for us to remember that verbal communication is important, too. Having a simple phone call, Zoom gathering, or in person conversation with your confreres can help unite us in our mission and open the door to beautiful new partnerships, friendships, and opportunities.
Just as St. Francis de Sales did, we, too, live in difficult times for the faithful. Secularization has detached people from God, and recent generations have developed a distance from religion that would give their ancestors fremdschämen (secondhand embarrassment). It is for this reason why many people can be so passionate that they often force their own agenda and choose to speak to be heard rather than to listen. Although he had once been known for his fiery temper, St. Francis de Sales calmed his spirit and became the living embodiment of loving-kindness that God made him to be. God made us all to be living embodiments of loving-kindness, too—especially to the young and most vulnerable. When we communicate to, with, and for our young people, we want to be as patient and understanding as possible. Our goal is to bring them closer to Christ through being present missionary disciples. We can accomplish this by meeting our young halfway through compassionate character and charitable dialogue.
Moreover, we should engage with our confreres and colleagues as we would like to have others speak to us. This includes having mutual respect for the person to whom we speak with, even if we don't agree with them. In modern times, many people say they speak the first thought that comes to mind; this is not a good idea unless it is a truly good and genuine thought that has been planted by God. Indeed, St. Francis de Sales told us, "Those who love to be feared fear to be loved." Although we live in difficult times, let's not communicate to embrace fear. Instead, when we communicate, let us do as St. Francis de Sales advised and "have patience with all things, but first of all with [our]selves." We must be mindful of how we speak and if we talk to be heard or to listen. We should also reflect before we talk and make sure we truly understand and have heard what has been communicated to us. Most importantly, we can tune into our physical verbal and non-verbal forms of communication—vocal tone, posture, body language, facial expressions, etc.—as outward examples of living and breathing loving-kindness and shows of respect in all our daily interactions.
God gave us free will, and His Son gave us the commandment to love one another. During this quatercentennial of St. Francis de Sales' death, let us embody our 2022 Strenna, "Do all through love, nothing through constraint," in all our communications. When we create something, release an email, or talk with someone, let us be fully present in that encounter with love. Together, let's show the world what communications means to us as Salesians as we listen to others, dialogue with them as loving missionary disciples, and bring souls to—and back to—God and His Church.
January 18, 2022 - 8:00am