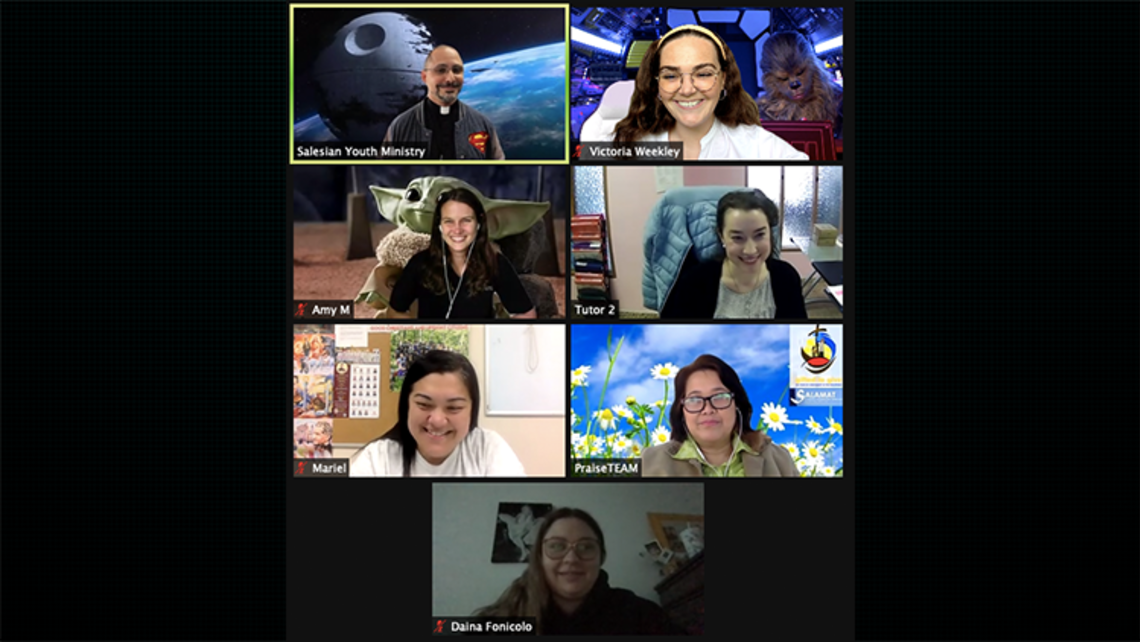 By Beth Reyes, Our Lady of Good Counsel, Surrey, BC
The CYM virtual sessions were at their best this year! The meetings were conveniently scheduled and conducted at the comfort of either my home office or youth center office. I have looked forward to seeing fellow CYMs from faraway places and listening to them share their views and experiences. Zooming made me feel like I'm in a family TV show, like The Brady Bunch and Hollywood Squares, or in a fun game of tic tac toe or bingo.
Although I felt a little uneasy at times being present with seasoned youth ministers, who could just stare at me at any time, Fr. Abe moderated the meeting thoughtfully, which slightly eased off any feelings of awkwardness. He definitely got our attention not only with his out-of-this-world virtual backgrounds and humor but mostly because of his youthful Salesian charisma.
In many ways, those discussions personally helped me gain a new perspective on things that mattered most about this ministry in which I serve. I not only had a better understanding of what is happening in our respective communities but also the utmost respect and appreciation for each of the CYMs who tried to navigate through this extraordinary time.
I have learned a lot from the sessions. My take on digital ministry is that social media offers an excellent opportunity for mutual accompaniment; that is if used effectively and responsibly. This connected to the second session "Who is my neighbor?" (Fratelli Tutti). There, I became more careful, as there is always a fine line between being honest and being offensive in one's comment about the cultural, racial, and economic issues affecting many young people. And when we explored the impact of these on the mental health of the youth, it was important to examine and look into our own mental health first as youth ministers. Accepting the sensitive reality of what's going on allows us to better understand and assist in the healing of many affected by the pandemic. Everything heals in time.
I am really grateful and thankful for all these sessions and the beautifully smart ladies behind the scenes, Amy and Vicky. Now, I feel like a seed whose roots are growing and expanding underneath, hoping that one day, I am meant to bloom. And that is how I think my world will then zoom.