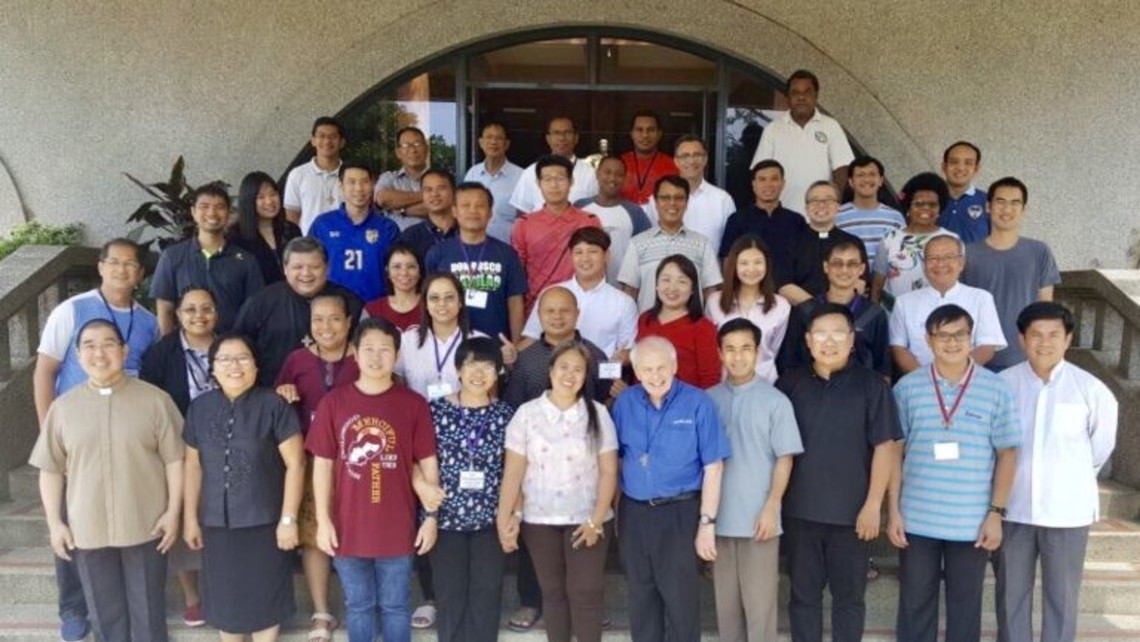 (Etobicoke, ON – June 20) – One of the benefits that derived from the delayed issuance of my new R-1 workers visa was the possibility to attend the 3rd East Asia-Oceania Salesian Studies Seminar in the Philippines North Province from May 8 to 29.
The seminar was held at the Don Bosco Retreat Center in Batulao, an idyllic setting in the mountains, two hours north of the stifling humidity of Manila. My cohort included 47 participants from 14 South Asian provinces, and yours truly from SUE.
The 2019 session was the third of a three-year cycle in Salesianity. Year I deals with Salesian history, Year II with Salesian pedagogy, and Year III with Salesian spiritualty. Eight topics were covered, each one led by a different presenter, all of them excellent. Among the presenters were Fr. Henry Bonetti, the legendary SUE missionary to Korea, Fr. Francis Gustillo, the program coordinator and former FIN provincial whose generosity allowed Fr. Mario Villaraza to join the SUE province, Fr. Nestor Impelido, who on various occasions accompanied Fr. Esteban Ortiz to our province when he was regional councilor, and Fr. Michael Winstanley, former provincial of Great Britain, who preached the annual Salesian retreat in Canada ten years ago.
Besides the rich learning gained through the classes, three aspects of the experience stand out for me.
First, the seminar is a solid experience of joint lay and SDB ongoing formation. Most of the participants were lay people. Two of them were women with doctorates in biology and education, who after retiring from their secular jobs began new careers as Salesian educators. One man was a math teacher from Thailand, a Buddhist. One young lady was a recent convert to Catholicism. The Thai province had the largest delegation of lay mission partners present: 15. This represents a serious commitment to the formation of lay mission partners who share charismatically with the SDBs in the one Salesian mission. In his good night, the Thai provincial, Fr. John Bosco Theparat Pitisant, made the point that in Thailand they have moved beyond transitioning Salesian works from SDB to lay leadership. They are now visioning and founding new works that are lay-led from the get-go.
Second, being the only visible (racial) "minority" in the group offered me a good change of perspective. It was interesting to see how I, as the "American," was perceived by my Asian peers. Many presumed that I was one of the course presenters simply because I was white. One presenter confessed that he was intimidated to know there was a SUE confrere in the group. More important, it was edifying to see everyone from the EAO region working serenely—and some, strenuously—in English, which is the unifying language in the region—even though English is almost no one's mother tongue there. This helped me to accept that attending Interamerica regional meetings in Spanish is not so egregious after all, and the expectation that my language will always be the central one is just not realistic.
Finally, it was admirable to see the direct, ongoing, positive impact the Salesian works in Asia have on the most economically underserved young people. Trade schools abound. Boarding schools are plentiful. In Thailand they have opened a school where young adults who are blind, and therefore would be doomed to a life of poverty, learn Thai massage. This makes lucrative employment available to them, with the added irony that they are exceptionally sought after as massage therapists precisely because as blind people they have heightened tactile sensitivity. Such a concrete way of "meeting poor youths where they are" and bringing them forward!
Over and above the Salesianity formation I got in class, these aspects were enriching as well.