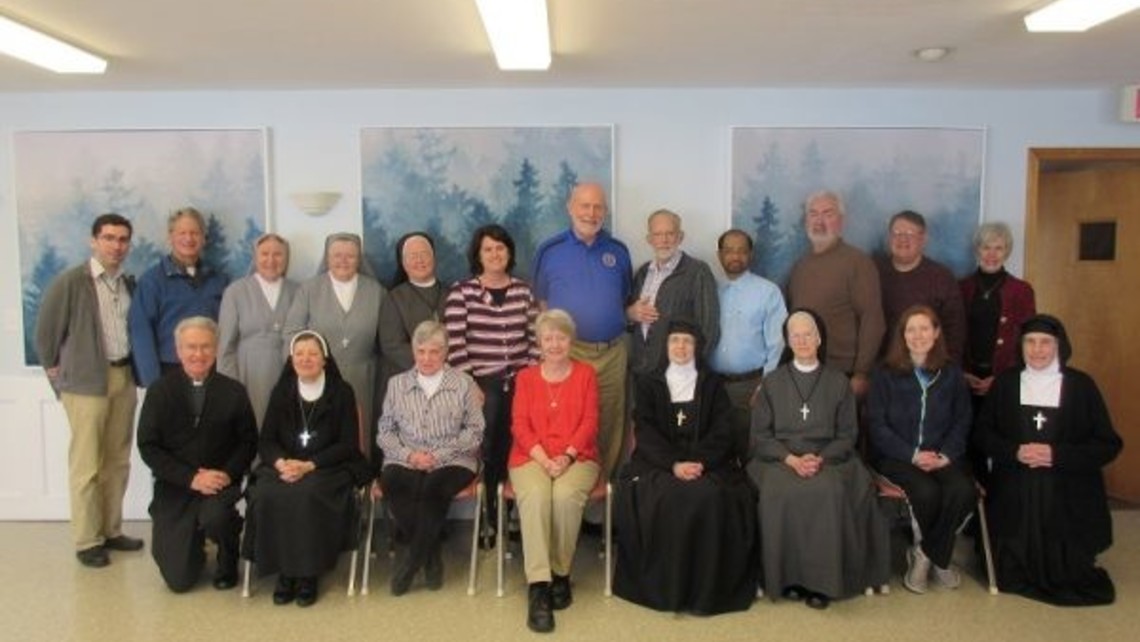 (Brooklyn, Mich. – April 18) – For the second year in a row, the annual meeting of the North American Salesian Network took place at De Sales Center in Brooklyn, Mich., a camp and retreat center run by the Oblates of Saint Francis de Sales.
Who belongs to NASN? Fourteen congregations, institutes, and associations that share in the spirituality of St. Francis de Sales. The SDB and FMA North American provinces had representatives at the meeting. The Salesian Cooperators and Volunteers with Don Bosco, who also belong to the network, were unable to send anyone to the meeting this year.
What is NASN's purpose? Formed in 2012, NASN states its mission of collaboration, facilitation, and outreach in its mission statement:
We embrace a collaborative effort among our Salesian associations and institutes to empower us in refreshing our North American culture with the spirit of St. Francis de Sales and our founders.
We facilitate the sharing of Salesian resources, educational services, technological expertise, vocational efforts, and other key ministries that enable us to touch hearts and "Live Jesus" across a wider expanse of people.
Together we enter the mystery of Christ and help to bring all people to Christ with the strong gentleness and zeal of St. Francis de Sales.
What does NASN doing?
To date NASN has established a web site: salesianspirituality.com, a Google Drive folder where member organizations can access formation materials on St. Francis de Sales and an interactive map pinpointing most local works or presences of the member organizations – 333 locations in the USA and Canada, and counting.
Currently, the members are working on strategies to "refresh our North American culture with the spirit of St. Francis de Sales." They are identifying core Salesian values shared by all groups and how these values stand as a counterpoint to North American culture. For example, Salesians are theologically optimistic about the core goodness of the human person, though deprived, whereas classic North American culture tends to be pessimistic about the rottenness of human nature. The spirituality of St. Francis de Sales promotes the dignity of the human person. North American culture values the utility of the human person as a commodity, leading to a "dignity deficit."
A second work in progress aims at sharing Salesian resources not only among member groups but also within the Catholic Church in North America and with the general public. It hopes to facilitate the dissemination of media programs and other materials to parishes, schools media outlets, and dioceses who have St. Francis de Sales or a Salesian saint or blessed as their patron, even if not sponsored by one of the member groups. Rather than just promoting biographies and vocational materials, however, NASN hopes to identify or promote the production of materials that address the core Salesian values. The long-range goal is to make a positive difference in North American society as we approach the 400th anniversary (in 2022) of St. Francis de Sales' death.
At this year's annual meeting, members initiated a process of soliciting contributions toward creating a common syllabus on St. Francis de Sales' spirituality that will serve as a resource for lay formation programs.
A second initiative aims at producing a list of centers that offer resources, programs, or otherwise would promote Salesian spirituality.
NASN's logo highlights St. Francis de Sales' "heart speaks to heart" that points to the Salesian motto, Live Jesus, and the Salesian spirit of gentleness and kindness. All organizations belonging to NASN and each of their works in North America have permission to include the NASN logo in their literature or media productions.