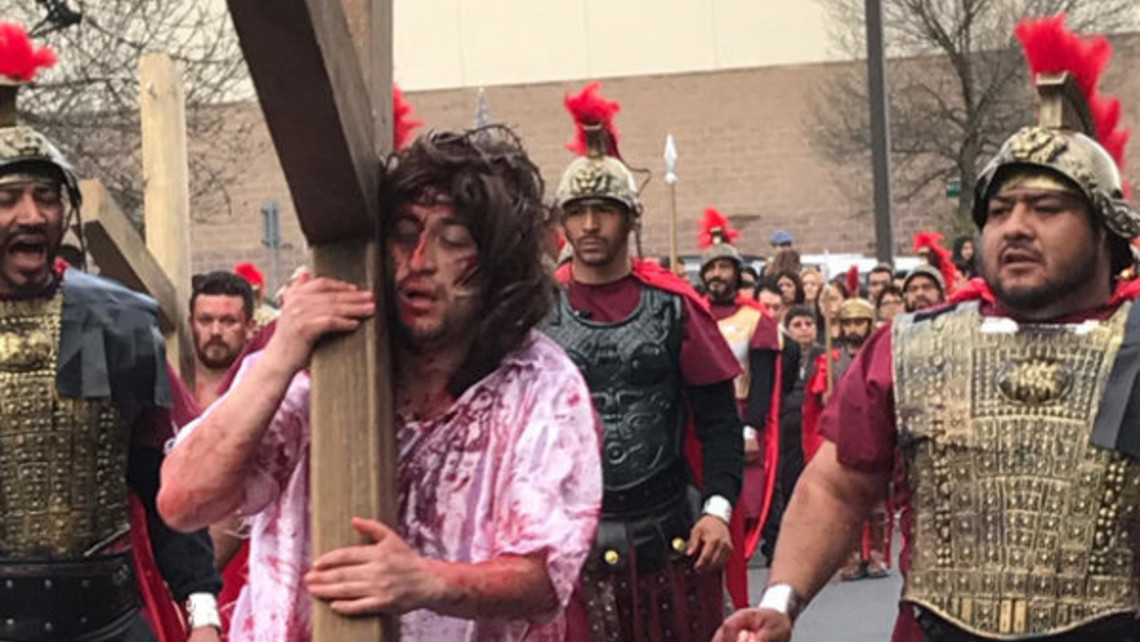 by Fr. Manny Gallo, SDB
(Port Chester, N.Y. – April 25) – If one would visit St. John Bosco Parish in Port Chester during Holy Week, he would need to arrive early to find a place to sit, because of the great number of the faithful who attend the parish services.
One of the special traditions at the parish for the past 23 years has been the live Stations of the Cross. Around 3,000 people attend the living Stations of the Cross annually, as it travels through the streets of Port Chester, reliving the passion of Jesus. During the service, each of the Stations is announced with an intention, a reading is done, the particular station is acted out, and prayers are said.
For the first time in the ritual's history, New York's cardinal archbishop attended this year's portrayal of the living stations, held on Good Friday, April 19. The parish is immensely grateful to Cardinal Dolan for his presence.
The young adults belonging to St. John Bosco Parish's Salesian Drama Club organized this living production. Sixty members of the Drama Club began their rehearsals in late January. They were led by Elder Jimenez, with the help of Mayara Villanueva, Patricia Guiracocha, Elizabeth Sigua, Byron Velazquez, and Emiliano Zapata. These young adults generously gave their time, talent, and service to make sure the love story between God and his people came alive; through their ministry, the people of Port Chester witnessed God's love in the Passion of our Lord. Oscar, a long time helper of the parish, and his son Dash, provided the sound and lighting.
The route of the living stations through the streets is not an easy path to walk; the terrain is rough and hilly. Many of the actors, especially the one playing Jesus, walk barefoot for three hours. With the help of Mr. Marino, a member of the City Council, the troupe was able to walk up Westchester Avenue this year for the first time. The Port Chester police safely arranged and organized crowds and traffic as we walked through the streets.
This witness of the living Stations is important, because it is through the cross that Jesus responds to the evil and sin in the world, and it is in the cross that Jesus both speaks and images for us God's love and mercy, which is so much needed in our world.