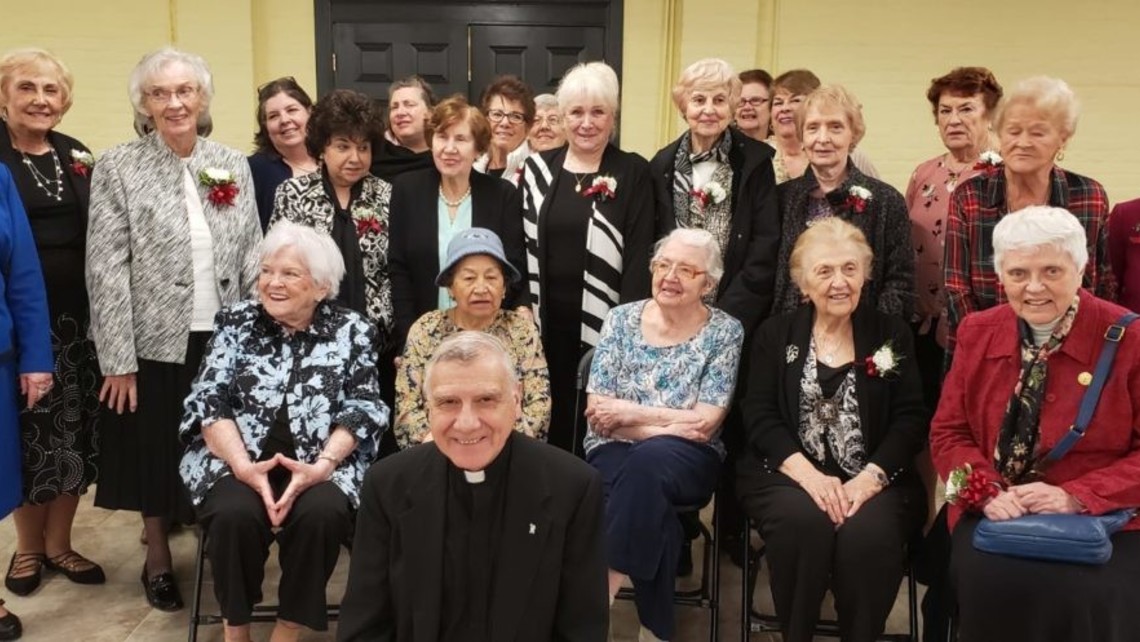 by Fr. Pat Angelucci, SDB     
(Port Chester, N.Y. – April 28) – Divine Mercy Sunday, April 28, was coupled in Port Chester's St. John Bosco Parish this year with the celebration of the 100th anniversary of the Seton Circle — the parish's oldest organization! The joint celebration was a happy coincidence for the parishioners!
Since Good Friday the parish celebrated the Novena to Divine Mercy every morning after the 8:00 a.m. Mass and each evening before the 7:30 p.m. Mass. The message of Jesus to Sister Faustina remains more relevant than ever: "Mankind will not have peace until it turns with trust to my mercy." In this message, Jesus is asking men and women to change their hearts. He is asking everyone to return to him by repenting of sins, receiving him in the Eucharist, and venerating the image of his Divine Mercy. This is how to strengthen one's relationship with him. He is also calling Christians to be witnesses of his mercy to each other through actions, words, and prayers. We are called to practice the spiritual and corporal works of mercy: feeding the hungry, instructing the ignorant, burying the dead, visiting the sick, etc. We are to be "missionaries" of his mercy in an increasingly harsh world!
By happy chance, April 28 was also the 100th anniversary of the Seton Circle! St. Elizabeth Ann Seton remains a true model of a "missionary" of mercy. Mother Seton was a wife, mother, widow, convert to the Catholic Church, and foundress of the Sisters of Charity. She spent her short life filled with an intense love for Jesus and for her neighbor. Her Sisters, with their schools, hospitals, and homes remain witnesses to that love.
In 1919, inspired and encouraged by the Sisters of Charity, who taught in Our Lady of Mercy School for more than 100 years, a group of women in Our Lady of Mercy Parish joined together to support Mother Seton's works, to be an extension of her mission of love and charity. After the parochial reconfiguration of a few years ago, the Seton Circle carries on this mission in St. John Bosco Parish, supporting the work of the Foundling Hospital and the Sisters of Charity's works on behalf of young people in need. The Seton Circle is mercy in action and something that the parish rightly feels proud about, needs to celebrate, and hopes to see still flourishing in another 100 years.
The way to celebrate Divine Mercy every day is to witness to it by following the example of Mother Seton by bringing mercy to others, especially the young, the poor, and the most marginalized.