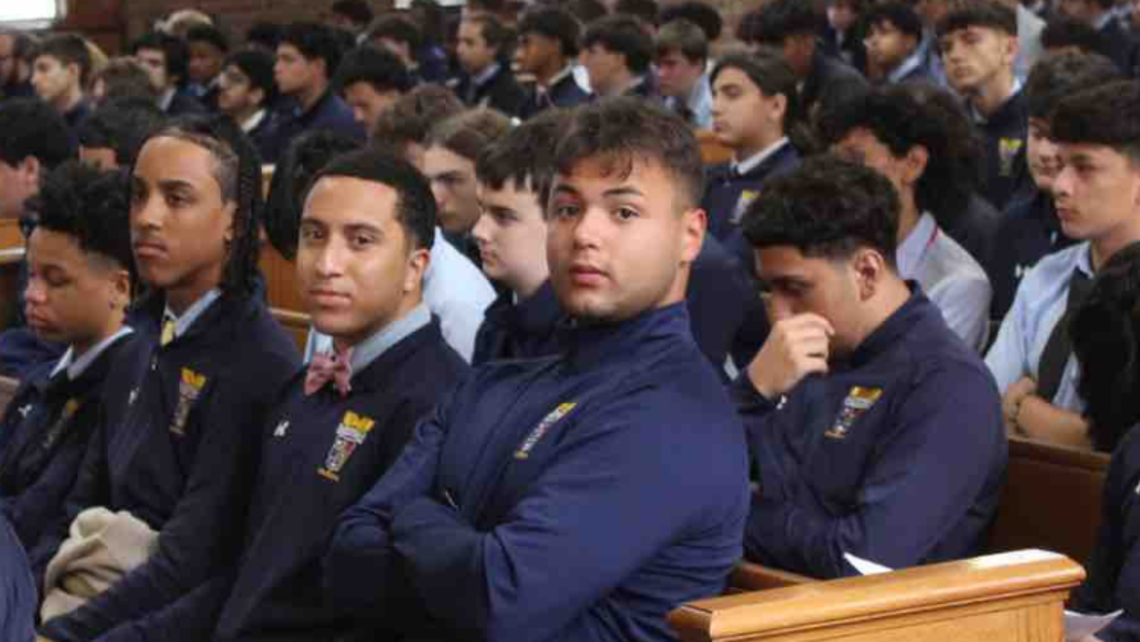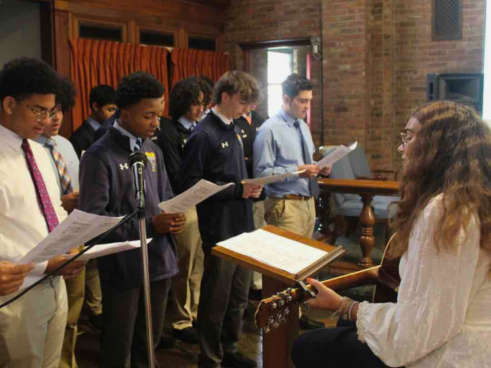 By Miss Julia St. Clair, Province Communications Director
(New Rochelle, NY – September 19) – On Friday, September 15, Salesian High School held its first Mass of the academic year at Holy Name of Jesus Church in New Rochelle.
This year's Mass of the Holy Spirit took place on the feast of Our Lady of Sorrows. It was celebrated by New Rochelle director Fr. Tim Ploch. During his homily, Fr. Tim elaborated on the theme for the year, which had been announced by Salesian High School President Fr. Jim Heuser at orientation. It is the words of Jesus in the Eucharist ("Do this in memory of me").
We can all live the theme in 3
practical ways using 3 parts of the body: the head, heart, and hands. First, we can use our heads carefully through our faith. Believe in Jesus' true presence in the Eucharist, and enter the church and school chapel with reverence in memory of Jesus.
Second, we use our hearts when we do everything in memory of Jesus with joy. We are joyful because we come in contact personally with Christ through the Eucharist. So, coming to Mass should be a joyful moment to hear Jesus speak to us. When someone reads from the Scriptures, it's not really them speaking; it's Jesus.
Last, we can use our hands through activities and acts of service. Service acts are required at Salesian High, and students demonstrated that the previous evening during Back to School Night, such as by organizing traffic outside and helping people find their way around the school, making them feel welcome. Fr. Tim reminded us all that Jesus is the one who did more service than anyone else. During the Last Supper, Christ did service only a slave would do when He washed the feet of his friends and disciples. Then, Jesus offered us himself; the fact that He gave His whole self to us is the most complete act of service possible. Last, He gave us His most valued treasure: His own mother.
Fr. Tim concluded by reminding us that, as Christians, we are called to imitate Christ, a man of service. He advised students to do their service requirements and more at home in their families to bring Jesus' memory alive. Whenever we do an act of kindness or some service for others, we are giving service to them.
September 19, 2023 - 3:00pm