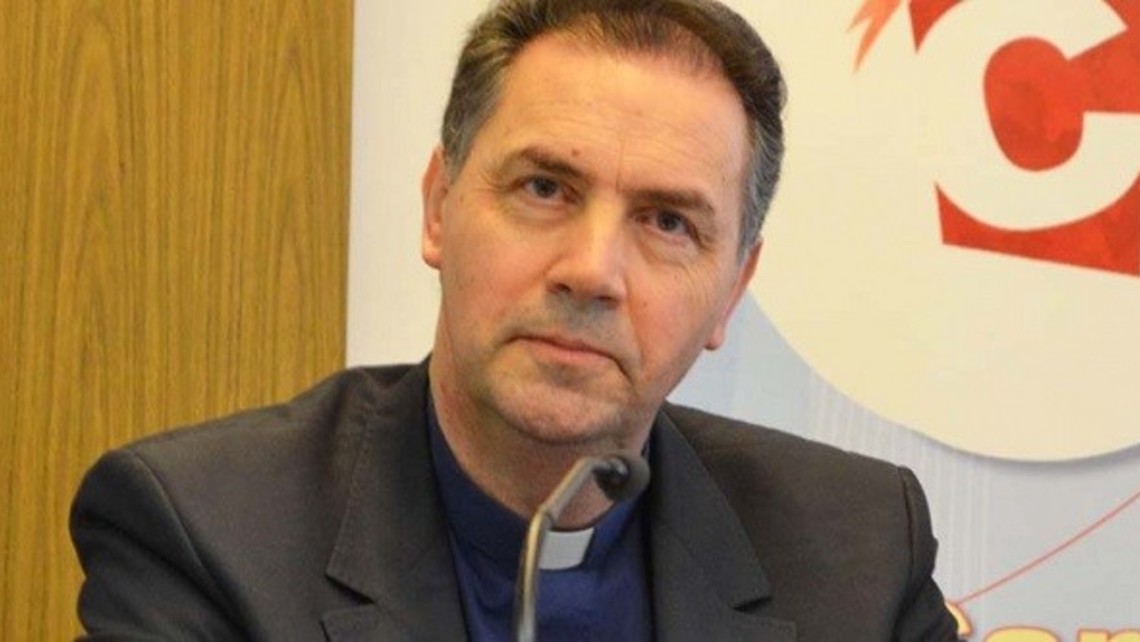 (ANS – Vatican City – October 19) – Being open and near young people, with special attention to those from immigrant communities, was the focus of Fr. Angel Fernandez Artime's words at the Synod of Bishops.
Holy Father, first of all, receive my profound and sincere gratitude for the gift you offer to the Church through this Synod—without a doubt, a time of grace and presence of the Holy Spirit.
I begin by telling you all that I have imagined the theme of the Synod as a pyramid. At the base, there is ALL THE YOUNG. Halfway up, young people on their way to the Faith; and at the peak, the young in vocational discernment, to which certainly many fewer young people arrive.
Allow me to tell you what happened to me the day before yesterday. On leaving here in the afternoon, two young people, about 26 or 28 years old, told me in Spanish. "Excuse me, could you tell us why there are people who come out dressed in colored bands and something on their heads?"
I immediately understood that they knew little or nothing about the Church and its pastors. I sensed they did not know what a bishop was. So I explained what we were doing here. I told them that the Pope had summoned many people to reflect upon young people and that young people are also participating.
They asked me if they could see the Pope, because they would have been happy to meet him, and because they consider him a "man good with everyone."
I also noticed that they had rings on their fingers. I asked whether they were engaged or already married. They told me they were married and had a three-year-old boy. I asked them what their son's name was, and their faces lit up. "His name is Julian." I gave them my best wishes and greeted these Colombian friends.
And in my heart, the conviction resounded strongly: these too are our young people! ALL YOUNG PEOPLE ARE OUR YOUNG. There are no young people inside and young people outside.
I think we must broadcast this to the world: that the Church and her pastors feel all the young people of the world as their YOUNG, OUR YOUNG PEOPLE because no one should feel excluded. They must feel that we welcome them, regardless of their situation and their life stories.
A second thing. Visiting the Salesian presences in the world, I have seen many churches in the dioceses that were full because they were filled by YOUNG IMMIGRANTS AND THEIR FAMILIES.
I saw them in Vancouver, Toronto, and Montreal, I saw them in California and New Zealand; in Melbourne and, without going too far, in my native Spain (with thousands and thousands of Latin American brothers and sisters), and in Italy (with thousands of Filipinos in Rome and Turin).
And again to myself I repeat: these are our young people, with their families, who also bring a fresh air of faith to our churches, even as rejection, fear, intolerance, and xenophobia grow in our nations.
And that's why I think that talking about young people as a Church means SAYING A STRONG WORD, DECISIVE and COURAGEOUS, IN THEIR FAVOR IN ALL THE NATIONS OF OUR LOCAL CHURCHES, just as Pope Francis does for the entire Universal Church—because these young immigrants are even more fragile than everyone else. Shall we dare to take up the challenge?
Finally, our young people should hear us say that WE INDEED CARE FOR THEM and that WE WANT TO WALK A PATH OF LIFE AND FAITH TOGETHER WITH THEM. Our young people must feel our AFFECTIVE and EFFECTIVE presence in their midst. They must feel that we do not want to direct them, nor dictate how they should live, but that we want to share with them the best we have: Jesus Christ, the Lord. They must feel that we are here for them and, if they allow us, we wish to share their happiness and their hopes, their joys, their pains and their tears, their confusion, or their search for meaning, their vocation, their present, and the future.
They must feel that WE ARE WHISPERING GOD TO THEM. Perhaps we will not reach an extraordinary orthodoxy and orthopraxis, but they will feel, through our little intermediation, that Jesus LOVES THEM AND ALWAYS WELCOMES THEM. Then shall everything be worthwhile.
October 25, 2018 - 12:02pm