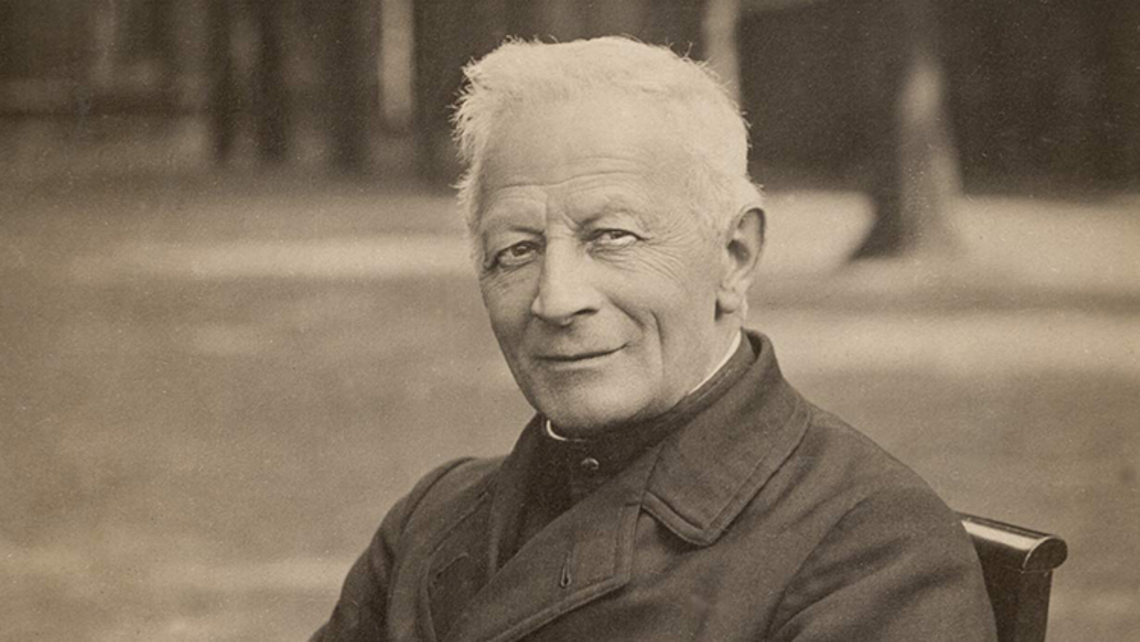 Translated by Fr. Mike Mendl from Dizionario biografico dei Salesiani, ed. Eugenio Valentini and Amedeo Rodinò [Turin,1969]
Born at None (Turin), June 6, 1845. Professed May 14, 1862. Ordained August 2, 1868. Rector Major August 16, 1910. Died at Turin, October 29, 1921.
Paul was the youngest of seven children, of whom four were consecrated to the Lord as religious:  Louis (1829-1902) entered the Franciscans as Fr. Telesphorus; Aloysius (1839-1904) was a Vincentian; and Frances (1841-1882) became a Daughter of Charity named Sr. Vincenza.
Introduced to Don Bosco by his pastor, Fr. Matthew Abrate, Paul entered the Oratory on October 18, 1858, and was accepted into the Congregation on May 1, 1860. When the school at Mirabello was opened on October 20, 1863, he was sent there to teach. On October 10, 1864, he took the teaching exam at Alessandria, and on December 10, 1865, at the University of Turin, he earned a license to teach in middle schools.
Ordained in 1868, on September 19 that year he professed perpetual vows at Trofarello before Don Bosco. Then he took up the job of prefect for the externs at the Oratory, serving until 1871, when, on October 26, he was sent to Genoa as director of the hospice at Marassi. In November 1872 the hospice was relocated to Sampierdarena, and there Fr. Albera displayed his full ability to govern in a Salesian atmosphere.
On November 27, 1873, through Don Bosco's intervention, he was named a member of the Arcadian Academy. The work at Sampierdarena was solidly established, and Fr. Albera was glad to help Don Bosco by accepting some of the Sons of Mary and assisting him with the practical details of the first missionary expedition.
Fr. Albera renovated the church at Sampierdarena, enlarged the school, and set up a print shop, where in 1877 they began to print the Salesian Bulletin. Fr. Albera's ability and goodness won the heart of Archbishop Magnasco of Genoa, who became a great benefactor of the Salesian work.
In 1881 he was appointed provincial of the French houses and made his residence at Marseilles. He remained there for ten years and brought the number of houses from three to thirteen, despite the period of official harassment in which he was compelled to work.
A witness to the wonders worked by Don Bosco in France, he sought to imitate him in everything, so much as to be called "Little Don Bosco." Fr. Cartier said of him, "He was a man of action, above all of interior action." His sole concern was the spiritual formation of souls. He read the great amount of French ascetical works, studied them, and made them his own so as to disseminate that spirituality in abundance among his confreres.
On August 31, 1892, the general chapter elected him spiritual director of the Society. In Turin, he put himself at Fr. Rua's disposal, who entrusted him with such responsibilities as preaching and visiting the houses and provinces. In 1894-1895 he went to France, Algeria, Sicily, and the Holy Land. At the death of his former pupil Bishop Lasagna, he grieved terribly and at once undertook to write his biography.
On February 28, 1896, Fr. Rua gave him the task of compiling the Director's Manual. In 1898 he visited France, Spain, and Belgium, and in 1900 he was sent as an extraordinary visitor, for the 25th anniversary of the first missionary expedition, to all the missions of South America. Passing through Marseilles, he cured Sr. Marie Mourier with the blessing of Mary Help of Christians and predicted her future. His visit to the Americas lasted three years, and it was almost a miracle that he, with his frail health, was able to complete it. On his return, he passed through Mexico, the United States, and England.
When he returned to Turin on April 11, 1903, he was in time to take part in the crowning of the image of Mary Help of Christians (May 7). The next year he had an audience with St. Pius X, then went to Sicily, France, Austria, and Spain. When Messina (Sicily) was struck by an earthquake, he visited Sicily again and Tunisia during the final period of Fr. Rua's life.
In accordance with a prophecy of Don Bosco, known only to Blessed Philip Rinaldi, the general chapter elected him Rector Major on August 16, 1910. He directed the Congregation during the difficult years of World War I. His characteristic piety and deep ascetical learning guided him in the numerous circular letters that he wrote to the whole Society and the Director's Manual, which came off the press in 1915. He undertook many charitable initiatives for the children of Italians who were expelled from Turkey in 1912 and for war orphans in 1916, who were received into Salesian schools.
In 1918 Fr. Albera celebrated his golden jubilee of ordination and assisted in the solemn festivities in which a gold scepter was given to Mary Help of Christians. In 1920 the monument to Don Bosco in the piazza in front of the basilica of Mary Help of Christians was dedicated during a triple congress of the Cooperators and the past pupils of the Salesians and the Daughters of Mary Help of Christians. For such an occasion the Italian government named him a high officer of the Order of St. Maurice.
Worn out by the constant traveling he had to undertake as Rector Major to visit the Congregation's works, encourage the confreres, and support the Cooperators, he passed his last year in very delicate health, dying on October 29, 1921. He was buried at Valsalice near Don Bosco and Fr. Rua, whose work he had continued faithfully and lovingly, imitating the great examples he had received from them.
His circular letters are in print in Italian; Fr. Vince Zuliani drafted a rough translation of them. In English, there is one biography, A Lamp Resplendent, by Fr. Angelo Franco (Paterson, 1958), of which a few copies are around.
January 5, 2021 - 12:35pm