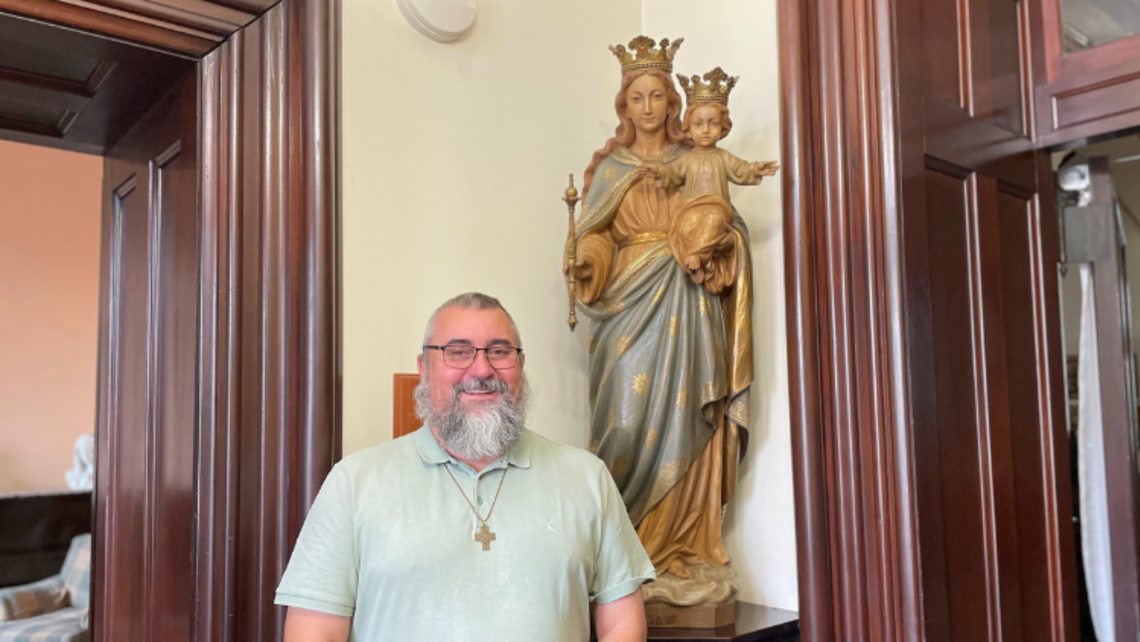 By Julia St. Clair, Province Communications Director
(New Rochelle, NY – March 28) – The Salesian community of New Rochelle was blessed to have Fr. Artur Bartol, SDB, stay with them last week.
Fr. Artur arrived in New Rochelle on Saturday evening, March 18. It was his first time in the U.S., and he came on behalf of the Africa Tropical Equatorial (ATE) Province. The ATE Province covers five countries—Cameroon, Chad, South Africa, Gabon, and Equatorial Guinea.
"I'm very thankful to be here," he shared with us. "[The New Rochelle community] is a joyful Salesian house."
Fr. Artur is the director of the ATE Province's P.D.O. office, which handles development/funding and procurement. "I visited Salesian Missions to see how they work and about a potential partnership, since the ATE Province needs collaboration," he explained.
Originally from Poland, Fr. Artur was born in a Salesian parish. As a child, he knew the Salesians and their work for the young, poor, and most vulnerable. "I witnessed the priests in my parish and enjoyed how they worked," Fr. Artur beamed. "So, I decided to imitate them."
He entered the novitiate in 1989. For the next seven years, Fr. Artur completed his studies in Poland. Yet Fr. Artur always knew that he wanted to work with young people as a missionary 
overseas. "As Salesians, our main purpose is to work with young people," he vocalized. "There were many priests in Poland, so I decided to go somewhere where there weren't a lot of priests."
At first, Fr. Artur wanted to serve in South America to work with indigenous people in the mountains. During his time in practical training, he learned he was instead going to be sent to Cambodia. "I had to switch from learning Spanish to English!" Fr. Artur recalled.
Everything changed in 1996 when Fr. Artur went to Rome to receive the missionary cross from the Rector Major. Instead of going to Cambodia, he would be sent to Africa as a missionary, where he's been for 27 years. "My first assignment in Africa was to the Central African Republic," Fr. Artur reflected. "I couldn't speak French." Fr. Artur wasn't surprised at the changes, since he's always been ready and available to go anywhere he is called. "It was my decision from my heart," he beamed. Fr. Artur has been a Salesian priest for 21 years and celebrated his 20th jubilee year in 2022.
Life in Africa is very different from what many people are used to in Canada, Europe, and the U.S. "Most families in Africa are numerous and do not have refrigerators, running water, or electricity in their homes," he detailed. "It's impossible for them to do food shopping for the week and put everything in the refrigerator. If they want to eat, they have to have something in the garden. There is a whole life outside of the house, and most people only go home to sleep." Yet despite the hardships, there is true Salesian joy and animation through the ATE Province. "When you enter [the province], you see the real presence of Don Bosco in his mission—joy among young people," Fr. Artur exclaimed. "As we give young people access to education through evangelization, we see the Church grow because our local pupils are taking over and growing." Indeed, the Salesian charism is applied everywhere in the mission through the ATE Province, and the province also sends missionaries to Europe.
"Everyone is a missionary after baptism," Fr. Artur remarked. "If someone wants to go out of their country, it is a call from God. God is calling you to go out and work in that mission. If you discern where you want to go, you realize that you fit into that mission where God calls you."
Something that Fr. Artur would like anyone discerning a call to the missions to keep in mind is the importance of patience. "You have to be patient," he offered. "When you arrive in a new land, you have to accept the culture of its people. You have to judge according to the Gospel to see what is both good and bad. You have to stay with the young people and be with them before and after Mass. As Don Bosco said, 'It is not enough for the young to be loved. They must know that they are loved.' They have to have that feeling."
Another important thing to keep in mind that Fr. Artur shared is that anyone can be a missionary, even those who remain in their countries of origin, as well as the non-believers and the unbaptized. "I know this contradicts what I said before, so I'll explain," he articulated. "It's not easy to raise money. So, anyone who makes a donation automatically becomes a missionary."
Fr. Artur remains truly humbled and grateful to all benefactors and donors to Salesian Missions in New Rochelle. "Thank you to all the benefactors who support Salesian Missions worldwide, especially in Africa," he conveyed. "I am grateful for everyone who supports the mission in Africa. Through your donations, you are becoming missionaries."
Fr. Artur returned to Cameroon on Friday, March 24. Check out his YouTube channel, where he has a plethora of informative videos categorized by country on his channel. You can also make a gift directly to Salesian Missions.