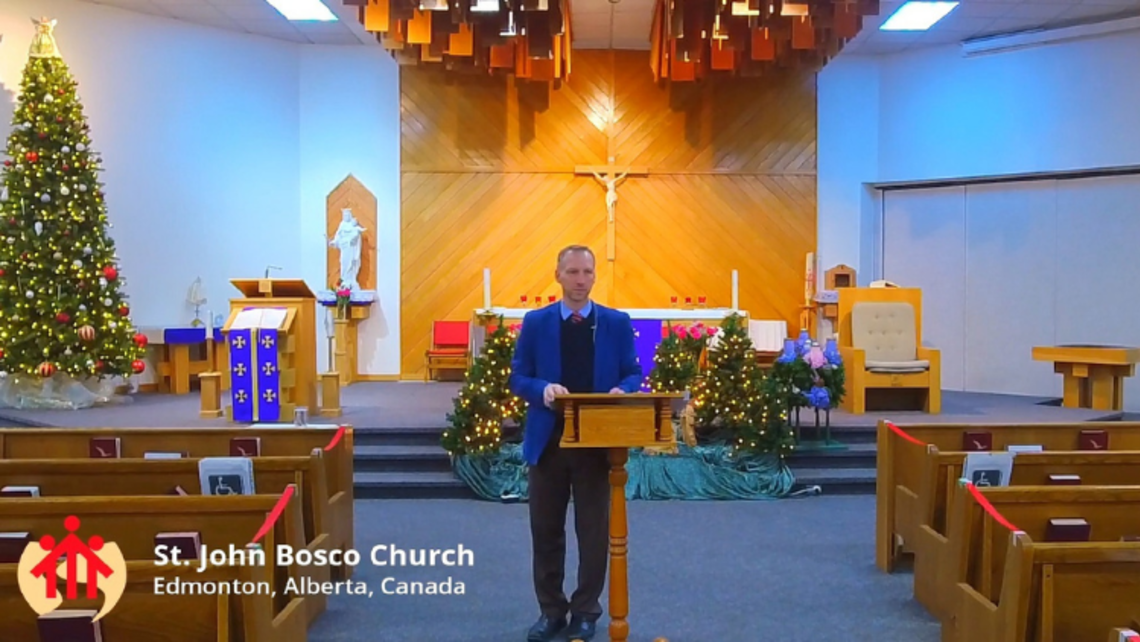 By Rev. Dr. J. Adaikalaraja, SDB
(Edmonton, AB – December 14) – St. John Bosco Parish hosted its annual Advent mission with a very inspirational speaker, Dr. Ryan Topping, Dean of Newman Theological College. The topic, "The Family as the Center of the Catholic Culture," was presented in line with the Year of the Family, which was established by Pope Francis this past March.
Dr. Topping spoke and focused on three topics at this retreat, which lasted from Tuesday, December 7 to Thursday, December 9. The topics were Mula: Why (almost) everyone should get married, Ora: Learning to pray like Benedictines, and Labora: Education as the family's lasting work. Each evening began with the Rosary and a prayer for families.
Dr. Topping reflected on the wonderful benefits and beauty of the family. The family has been widely recognized and experienced as the chief contributor to the prosperity, virtue, and happiness of nearly every individual and of society. Yet, the family seems to be under attack. He spoke on the importance of overcoming problems, divisions, and anti-marriage myths in the family. He engaged the parishioners both in person and through live stream to ask questions in response to myths by reflecting on "Who are we?, What are we for?, and How do we achieve it?," as well as how each of us is a child of God and our happiness and "true freedom [are] formed by acts of virtue and reception of sacraments lived out according to our duties of our state of life" (cf. Catechism 1781).
Every household is called to sanctify time through the practice of prayer and work (ora et labora) like a Benedictine monastery, which follows this "rule of life." There is a need to establish structure that includes provision for economy, rest, education, and prayer, which all support the essence of the family. Dr. Topping asked the parishioners to break into small groups to review family habits and share what their families do to make prayer more possible each day (morning sign of the cross, prayer before meals, Angelus, spiritual readings), each week (Mass, confession, adoration) and annually (works of spiritual acts of mercy, pilgrimage, praying for the dead in November). By forming this special family "rule of life" and committing to strengthening one or two habits of piety, each family member can draw closer to a fulfilling relationship with our Lord and one another.
Dr. Topping also pointed out that to build a thriving family culture, the family needs to pursue many works such as financial stability, prayer, leisure, and service, and no work is more integral to the family than the education of the children. He explained the duties of the family with the husband and wife loving, trusting, and being faithful to each other, which in turn creates a fruitful home for the children to flourish. When raised to the dignity and the responsibility of parenthood, a husband and wife will be zealous in fulfilling their tasks as religious educators. Dr. Topping also presented ways to achieve this by limiting or eliminating TV and time on the internet, canceling Facebook, and/or saving money for a pilgrimage. This plan is to love the good, be grateful and joyful, delight in blessings of a family, and draw the child away from impurity.
Moreover, Dr. Topping concluded this wonderful mission with reflection and prayer on the beauty of the family. As parents continue to lead the way by example and family prayer, their children—indeed all within the family circle—will find it easier to make progress in natural virtues, salvation, and holiness.
December 20, 2021 - 11:00am